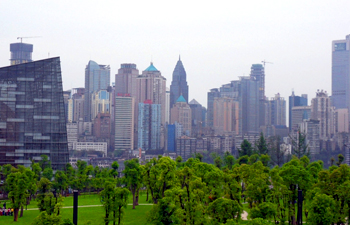 Website: http://www.tj.gov.cn/
Overview
Location: Located in the southeastern part of Sichuan Basin where the Yangtze River and Jialing River meet.
Population: 31,243,200
Area: 82,400㎢
Climate: Subtropical monsoon climate, average annual temperature: 18.4℃
Administrative Division: 26 districts, 8 counties, and 4 autonomous counties
Economy (As of 2019)

GDP(2011) : ¥2 trillion 3605 billion
Key Industries: Motorcycles (the largest motorcycle producer in China), automobile, auto components, manufacturing, medicine, trade
External Trade (2011): ¥579 billion and 28 million
(Export: ¥371 billion and 29 million, Import ¥207 billion and 99 million)
At a Glance
Chongqing is the largest directly-controlled municipality in China located in the southeastern part of the Sichuan Basin, where the Yangtze River and Jialing River meet. The city has a subtropical climate.
Chongqing plays a central role in the economy, trade and engineering within the Chinese inland region and drives economic growth in southwestern China. China's western development was also initiated from Chongqing.
Chongqing's major industries include motorcycles, automobiles, auto components, manufacturing, medicine, and trade. The city is the largest inland logistics hub in China with advanced logistics and transportation along the river. Furthermore, Chongqing is a renowned tourist city along the Yangtze River area, featuring the Provisional Government of the Republic of Korea and Three Gorges Dam.
Busan Metropolitan City and Chongqing City signed a letter of intent for the establishment of friendship city relations on April 8, 2010, which was followed by the signing of a friendship city agreement on December 2, 2010.