Project
Location: North Port piers

Phase 1 : coastal Ferry Pier ~ Pier 4 (1,532,419㎡)
Projected Expenses : 8.519 trillion won (2.39 trillion won for infrastructure, 6.48 trillion won for facilities construction (commerce, business, prismatic composition)

Facilities : waterfront park, port facilities, commerce, business, etc.
Project Period: 2008~ 2022
Background
Changes in Busan's port, such as construction of the Busan New Port, have created the need to re-organize Busan's port functions
Changes in the social environment have increased the need for waterfront development
There is now the need for an integrated passenger terminal
Simultaneous development of the port and the surrounding areas is needed, especially the former downtown area which used to be the dynamic and vibrant in order to revitalize heart of the city.
Purpose
Make the port the international marine tourism hub of the Southeast Coast tourism belt
Develop the port to serve as a gateway to the Eurasian continent and remain a focal point for global shipping
Create opportunities for residents to enjoy their leisure time at newly developed waterfront areas
Stimulate stagnant local economy and revitalize Busan through integrated development of the port and former downtown areas.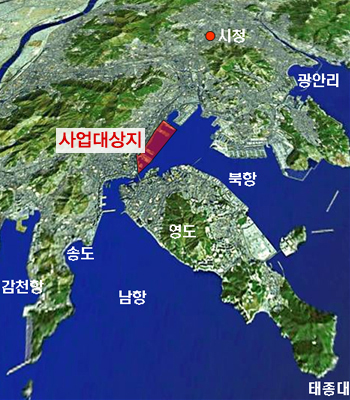 Geography of Busan Harbor
View of North Port and surrounding area
Geographical conditions of Busan North Port
Busan North Port, situated at the pivotal point of the southeast coast tourism belt in Korea, serves as a key gateway to the Eurasian continent as it is located closely to the KTX Busan railroad station, which are day serve as the terminus for trains from Europe and Asia.
The area where the port is being redeveloped has great potential as it will be encompassed within a commercial district, according to Busan City's urban plans for the year 2020, and is also adjacent to central commercial zones in Busan such as Nampo-dong, Gwangbok-dong, Jagalchi and the 2nd Lotte World skyscraper currently under construction.
With Busan residents' high expectations for it, political and social attention is being centered on the project, which is expected to contribute to the revitalization of the local economy.
Busan North Port Redevelopment Project
- Overview
Offering a gateway to the Eurasian continent and the Pacific, cementing Busan's status as an international gateway.
Securing the city's status as an international marine tourism city by developing the waterfront to international standards and at the same time providing residents with a variety of waterfront urban spaces.
Revitalizing the heart of the city and the local economy through the simultaneous development of North Port and the surrounding areas.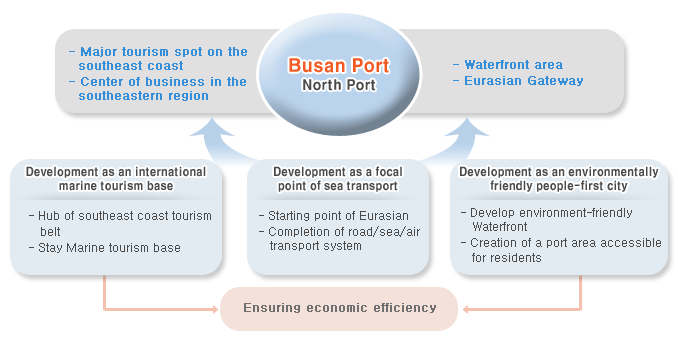 Busan North Port Redevelopment Project
The Busan North Port redevelopment concept is subdivided into the following three concepts.
City Structure Concept: International marine tour city, gateway of sea transport, environmentally friendly complex city
City Function Concept: Its tourism function to attract global visitors, its marine function to facilitate sea transport, its history function to restore the identity of the city
City Design Concept: Rising sun, dynamic waves, soaring sea gull symbolizing opportunity, a new beginning and the city taking hight as an international city.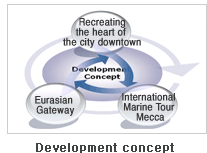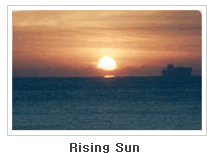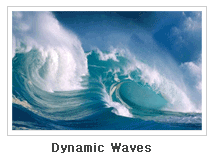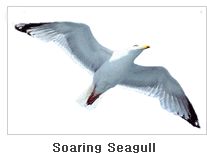 Port layout (tentative)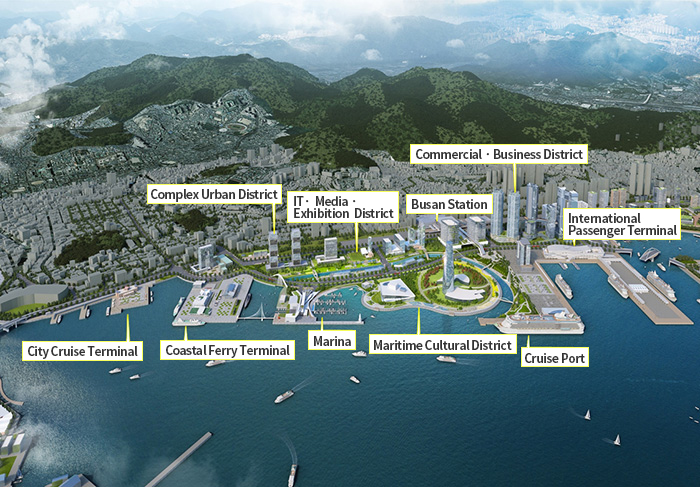 Commercial · Business District
The Commercial Business District is a highly accessible business area located between Busan Station (KTX) and the International Passenger and Cruise Terminal.
It has world-class shopping malls, finance centers and hotels. The area has been built to maximize the number of businesses and functions in the district.
Area: 45,969㎡
Facilities

Complex commercial function: Shopping malls, recreationalfacilities
Business support function: International businesses, international conference halls, hotels

Building coverage rate/Floor area ratio: 60% or less / 1000% or less
Height: 200~280m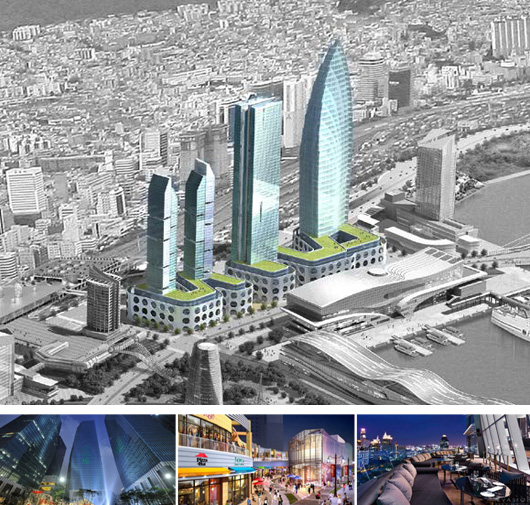 IT · Media · Exhibition District
We created the district as a joyful place full of visual and media contents. In addition, we have established various media outlets, such as broadcasting, plays, and animation movies in order to offer pleasure and maximize the relationship between the area's businesses.
Area: 56,640㎡
Facilities

Cultural exhibition function: Concert hall, exhibition hall, studio
Complex business function: IT shopping mall and business facilities

Building coverage rate/Floor area ratio: 60% or less / 600% or less
Height: 80~140m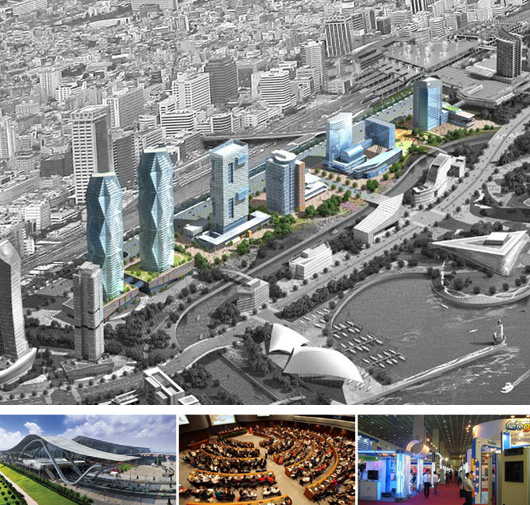 Maritime Cultural District (Landmark District)
As the most symbolic district with concentrated office buildings, we want to make this area into a landmark that revives the local economy in order to foster the district, which attracts the most Busan citizens and visitors throughout the year.
Area: 113,379㎡
Facilities

Leisure function: Resorts, deluxe hotel, water park, aquarium, etc. (* Permitted except for non-permitted purposes Non-permitted purposes: Residence, factory, warehouse, dangerous goods facility, etc.)

Building coverage rate/Floor area ratio: 40% or less / 600% or less
Height: No Limit (Special Purpose District)
Maritime Cultural District
We plan to construct an open space with canals and large-scale waterfront parks in order to make a cultural district that represents the city, by harmonizing tourism, leisure sports, culture and art within the space.
Area: 60,180㎡
Facilities

Leisure function: Deluxe hotel, play space, condominium
Commercial function: Department store, shopping mall, office buildings

Building coverage rate/Floor area ratio: 60% or less / 300~600%
Height: 60~140m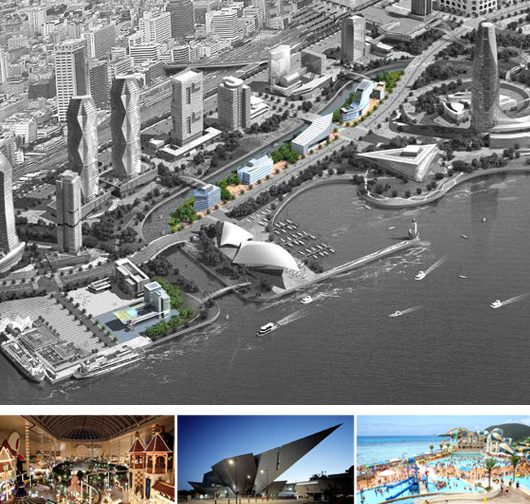 Complex Urban District
We seek to provide a new form of urban waterfront residential space by linking up the waterside area and marina facilities, in order to prevent the doughnut phenomenon.
Area: 27,022㎡
Facilities

Leisure function: Resort hotel, Service residence hotel, condominium
Commercial & Sales function: Complex shopping mall, theme restaurant
Residential function: Apartment houses, multipurpose building

Building coverage rate/Floor area ratio: 60% or less / 800% or less
Height: 200m or less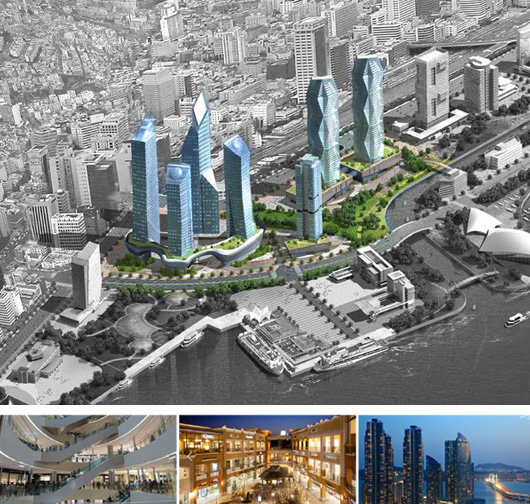 Multi-purpose Port District
We aim to link up the passenger terminal, a gateway of marine transportation that accounts for most of the demand in The Republic of Korea with the Commercial · Business District in order to make a multi-purpose Port District for international exchanges and create a synergistic effect between commercial and business functions.
Area: 153,619㎡
Facilities.

Passenger: International passenger & cruise Terminal
Public and Tour function: Roof square, convention center, duty-free shopping mall

Building coverage rate/Floor area ratio: 60% or less / 200~600%
Height: 40~60m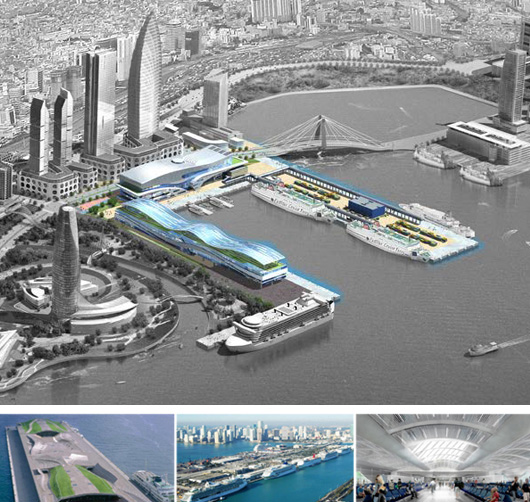 Expected Effects
International effect

Serving as a Eurasian gateway connecting continent and ocean traffic
Securing Busan city's status as an international marine tour and culture city

Social effect

Providing pleasant resting areas for residents
Presenting a new development model balancing Busan's city functions and port functions

Economic effect

Reviving currently stagnant commercial zones in the former downtown area
Boosting the economy by creating jobs and increasing production volumes