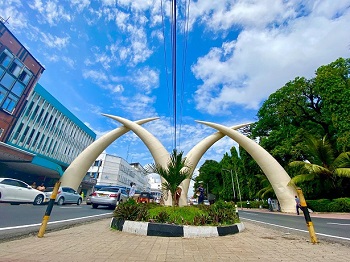 Overview
Governor: H.E. Abdulswamad Shariff Nassir
Area: 295㎢
Population: 1.2 million (As of 2019)
Location: Indian Ocean coast, East Africa
Climate: Annual average temperature: 26℃ (24℃-28℃) Tropical wet and dry climate
Website: https://web.mombasa.go.ke/
At a Glance
The most important port city in East Africa and the 2nd largest city in Kenya.
The city's economy is based on the maritime and tourism industries and the city is home to a major port and international airport.
Mvita, the former name of the city, means "island of war" due to the many conflicts that took place in and around the city.
Economic hub of Kenya, and home to a highly advanced coffee trade, as well as food and chemical industries.
Home to the marine tourism and oil refinery industries, with 80,000 barrels per day of gross production.
Located on the Indian coast, Mombasa enjoys robust trade with Islamic communities. The Portuguese first arrived to establish a colony from 1593-1596.
※ Fort Jesus, a coastal defense and fortification facility, built by the Portuguese and hub for the slave trade, is registered on the UNESCO World Cultural Heritage List.
Used as an outpost for the U.K. to rule over East Africa, as the city has a gateway port to enter into the continent further. (Gained independence in 1964)