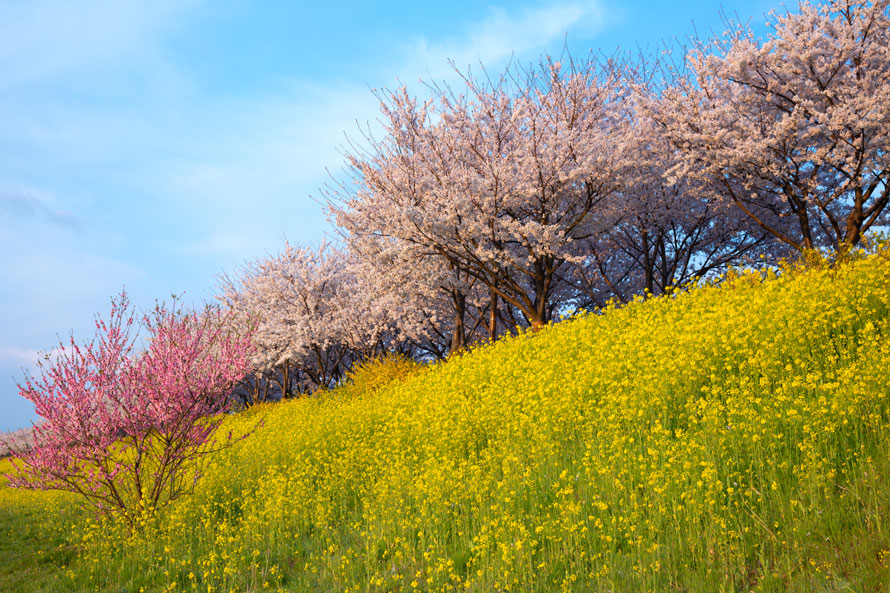 The city of Busan has launched a new tourist city map of spring blossoms with spring festivals and recommended spots to enjoy the spring flower blossoms in Busan.
The map includes information on spring festival schedules, tourist attractions of spring flowers and blooming dates in Busan.
The map can be downloaded at https://visitbusan.net (only in Korean)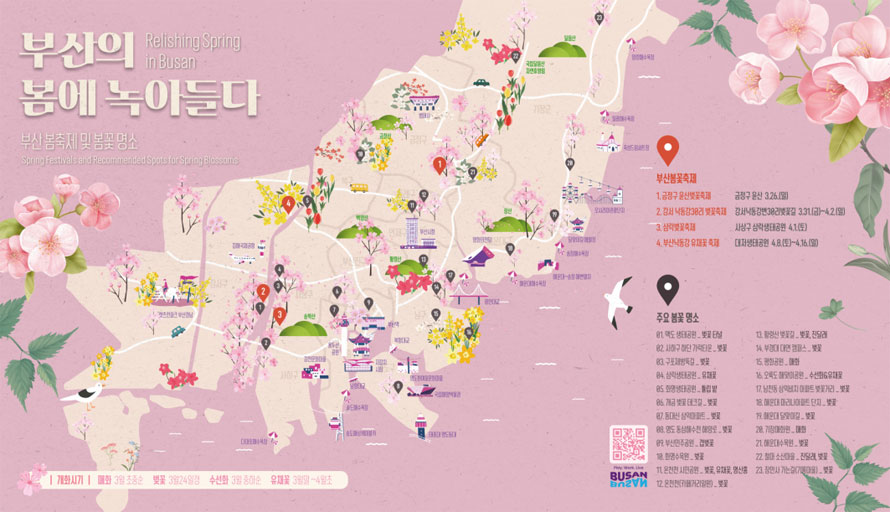 The map includes:
Spring Festivals and Recommended Spots to See Spring Blossoms
Spring flower bloom forecasts in Busan
Apricot flowers - beginning of March
Cherry blossoms - around March 24
Daffodils - middle of March
Yuchae (canola) flowers - the end of March to the beginning of April
Spring Flower Festivals in Busan
1. Yunsan Mountain Cherry Blossom Festival - March 26 (SUN) Yunsan Mountain, Geumjeong-gu
2. Nakdonggang Riverside Cherry Blossom Festival – March 1 to April 2, 12km of cherry-lined roadway next to the Nakdonggang riverside in Gangseo-gu
3. Samnak Cherry Blossom Festival - April 1 (SAT) Samnak Ecological Park, Sasang-gu
4. Busan Nakdong River Yuchae Flower Festival – April 8-16, Daejeo Ecological Park in Gangseo-gu
Recommended Spots to See Spring Blossoms
1. Cherry blossom tunnel at Maekdo Ecological Park
2. Cherry blossoms at Garak town in Saha-gu
3. Gupo cherry blossom road
4. Yuchae flowers at Samnak Ecological Park
5. Tulip field at Hwamyeong Ecological Park
6. Cherry blossoms deck road at Gegeum
7. Cherry blossoms at Samik Apartment in Dongdaeshin-dong
8. Cherry blossoms at Dongsam seawater riverside road in Yeongdo-gu
9. Double cherry blossoms at Busan Democracy Park
10. Cherry blossoms at Hwamyeong Arboretum
11. Azalea and yuchae flowers at Oncheoncheon Park
12. Cherry blossoms at Oncheoncheon Café Street
13. Cherry blossoms and azaleas at Hwangnyeongsan Mountain
14. Cherry blossoms at Pukyong National University Daeyeon Campus
15. Apricot flowers at Peace Park in Nam-gu
16. Daffodils and yuchae flowers at Oryukdo Sunrise Park
17. Cherry blossom street at Samik Beach Apartment, Namcheon-dong
18. Cherry blossoms at Haeundae Marina Apt.
19. Cherry blossoms at Dalmaji Street in Haeundae
20. Apricot farm at Gijang-gun
21. Cherry blossoms at Haeundae Arboretum
22. Azaleas, cherry blossoms at Sosan Village in Cheolma, Gijang-gun
23. Cherry blossoms on the way to Jangansa Temple (Giryong Village)