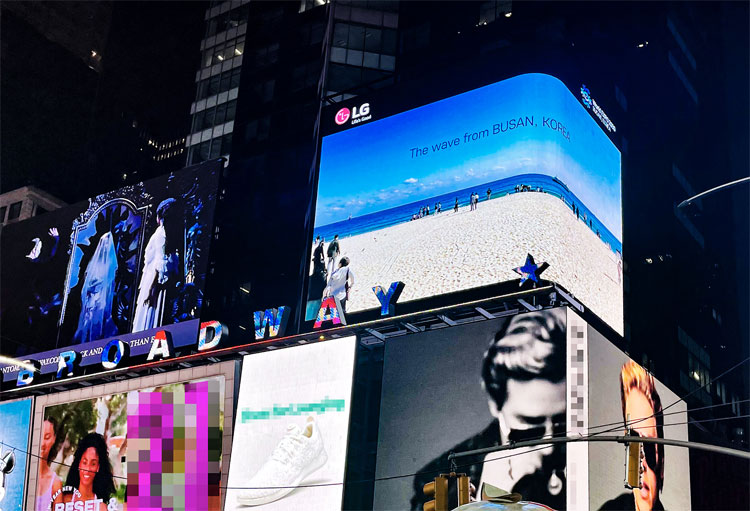 The city of Busan has joined with LG Electronics to win the bid for the 2030 World Expo.
Busan will promote its bid for the 2030 World Expo globally at Times Square in Manhattan, USA and Piccadilly Circus in London, England from the middle of February to the end of March through the electronic displays of LG Electronics.
Times Square is a major commercial intersection, tourist destination, entertainment center, and neighborhood in midtown Manhattan in New York City, while Piccadilly Circus is a busy London intersection, popular meeting place and one of London's most popular tourist destinations. As such, leading global companies promote themselves on giant advertising billboards there.
'The Panoramic-해운대' by Lee Sang-won, Korean postwar & contemporary artist, will be on display at the two global landmarks. This media art video was already on display at the Dubai Mall, one of the largest shopping malls in the world, during Expo 2020 Dubai.
'The Panoramic-해운대' can be viewed on Busan's YouTube channel https://www.youtube.com/user/DynamicBusan
This will be a good chance to promote Busan's bid to attract the 2030 World Expo to people in New York and London.
LG Electronics has provided support with LG CLOi GuideBot to promote the 2030 World Expo Busan campaign to Busan residents at Busan City Hall and also promoted the campaign with LG One:Quick, an advanced video conferencing display at the Korean Pavilion exhibit at Expo 2020 Dubai.
For more information, please contact the Public Information Division at 051-888-1312.