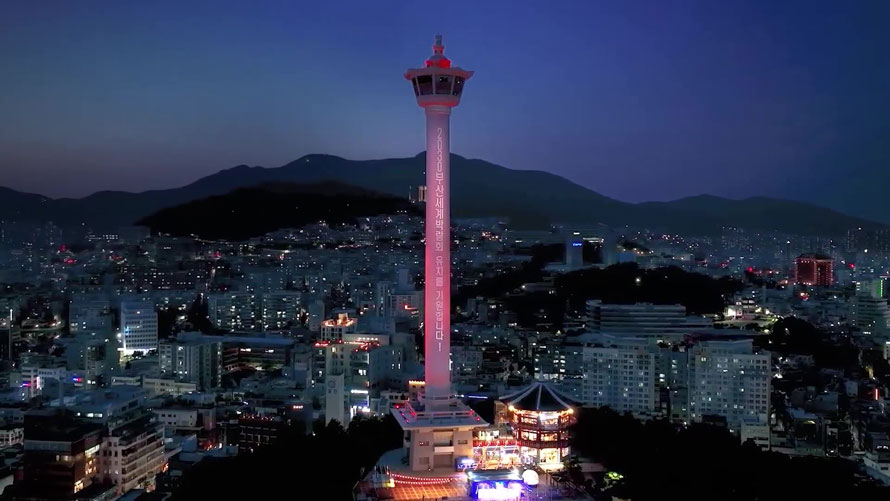 The city of Busan has been designated as one of the "cities specializing in night tourism" for its international appeal this year by The Ministry of Culture, Sports and Tourism.
The international attraction designation is given to a city with the potential to develop into a global night tourism spot based on the city's tourism infrastructure meeting international standards.
Busan and Daejeon were selected as "international attractions" in this year's competition for the designation. Gangneung, Jeonju, the capital of Jeollabuk-do, and Jinju, a city in Gyeongsangnam-do, were also chosen as a form of support for regional development.
The concept of a city specializing in night tourism is "N.I.G.H.T." This term stands for "New," (new and different aspects between night and day); "Ingenious" (a region's unique or ingenious appeal); "Global" (loved beyond Korea and by people worldwide); "Helpful," (contributing to a wider region); and "Together" (harmony between the region's residents and tourists).
At the competition, Busan gave a presentation entitled, 'Good Night+ BUSAN', with concepts of tourists' providing their own night stories next to the starry sea, and downtown and forest scenes of Busan. It reflected the city's geographical characteristics with beautiful mountains, rivers, and the sea, and the new trend in tourism like nanotourism.
Until 2026, the city will focus on creating various content for night tourism, mainly at Yongdusan Park and along the Suyeonggang River area, in addition to the Dadaepo, Seomyeon and Songjeong areas. Up to 5.6 billion won in total cost will be invested in the night tourism project in Busan.
The city of Busan plans to attract global tourists by utilizing the city's uniqueness and various night tourism hotspots.