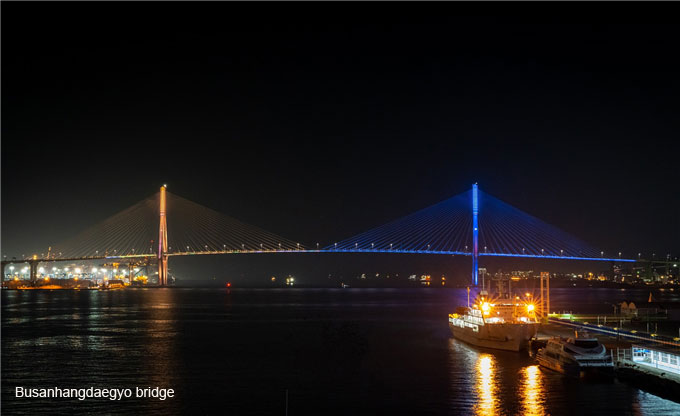 The City of Busan lit up its landmarks in blue and yellow, the colors of the Ukrainian flag in support of Ukraine.
Gwangandaegyo bridge, Busanhangdaegyo bridge and Busan Cinema Center will be lit up in blue and yellow colors in support of peace in Ukraine.
They joined other landmarks from around the world, such as the Empire State Building in New York, the Eiffel Tower in Paris and the London Eye in London, in showing solidarity with Ukraine.
Busan served as the provisional capital of ROK during the Korean War in 1950 and overcome the pain of the Korea War as an international peace city.
The United Nations Memorial Cemetery in Korea, located in Busan, is the only UN-designated cemetery in the world, where brave soldiers, who sacrificed their lives for world peace and freedom, rest in peace. As such, the lighting campaign for peace in support of Ukraine is meaningful to the City of Busan.
The lightings began on March 1, 2022, the anniversary of the independence movement in Korea.
The lighting schedules are as follows:
Gwangandaegyo Bridge: March 1, from 8:30 p.m. to 8:40 p.m.
Busanhangdaegyo Bridge: March 1, from 8:30 p.m. to 9:40 p.m.
Busan Cinema Center: March 2-3, 2022, 8:30 p.m. to 9:30 p.m.
Busan Mayor Park Heong-joon said that the city decided to display lights with the hope of Busan citizens to pray for peace in Ukraine and against war. He is deeply concerned about Russia's military aggression against Ukraine which threatens world peace and the international order for its own interests.