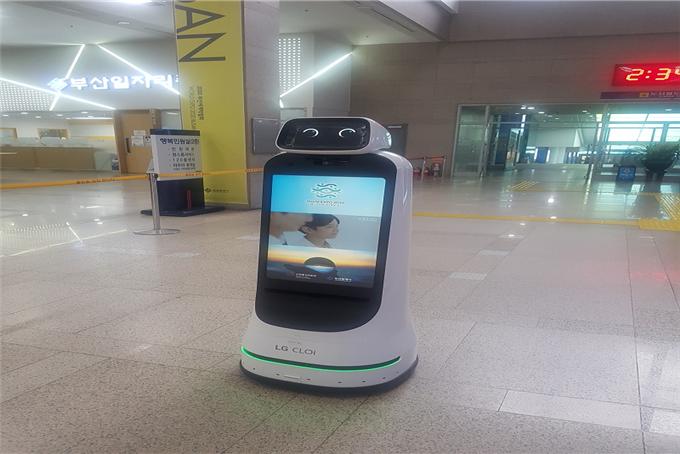 The City of Busan made a business agreement last year with LG Electronics (LG) to deploy the LG CLOi Servbot, a self-driving service robot, to promote the hosting of the 2030 World Expo in Busan.
LG's second-generation CLOi service robot, utilized for facility guidance, signage advertisement and patroling, will be introduced at Busan City Hall. The robot has 27-inch front and rear displays and is capable of playing a wide range of roles, including recognizing obstacles, self-driving, simple question and answer, taking photos and more.
LG Electronics' artificial intelligence-based autonomous service robot called "CLOi" was deployed to Busan City Hall to guide visitors and promote World Expo Busan 2030.
Starting with the test operation at the 2018 Pyeongchang Winter Olympics, LG's CLOi service robot has been deployed at Incheon Airport, Seoul National University Hospital, Korea Racing Authority headquarters and major agencies and hotels in Korea. This is the first time that a Korean commercial service robot has been introduced to a local government.
The CLOi service robot has been promoting Busan's bid for the 2030 World Expo in the lobby of Busan City Hall. The theme of the Busan 2030 World Expo is "Transforming our world, navigating toward a better future", and the three sub-themes are "Sustainable Living with Nature," "Technology for Humanity," and "Platform for Caring and Sharing." The robot is a suitable concept for the digital transformation of the future well-being of humans and technology, which is a goal of the Busan 2030 World Expo.
LG has been actively promoting the Busan 2030 World Expo with its service robot.
For more information, please contact the 2030 Expo Bid Promotion Division at 051-888-6452.