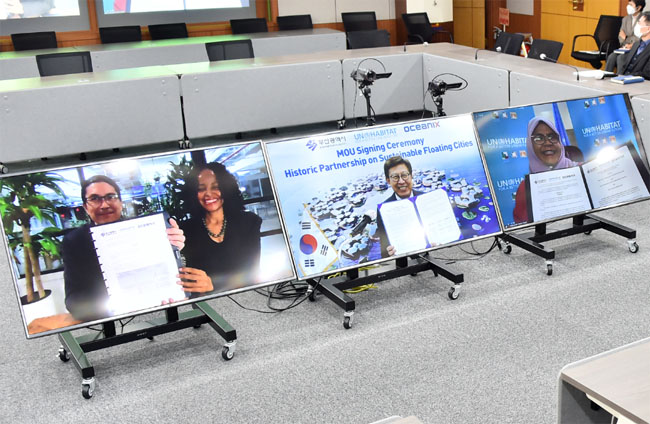 Busan Metropolitan City, UN-Habitat and OCEANIX have signed a historic agreement to build the world's first sustainable floating city prototype on November 18, 2021.
Busan mayor Park Heong-joon, the Executive Director of UN-Habitat Maimunah Mohd Sharif and OCEANIX CEO Marc Collins Chen signed the MoU through video conference while in their residing countries.
Coastal cities are on the frontlines of climate-related risks. Flooding is destroying billions of dollars worth of infrastructure and forcing millions of climate refugees to leave their homes. The challenge is huge: two out of every five people in the world live within 100 kilometres of the coast, and 90 percent of mega cities worldwide are vulnerable to rising sea levels. The floating city is envisaged as flood-proof infrastructure that rises with the sea and produces its own food, energy and fresh water with fully integrated zero waste closed-loop systems.
The main contents of the MoU include the roles of building the sustainable floating city prototype:
▶ Busan Metropolitan City as an administrative supporter for the project
▶ UN-Habitat supporting the floating city prototype project utilizing its role as an international organization
▶ OCEANIX as project operator by conducting a feasibility study, location analysis, project promotion and more
OCEANIX plans to discuss the project with domestic and overseas expert consultative groups. The synergy effect of Busan, bidding for World Expo 2030 will be considered as well.
The MoU was made after Busan accepted UN-Habitat's request to participate as partner city in the project to build a sustainable floating city prototype last July. The city expects that it will create good jobs and revitalize its economy.
The vision of the world's first floating city for 10,000 residents was first unveiled in April 2019 at a UN Roundtable co-convened by UN-Habitat, OCEANIX, the MIT Center for Ocean Engineering, and the Explorers Club.
For more information, please contact the Urban Planning Division at 051-888-2438.