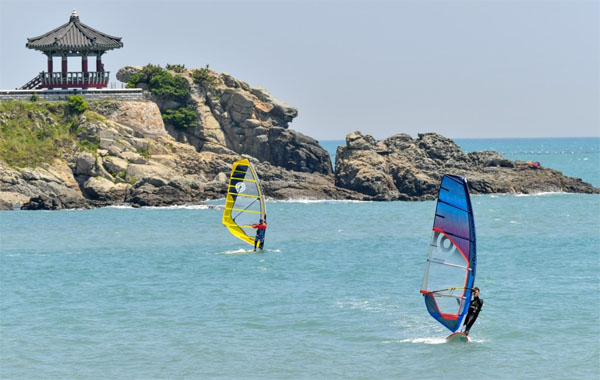 The City of Busan is set to start operating marine leisure sports experiential programs at its major beaches and rivers staring May 2021.
With the increased need for social distancing and the rising trend of outdoor leisure activities, Busan will provide a variety of experiential programs for marine leisure sports.
Busan citizens will have the chance to enjoy marine sports in nature, as well as improve their mental and physical health. Programs will vary from basic survival swimming lessons to surfing at various beaches, including Songdo Beach (survival swimming, skin scuba, kayaking), Dadaepo Beach (nordic walking, pilates, kite boarding, paddleboarding), Songjeong Beach (nordic walking, surfing), Haeundae Beach and Yachting Center (nordic walking, yachting), Nakdonggang River (canoeing, kayaking, rowing) and Suyeonggang River (kayaking, dragon boats). The contact information for the programs is listed below.
Busan Mayor, Park Heong-joon said, "Busan has natural tourist attractions where people can enjoy both river and sea activities within the city. We will continue to discover new marine leisure contents and promote marine sports and culture to become a leading international marine tourism city."
For more information, please contact the Marine Leisure & Tourism Division at 051-888-5356.
2021 Marine Sports Program in Busan
▶Songdo Marine Academy in Seo-gu
Period: May to September
Venue: Songdo Beach
Program: Survival swimming, skin scuba, kayaking
Organization: Sea Explorers of Korea Busan Council (☎ 051-743-5589)
▶2021 Busan Yacht school in Haeundae-gu
Period: June to December
Venue: Busan Yachting Center
Program: Yachting
Organization: Busan Yacht Association (☎051-747-1768)
▶Songjeong Surfing Academy in Haeundae-gu
Period: June to July
Venue: Songjeong Beach
Program: Surfing
Organization: Haeundae-gu Sports Council (☎ 051-704-5010)
▶Marine Leisure Sports Program in Saha-gu
Period: May to October
Venue: Dadaepo Beach
Program: Kite-boarding, stand up paddleboarding (SUP)
Organization: Korea Kite Boarding Association (☎ 070-7752-8683)
▶Busan Rowing School in Gangseo-gu
Period: April to November
Venue: West Nakdong River Rowing Arena
Program: Eowing, indoor rowing
Organization: Busan Rowing Association (☎ 051-973-2017)
▶21Canoe Academy in Gangseo-gu
Period: May to October
Venue: West Nakdong River Canoe Arena
Program: Canoeing, kayaking
Organization: Busan Canoe Federation (☎ 051-941-1556)
▶Gwangalli SUP Class in Suyeong-gu
Period: May to September
Venue: Gwangalli Beach
Program: SUP, survival swimming
Inquire: Suyeong-gu Office
▶Busan Sports and Leisure Center in Suyeong-gu
Period: June to August
Venue: Suyeonggang River
Program: Kayaking, dragon boat
Organization: Sea Explorers of Korea Busan Council (☎ 051-743-5589)
▶ Saetgang tour in Sasang-gu
Period: May to October
Venue: Samnak Water Leports Center (Saetgang) in Samnak Ecological Park
Program: Saetgang tour, kayaking
Organization: Sea Explorers of Korea Busan Council (☎ 051-743-5589)