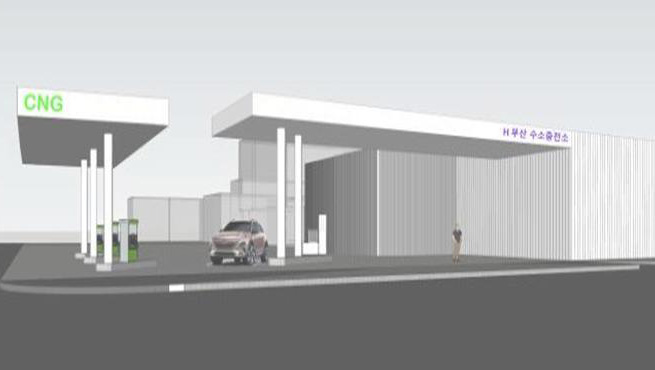 Busan's second hydrogen fuel station opened on August 23, 2019 following a ceremony to mark its completion.
The "H Busan Hydrogen Station" is the second hydrogen charging station in Busan following the NK charging station that opened last May in west Busan. The "H Busan Hydrogen Station" will be the first city-type hydrogen filling station in Busan, built through public-private collaboration between Busan (administrative support), Hyundai Motor Company (facilities cost) and Daedo Energy (land and operation).
Including the two that have already opened, the city plans to build 19 more hydrogen fuel stations by 2022, including 15 facilities for cars and four stations for buses.
The city was selected as one of six test bed cities across the country for the hydrogen fuel bus pilot project by the Ministry of Environment in 2018. The city also introduced a hydrogen fuel bus in August 2019, among the six test bed cities following Changwon in Gyeongsangnam-do.
The city also plans on adding four hydrogen fuel buses to the city's bus system by October for a total of five for such vehicles.
If one hydrogen electric bus travels for 1km, it can purify 4.863kg of air, and if it travels 86,000km per year, it is possible to purify 418,218kg of air, which can provide clean air for about 76 adults (based on 64kg of weight) for a year.
Busan plans to supply 550 hydrogen electric vehicles and 5 hydrogen electric buses this year, and 4,500 hydrogen electric vehicles and 100 hydrogen electric buses by 2022.
For more information, please contact the Manufacturing Innovation Support Division at (051)888-4641.