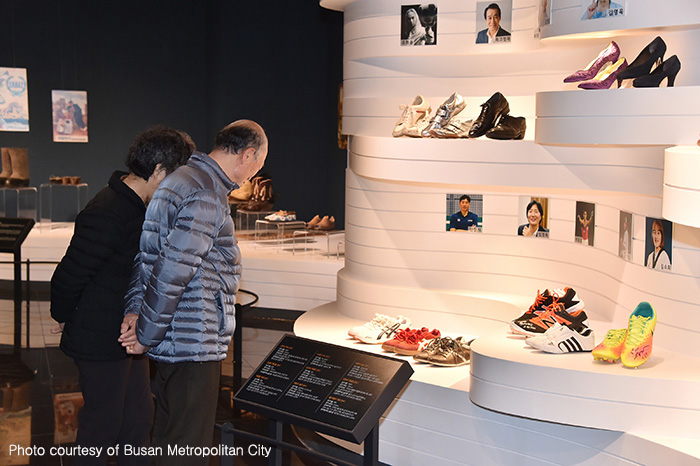 Busan City has opened the K-Shoes Center, designed as a cultural and business hub for the local footwear industry, on February 26, 2018. It is the first of its kind to open in Korea.
With a total investment of 11.9 billion won, Busan City built the 7-story building with one underground level, covering 2,644.6 square meters of land. The center is located at 227, Baegyang-daero, Busanjin-gu and houses a multimedia promotion zone, exhibition hall, training facilities and meeting areas.
The center aims to revitalize the local footwear industry, help promote it worldwide and support small and medium-sized shoe-related businesses expand aboard.
Visitors can learn about footwear industry infrastructure in Korea and footwear manufacturing technologies, as well as purchase footwear products at the multimedia promotion zone (1st floor).
The exhibition hall showcases the past, present and future of Busan and Korea's footwear industry, including the evolution of shoes throughout Korea's history, foreign traditional shoes, shoes worn by celebrities and sports athletes, shoes in movies, a chronology of shoe advertisements, and shoe manufacturing products on the 2nd floor of the center.
The facilities from the 3rd to 7th floor are used for business, training, education, and footwear related start-ups.
The K-Shoes Center is managed by the Busan Economic Promotion Agency and Footwear Industrial Promotion Center.
K-Shoes Center
○ Location: 227, Baegyang-daero, Busanjin-gu, Busan
○ Size: land of 2,644.6㎡, total floor area of 4,141.4㎡(one level of underground, 7 floors)
○ Hours of Operation: 10 a.m. – 5 p.m. (Mon. – Sat.) Closed on Mondays and National Holidays
○ Directions:
Take bus no. 129-1, 138-1, 160, 167, 169 or 169-1 and get off at K-Shoes Center bus stop.
Take about 7 minutes walk from Gaegum Station, Metro Line No. 2 (Exit 2)
○ Contact:
Email address: k-shoes@shoenet.org
Phone: (051)898-9300