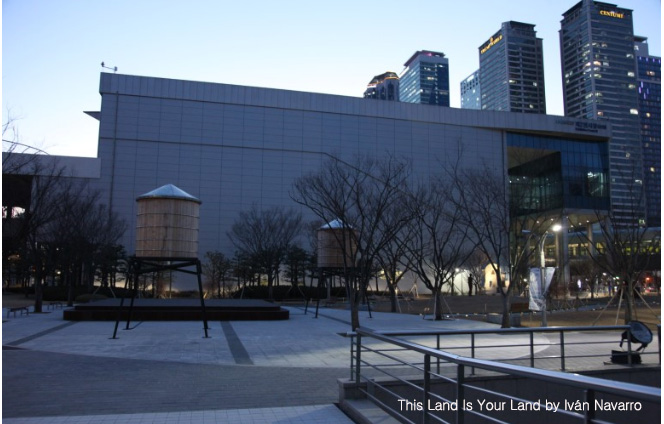 Iván Navarro Art Exhibition
○ Period: February 6-April 19, 2018
○ Venue: Outdoor Garden at the Busan Museum of Art
○ Hours of Operation:
Tue, Wed, Thu, Fri and Sun 10 a.m. – 6 p.m.
Sat 10 a.m. – 9 p.m.
Last Wednesday of the month 10 a.m. – 9 p.m.
(Closed every Monday and January 1)
○ Free admission
○ For more info.: (051)740-4251
○ Website: http://art.busan.go.kr/
Iván Navarro (born in 1972 in Santiago, Chile) is an artist who works with light, mirrors, and neon to craft socially and politically relevant sculptures and installations. Currently he lives and works in Brooklyn, New York.
The sculptural installation, 'This Land Is Your Land' by this Brooklyn-based Chilean artist Iván Navarro will be on display from February 6 to April 19, 2018 at the Busan Museum of Art outdoor garden. The installation presents two wooden water towers serving as metaphors for the experience of immigration.
The interior of one tower will feature the words "me" and "we", another will display the image of a "ladder" all of which will be composed of neon light. An internal arrangement of mirrors will enable each word or image to repeat perpetually through a seemingly endless vertical space.
The exhibition was on display in Madison Square Park in New York in 2014, North Park Center in Texas in 2014, Yinchuan Biennale in China in 2016 and Yinchuan-MOCA in China in 2017.