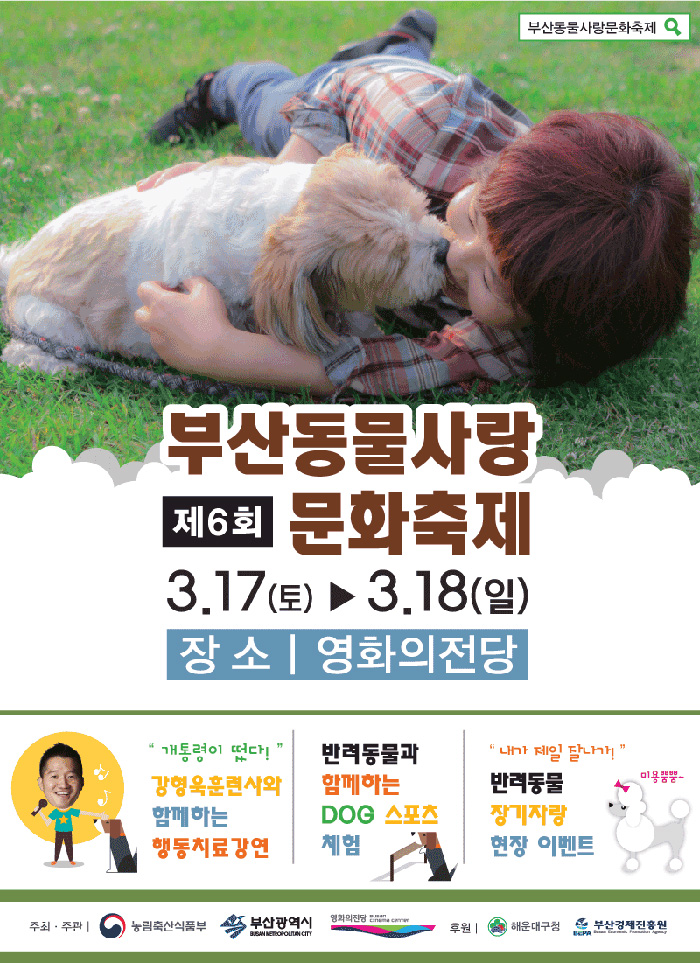 The 2018 Busan Pet Family Festival takes place from March 17 to 18 at the Busan Cinema Center.
The festival focuses on the idea that pets are family members too. The festival aims to spread appropriate pet culture, promote quality time between people and their pets, promote abandoned animal adoption and raise public awareness regarding animal abandonment.
○ Period: Saturday, March 17 – Sunday, March 18, 2018
○ Venue: Busan Cinema Center, Naru Park in Haeundae
○ Hours: 10:00 a.m. – 6:00 p.m.
○ Free admission
○ Hosted and Operated by the Ministry of Agriculture, Food and Rural Affairs, Busan Metropolitan City and Busan Cinema Center
○ Website: http://www.kbef.co.kr/ (Korean)
○ For more info.: (051)780-6027
Program Includes:
Pet expert lectures, pet sports, photo zone, pet playground, abandoned dog adoption center
30-second film festival, pet companion photo exhibit, pet grooming demonstration, pet health check-up, pet training, pet markets, dog agility zone
Campaign for the Prevention of Cruelty to Animals
Food truck zone