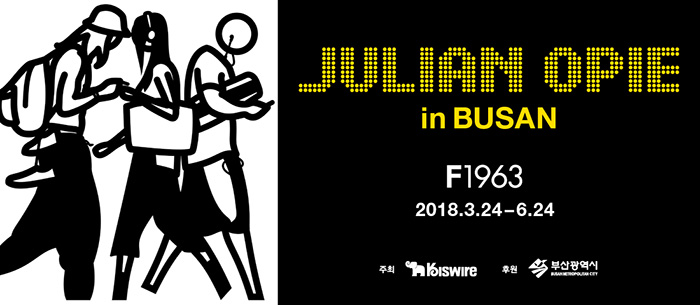 The 'Julian Opie in Busan' exhibition will be held at F1963. This is the artist's first exhibition in Busan and will include works of paintings, sculptures, and media art. Julian Opie is a contemporary British artist known for his distinctive depictions of figures, portraits, and landscapes.
○ Period: Saturday, March 24 – Sunday, June 24, 2018
○ Venue: F1963
○ Hours of Operation: 10:00 a.m. – 6:00 p.m.
Closed on Monday (The exhibition will be open on Monday, May 7)
○ Tickets: 10,000 won for adults, 7,000 won for youth, 5,000 won for children
○ Website: http://www.f1963.co.kr
○ Hosted by: KISWIRE
○ Supported by: Busan Metropolitan City
How to get to F1963
- Address: 20, Gurak-ro 123, Suyeong-gu, Busan
- How to get there: Get off at Suyeong Station (Metro line 2) and go out Exit 5. Take bus No. 54 and get off at the KISWIRE bus stop. Or get off at Mangmi Station (Metro line 3) and go out Exit 2. Transfer to neighborhood/village bus No. 2 and get off at the Sanjeong Apartment bus stop.