The Nakdong Estuary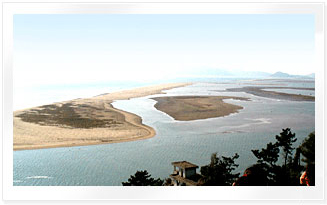 Nakdonggang River, which starts from Taebaek in Gangwon-do, runs down around 525km towards the south, cuts through graceful mountains & fertile fields and creates back marshes such as Upo Wetland and the Junam Reservoir. It splits largely into two main streams: West Nakdonggang River and the original main stream at Daedong-myeon in Gimhae and Hwamyeong-dong in Busan. Nakdonggang River forms vast plains and sandy islands at the point where it meets the south sea. The place where Nakdonggang River meets the sea is where the Nakdonggang River Estuary can be found.
Well-formed small & large sized deltas such as Eulsukdo, ILwoongdo, Daemadeung, Jangjado, Shinjado, Jinwoodo, Baekhapdeung, Doyodeung, etc, and along with these deltas, the tidal flats and the forests of rank reeds around the estuary have made good habitats for migratory birds. The peripheral area of the estuary where the sea water meets the river water and the shallow tidal flats is widely formed, thus it features lots of plankton, fish, shellfish and aquatic insects that propagate and provide migratory birds with abundant sources of food.
The Nakdonggang River Estuary has been well known from olden times as a production and gathering place of diverse marine products such as see weeds, oysters and corbiculas. At present however, the shape and utilization of it has changed and the remains of the past cannot be found at the remaining locations.
The Nakdonggang River Estuary is now being used as a habitat for migratory birds designated as the Precious National Treasure No.179 (designated 1966). A visiting place for migratory birds, even though the number of head has been greatly reduced compared with the past, has been kept under control since it was designated in the Natural Environment Preservation Area in 1988, the Ecological Landscape Preservation Area in 1989, the Marsh Preservation Area in 1999 and the Special Management Water Region of Busan Coast in 2000.
Therefore, it is regarded as a unique and special place Busan can be proud of, where you can see a great number of migratory birds visiting throughout the seasons and spreading out across the estuary with their enormous population.