Background of establishment
The Nakdong Estuary Eco Center was established to preserve the Nakdong Estuary. It's a place where man and nature have come together for the preservation of Eulsukdo Migratory Bird Park, a place whose ecology has now recovered and is being managed in a sustainable way, providing citizens with space for exhibitions, education and eco-learning.
Symbolic Icon
Symbol
The image of the whooper swan, one of the migratory birds that spends winter at the Nakdong estuary, symbolizes the importance of preserving the natural habitat of migratory birds. The two Whooper Swans represent the desire lor harmony between humans and their environment. The vitality of mankind and the importance of environmental preservation are represented by the swans, while the fluid sweep of the blue and green brush strokes refer to the Nakdong River and the surrounding ecosystem.
Character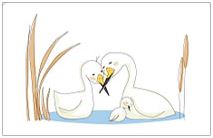 The best known migratory birds at the Nakdong Estuary, the whooper Swans stay together until they die once they have nested together. While the adult birds are mainly white, the feathers of their young are grey and they will molt several limes as they grow. The whooper Swans embody the peaceful harmony between humans and their environment at the Nakdong estuary.
Symbol Sculpture
Name of Work:

Nature + 入

Size:

Diameter - 4.4m x 4.2m, Height of the 入 - 4.5m

Material:

3mm copper plate

Explanation of the work:

The character (入) which this work expresses symbolizes the coexistence and harmony of nature and man. The circle expresses the universe, the Intersection of innumerable lines and faces means the birth of living organisms in nature and the continuity of life in the Nakdong River, and the light that shines out from between the Intersecting lines and faces expresses the motion of living organisms in harmony with the energy of the earth.
Building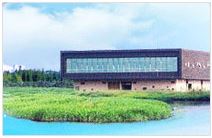 The prize-winning design was selected through an international architecture contest. The exterior of the building is covered with the nation's first carbon-treated wooden boards, and the interior floor, walls and ceiling of the Exhibition Hall are decorated with Korean pine.
Designer:

Yasuhiro Yamashita x Atelier TEKUTO (the prize winner of the international architecture contest)

Size:

3 story building with a total floor area of 4,075.15㎡