Views
Enchantingly notable twilight destinations
City Spotlight ① Night views

Busan, Korea's premier tourism city, is ideal for travel day or night. The topography, landmarks and skyscrapers add to the city's status as a global hub. In a new series, "City Spotlight," we will introduce Busanites and tourists to attractions that help convey the city as the best place to host the World Expo in 2030. To begin, let us guide you through safe and convenient midsummer night destinations.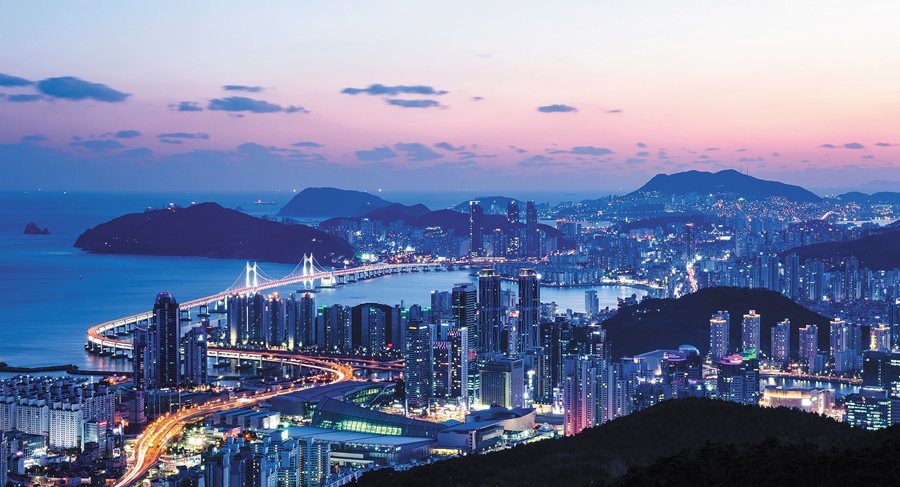 Gwangan's dynamic "Diamond Bridge" has been known around the world since appearing in the Black Panther movie.

■ Hwangnyeongsan Mountain
Hwangnyeongsan Mountain offers a lush forest easily accessible from downtown. It is well known for hiking, as well as taking in the nightscape. The mountain, with an altitude of 427 meters, is the second tallest in the area. Despite its height, the summit can typically be reached within a two-to-three-hour hike.
At the mountain beacon observatory, you can soak in a panoramic view of the city. Once used as a beacon for soldiers during the Joseon Dynasty, the Hwangnyeongsan Viewing Loun-ge platform now serves as a comfortable place to stroll or relax on a swinging bench.
How to get there: About 10 minutes by taxi from Geumnyeonsan Station (metro line 2) or Mulmangol Station (metro line 3).

Hwangnyeongsan Viewing Lounge

■ Gwangalli
Gwangalli is a well-known spot for nightlife and home to the 7.4-kilometer-long Gwangan Bridge. This landmark is the longest suspension bridge in Korea. It is adorned with glittering LED lights reflecting off the ocean waters every night. Cafes, bars and restaurants line the beach so customers can savor a visual treat while they eat or drink.
How to get there: Gwangan Station (metro line 2), exit 3 or 5. Walk for about 15 minutes.

Nurimaru APEC House

■ Nurimaru APEC House and Marine City
On Dongbaekseom Island, toward the west edge of Haeundae Beach, lies Nurimaru APEC House, where the APEC Summit was held in 2005. From here, visitors can see the Gwangan Bridge, Marine City and countless skyscrapers. At "The Bay 101," near the Dongbaek Island gate, guests can enjoy night views with a tasty beverage and snack.
How to get there: Dongbaek Station (metro line 2), exit 1. Walk for 10 minutes toward the beach along the road.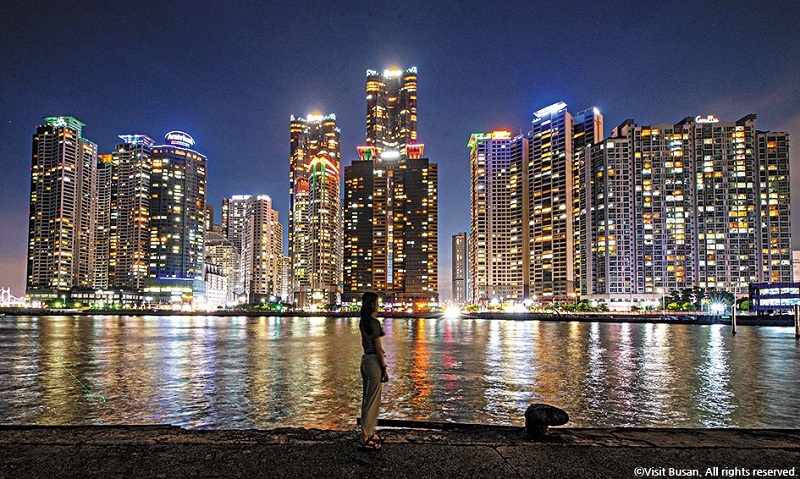 The Bay 101

■ Uam-dong Urban Forest
Uam-dong's Urban Forest is a popular moon viewing destination trending on social media. This area, overlooking Busan Port, was picked as one of the best fall tourist attractions by the Korea Tourism Organization. Busan Harbor Bridge's colorful lights and the adjacent statue of Jesus give the area a cinematic vibe.
How to get there: Beomil Station (metro line 1), exit 8. Take Nam-gu village bus 3 and get off at Asan Apartment stop.

Dadaepo Sunset Fountain of Dreams

■ Dadaepo Sunset Fountain of Dreams
At Dadaepo Beach, on the west edge of Busan, you can enjoy unique displays and dynamic sights. One of the world's largest multi-media fountains, known as the Dadaepo Sunset Fountain of Dreams, is home to night, light and water displays. From April to August, the 30-minute show starts at 8 p.m. on weekdays and 8 p.m. and 9 p.m. on weekends and holidays. In September and October, the shows are 30 minutes earlier. There are no shows on Mondays.
How to get there: Dadaepo Beach Station (metro line 1), exit 4. Walk for about 2 minutes.