Views
Citywide places for World Expo-themed spaces
The World Expo leads the globe as a progressive zeitg-eist. The spirit of which is a concentration on "progress" and "peace." Considering the mega-event's spirit, the BIE suggests candidates tailor their theme toward future develo-pment. In order to host the World Expo in 2030, the city has tailored its theme, "Transforming Our World, Navigating Toward a Better Future," around human progress and a vision of peace. Busan, as a candidate, is said to embody these ideas.

Located in Saha-gu, the village also called the "Machu Picchu of Busan," is home to cafes, restaurants, museums and residents.

After the Korean War, allied nations delivered relief supplies throughout the country via Busan Port. Within the past 70 years, Korea has grown into the 10th largest economic country with a nominal gross domestic product of approximately 1.64 trillion U.S. dol-lars. Some say that Korea's development commenced in Busan, a city with past and present scars of war and pro-gress in line with the exposition spirit.

Cross Suyeonggang River Bridge and catch a dynamic view of the progressive area.
Centum City
An advanced city full of skyscrapers - "progress"
Busan, Korea's second-largest city, has recently been called a metropolis packed with industrial and commercial entities. Centum City in Haeundae-gu (district), a popular spot for Busanites and visitors in Busan, represents the advancements that are seen throughout the nation. The term "Centum" refers to "100" in Latin. Accordingly, Centum City means "100 percent perfectly advanced future city."

However, about 20 years ago, after the site of the Busan International Airport moved to Gimhae, it was left empty and remained that way until about the early 2000s. When buildings such as the Busan Museum of Art were founded, others began to follow.
BEXCO, Busan's largest exhibition and convention center, opened its doors in 2004. In 2011, the Busan International Film Festival's primary theater, Busan Cinema Center, opened and from then on, development progressed quickly. In only 10 years, the area became a hub for film, IT, content, shopping and MICE industries.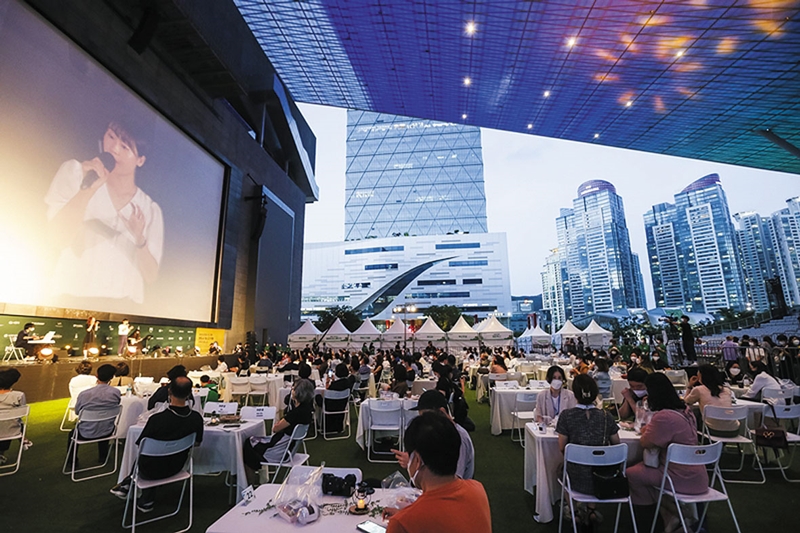 Busan Cinema Center sits with the world's largest cantilever roof at the heart of Centum City.
Currently, businesses, department stores, artists, adventurers, entrepreneurs and tourists flock to the multi-dimensional area. This "Advanced City" has something for everyone, any time of day. Its transformation has projected Busan and Korea into the future.
How to get there: Centum City Station (metro line 2).
Gamcheon Culture Village
A reinterpretation of an abandoned village - "peace"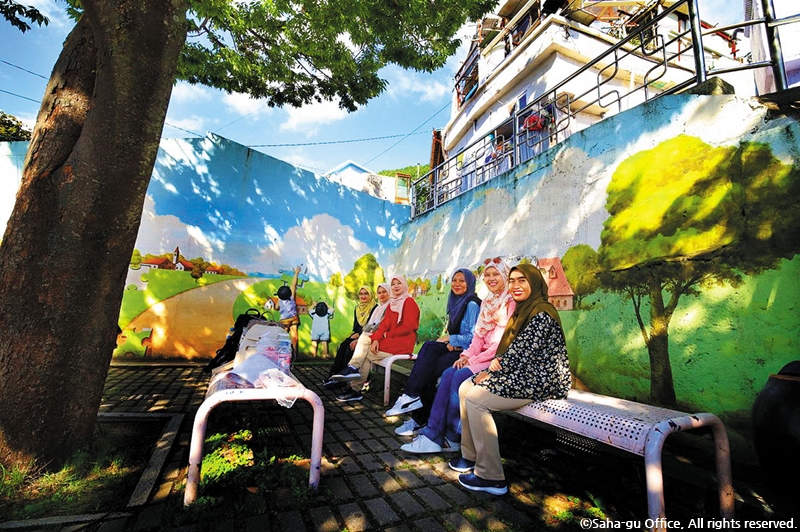 Mural-decorated spaces provide a calm atmosphere for rest within the village.
In addition to future-oriented Centum City, Busan boasts a peacefully preserved historic locale. Gamcheon Culture Village is one of west Busan's most colorful and popular tourist attractions.
The stacked, colorful buildings create an atmosphere similar to that of Santorini in Greece. Subseq-uently, Gamcheon Culture Village is called "The Santorini of South Korea." After the Korean War, it became a residential area for refugees and was slow to develop. In 2009, after about 10 percent of the homes were deserted, the city installed multiple pieces of art and wall paintings in deserted houses and alleyways, even remodeling some homes into galleries. The area's history, renovations and cultural significance have attracted millions of international and domestic visitors each year.
Urbanization and revitalization of Gamcheon Culture Village are underway. In addition to newly added artwork, the area has begun to fill with cafes and accommodations such as guest houses.
How to get there: Busanjin Station (metro line 1), exit 1. Walk for about 4 minutes. Take Seo-gu village bus 2-2 and get off at Gamcheon Culture Village stop.