Views
Busan-based movies compete at Cannes
Cinematic City Views ⑦ Festival films

Geumjeongsan.

On May 29, films shot in Busan won awards at the 75th Cannes Film Festival. Two Korean films were in competition and three others were shown out of competition. Song Kang-ho won the best actor award for "Broker," the first Korean film directed by Japanese filmmaker Hirokazu Kore-eda. Park Chan-wook won the best director award for "Decision to Leave," his fourth film at the festival.

"Broker" poster.

The film "Broker" follows Dong-soo, played by Gang Dong-won and Sang-hyun, portrayed by award-winning actor Song Kang-ho. The pair make money stealing babies that are surrendered into church-operated "baby boxes" and selling them on the underground child market. This time, So-young, played by Lee Ji-eun, singer-songwriter "IU," comes back for her baby. Shortly after, the group departs on a road trip from Busan to Seoul to find a new family for the baby.

Director Hirokazu Kore-eda stated that casting decisions were made after seeing the actors in other works. Kore-eda also shared that, through his research, Busan's distinctly varied nature stood out, so he decided to express those aspects. The production team worked on scouting accessible locations for the beginning locales and chose to film Busan scenes within the city. The crew filmed all 13 sites over two months last year, including popular tourist destinations in Yeonsan-dong (neighborhood), Jeonpo-dong and Dadae-dong.

"Decision to Leave" poster.

"Decision to Leave" begins on a mountain with a man's mysterious death. Detective Hae-jun (Park Hae-il) investigates and begins to suspect the deceased's widow Seo-rae (Tang Wei). The movie was filmed at 23 locations across 14 districts, including Busan Cinema Studios, Geumjeongsan Mountain, Beomeosa Temple, Gijang Ceramic Art Space and Korean Maritime and Ocean University, from 2020 to early 2021. The movie is said to highlight Busan's incomparable diversity and geology.
Numerous Busan attractions have appeared in movies. We here at Dynamic Busan would like to recommend two ideal locales to visit this July.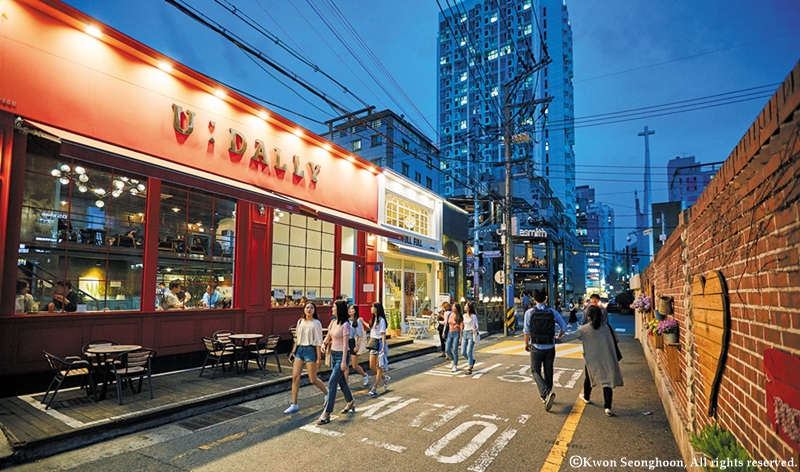 Jeonpo Cafe Street.
■ Jeonpo Cafe Street: In "Broker," near the Jeonpo Samgeori bus stop, where So-young stands, lies Jeonpo Cafe Street. This spot, formerly an area filled with hardware stores, has grown into one of CNN and The New York Times' "must-visit places." The street is brimming with unique cafes and restaurants, each with a distinct theme, concept or specialization.
* How to get there: Jeonpo Station (metro line 2), exit 7. Then, turn left.
■ Geumjeongsan: In "Decision to Leave," Hae-jun and Seo-rae have a conversation at Geumjeongsan, Busan's highest mountain. This landmark locale, which stands 801 meters tall, has valleys with crystal clear water and a dense forest. Its unique and rugged precipice allows hikers to gaze upon the city in its entirety.
* How to get there: Beomeosa Station (metro line 1), exit 5. Take bus 90 and get off at Beomeosa Parking Lot stop.