Views
Chance encounter takes former lovers around city
Cinematic City Views ④ Cinema Street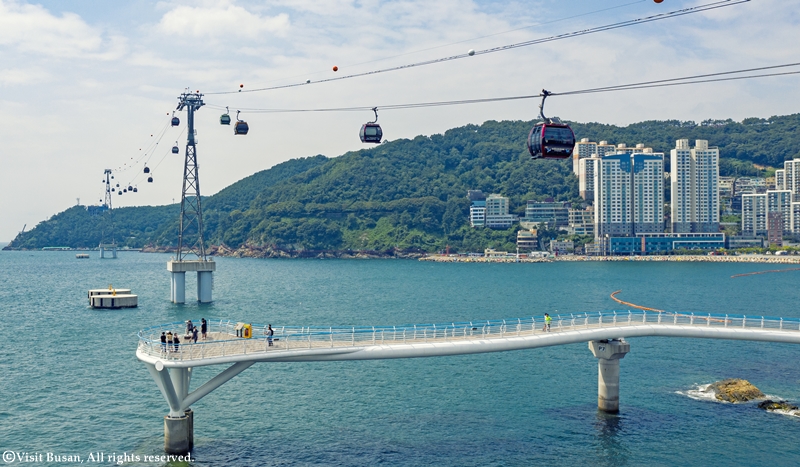 △Whether from 86 meters above the ocean or more than 300 meters into it, catch the perfect shot of Songdo's quiet coast.
■ Happenstance and hidden memories
Running into an ex can be uncomfortable in and of itself, not to mention having to work together. Location manager, Sun-Hwa, played by Han Sun-Hwa and her ex Do Young, played by Lee Wan, a director searching for the perfect Busan filming locale, are thrust into just such an awkward situation. While cold at first, memorable spots cause tensions to thaw as old memories surface. Where will the movie take place? What will become of the pair?
This cinematic journey, directed by Kim Min-Geun, was shot, produced, and distributed entirely in Busan. The film's authenticity is exemplified with the use of local dialects by native speakers Sun-Hwa from Busan and Lee Wan from Ulsan. Well-known local destinations are also featured, sprinkled with shots of old alleys, small theaters and lakeside locales.
A line in the movie hints that there is no magical location; it's our stories and memories that add meaning to a place. Why not visit one of these featured locales to make some magic moments of your own?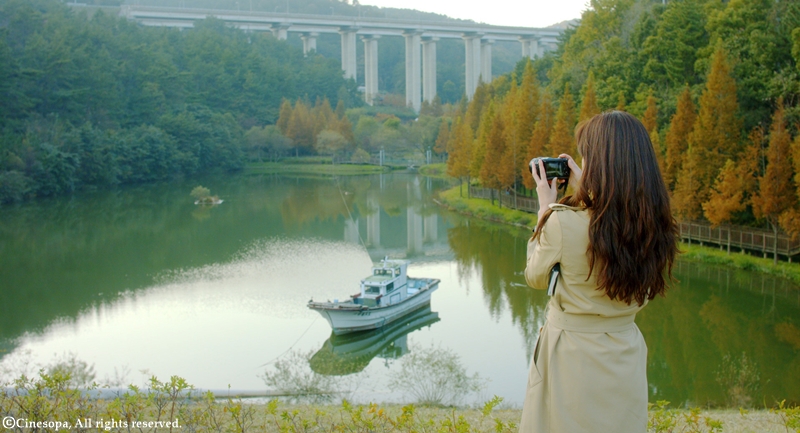 △Sun-Hwa scouts Yongso Well-being Park as a possible filming locale.
■ Yongso Well-being Park and Hoedong Reservoir
The film captures Busan lakeside scenes in a uniquely attractive way. Particularly impressive are Yongso Well-Being Park in Gijang-gun (county) and Hoedong Reservoir in Geumjeong-gu (district). The park is near Gijang Market, famous for its snow crab dishes. A walking path and an observation deck accompany a forest-surrounded reservoir, called "Yongso-gil." Its majestic scenery boasts such a beautiful landscape that it received the Minister's Award at the Korea Landscape Grand Prize in 2008.
The reservoir is located in the middle of downtown Geumjeong-gu mountains. While access as a water source was banned for conservation purposes, it was reopened to the public in 2010. Now, it is an established resting area with an ocher path, cypress trails and a deck path.
Yongso Well-being Park: Gijang Station (Donghae line), exit 1. Walk about 20 minutes. (San 7-2, Seobu-ri, Gijang-eup, Gijang-gun)
Hoedong Reservoir: Jangjeon Station (metro line 1), exit 4. Take Geumjeong-gu village Bus 5 (25-minute intervals) and get off at the last stop, Oryunbondong.
■ Millak Port
An approximate 15-minute walk from Gwangalli Beach lies Millak Port which starts on the east end of the beach. Here, the aisles of Millak Fresh Fish Center and Fish Market consistently fill with the sound of bargaining merchants. Ships bob alongside a red and white lighthouse set against a backdrop of Marine City.
In particular, Millak Waterside Park, just past the port, puts the entirety of Gwangan's Diamond Bridge into deep focus. On summer nights, the area is packed with impromptu parties and scenic picnics. Grab some freshly seafood nearby to join in on the festivities.
Millak Waterside Park: 361, Gwanganhaebyeon-ro, Suyeong-gu

△The former couple shares a moment at Millak Waterside park.
■ Songdo Cloud Trails
The once couple traverse these trails, searching for the perfect place to shoot. Nearby is Songdo Beach, famous for the Busan Air Cruise, which shuttles adventures across the sea. A round trip on the cable car takes about 15 to 20 minutes.
In the movie, Seonhwa and Doy-oung walk beyond the shore under the marine cable car along Songdo's Cloud Trail. Boasting a height of 9.3 meters and a total length of 365 meters, it's longer than the Oryukdo Skywalk or the Haeundae Daritdol Observatory. In the middle of the walkway, you'll find a transparent floor offering thrilling maritime views. The jutting platform makes it an ideal location to catch a mid-summer's night sunset filling the horizon.
Songdo Beach: Nampo Station (metro line 1), exit 8. Take but 6, 30 or 71 and get off at Amnamdong Community Service Center.