Views
A series of fortunate panoramic views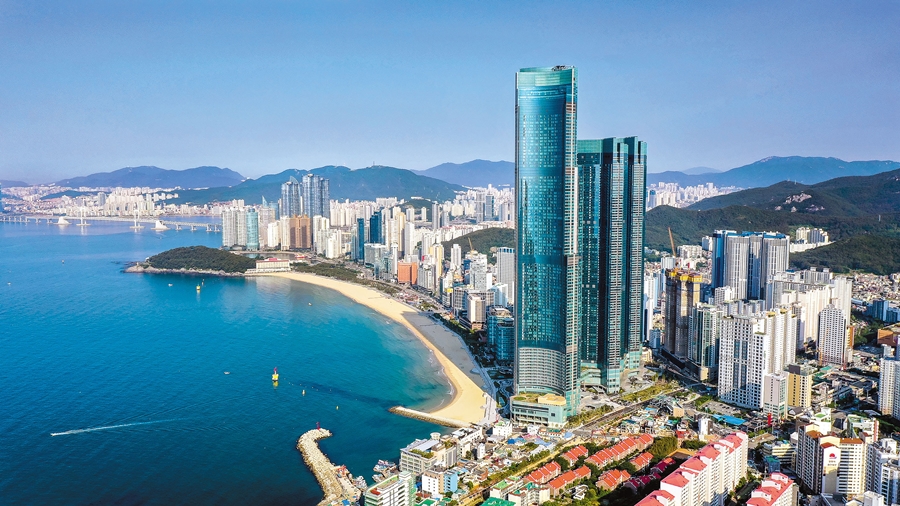 ▲ Haeundae LCT the Sharp, home of Busan X the Sky observatory, is the tallest building in Busan and the second tallest in Korea, standing over 400 meters tall. (source: Haeundae-gu Office)
 Busan, Korea's international tourism city, where nature and city harmonize, lies a myriad of observatories for people to soak in all the city has to offer. We have prepared a list of places to catch the finest views of the city for a series, starting with the Haeundae area.
▲ The snake-shaped skywalk juts out into the water.

◈ Cheongsapo Daritdol Observatory
 Moving east from Mipo near Haeundae Beach, there is a small port famous for its grilled clams named Cheongsapo. There you'll find the Cheongsapo Daritdol Observatory, a marine skywalk stretching about 20 meters above the sea.
 Originally called Cheongsa, meaning "Blue snake," the area is now Cheongsapo and the name can be traced to a local legend.
 Once upon a time, there was a kind-hearted couple living in the village. The husband often went fishing. One day he didn't come back, but his wife waited for his return, day after day. It is said that the dragon king felt pity for her and sent a blue snake to reunite the couple. Based on this folktale, the observatory was made in the shape of a blue snake and is reminiscent of a dragon's tail.
 "Daritdol" refers to the five stones neatly arranged stones in front of the observation deck to the lighthouse nearby.

▲ Shoe covers are required to protect the glass floor.
◎ Address: San 3-9, Jungdongsan, Haeundae-gu
◎ Hours: 9 a.m. to 6 p.m. Open until 8 p.m. from June to August.
◎ How to get there: Jangsan Station (metro line 2), exit 7. Take Haeundae-gu village bus 2, get off at Cheongsapo bus stop, the last stop and walk toward Songjeong for about 10 minutes.
※ Cheongsapo Daritdol Observatory can also be accessed directly by the Haeundae Blue Line Park Beach Train.

▲ Gaze upon land and sea at Busan X the Sky observatory. (Source: Busan X the Sky)
◈ Busan X the Sky
 Or why not start with the tallest building in the city? Busan X the Sky in Haeundae's LCT the Sharp, is a must-see locale, right next to the beach. It is a multipurpose building lending its 98th to 100th floors to an observation deck and lounge, where places such as Dalmaji Hill, Gwangandaekyo Bridge and downtown Haeundae can be fully appreciated.
 Visitors can buy a ticket on-site or online (www.busanxthesky.com). After buying a tic-ket, or confirming your reservation at the ticket counter on the first floor, there is an elevator that goes directly to the top. On the way to the 100th floor there are clear walkways and facilities such as, a souvenir shop and a digital video show on the 98th floor, and a Starbucks, an outdoor garden and a restaurant on the 99th floor.
 Admission to the observatory is 27,000 won for those aged 13 and older. Tickets for those between the ages of three and 12 years old and over the age of 65 are 24,000 won. Infants under three can visit for free.
◎ Address: 30, Dalmaji-gil,Haeundae-gu
◎ Hours: 10 a.m. to 9 p.m. weekdays, weekends and holidays.
◎ How to get there: Jungdong Station (metro line 2), exit 7. Walk about 12 minutes.