Views
Adventure throughout Amnam Park
 With temperatures and humidity rising, a sense of lethargy is natural. On those days when you don't feel like doing anything, it's easy to feel uneasy. So, instead of zoning out in front of the air conditioner with the TV blaring, journey into nature. Escape from lazy days by the cool ocean water or down a shady forest path, Amnam Park is waiting.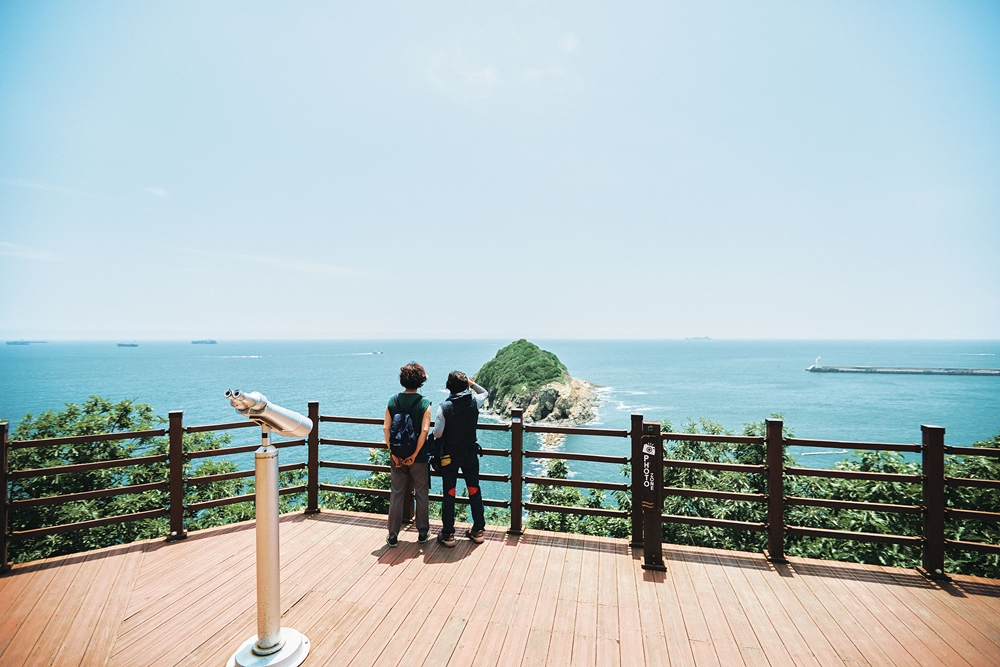 ▲ For some panoramic pictures of Yeongdo Island, Oryukdo Islets and Gamcheonhang Port, visit Dudo Observatory. (Source:Kwon Seonghoon)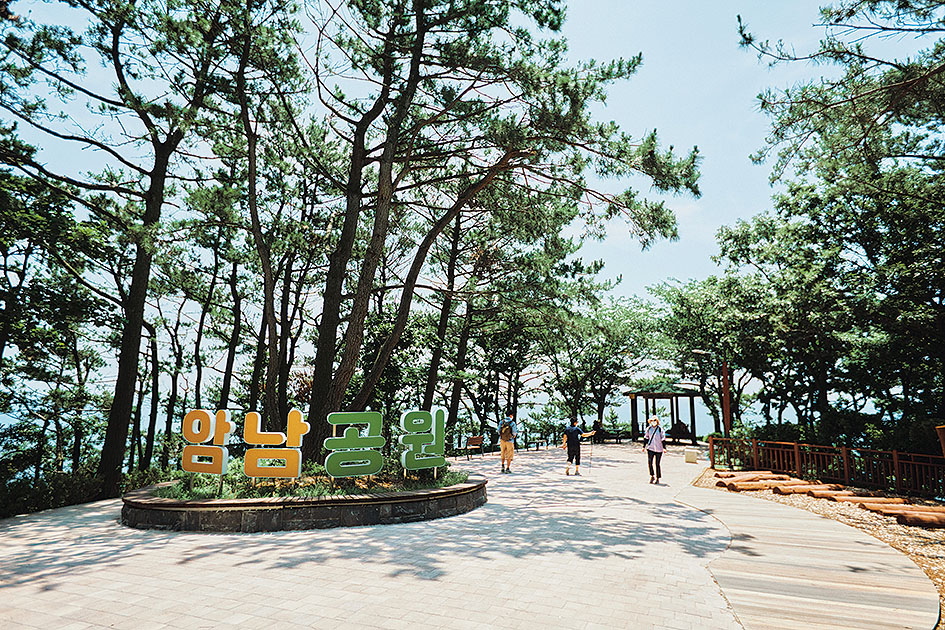 ▲ Amnam park is bursting with scenic spots to explore. ​(Source: Kwon Seonghoon)
■ Amnam Park
 Songdo Beach has a hidden gem where visitors can enjoy the forest and beach simultaneously, Amnam Park. Once a military zone, it has been flourishing and open to the public since 1996. Thanks to the blending of ecosystems, the lush forest is packed with diverse species of trees and more than 500 different plants and wild flowers. Against areas of this cornucopia of plant life is a one-of-a-kind striated cliff.
 The 550,000 meters squared park takes about an hour to walk through entirely. While there, visitors can stroll along the pine-tree-lined trail or visit one of many facilities such as a fishing area.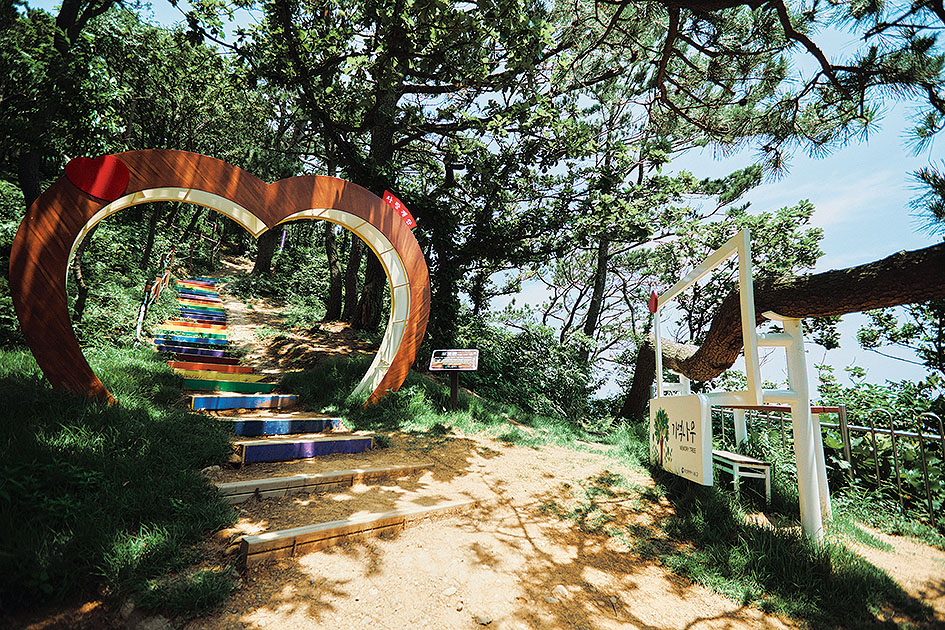 ▲ A forest by the sea is a lovely place to soak in the greenery. (Source: Kwon Seonghoon)
■ Healing Forest Path
 Amnam Park destinations are connected via the Healing Forest Path, which is four tracks "Happiness," "Contemplation," "Challenge" and "Hope." The longest course is no longer than three kilometers, making the trails accessible for almost anyone to enjoy. No matter which path, the healing forest aims to relax even the most stressed visitors with its lush greenery.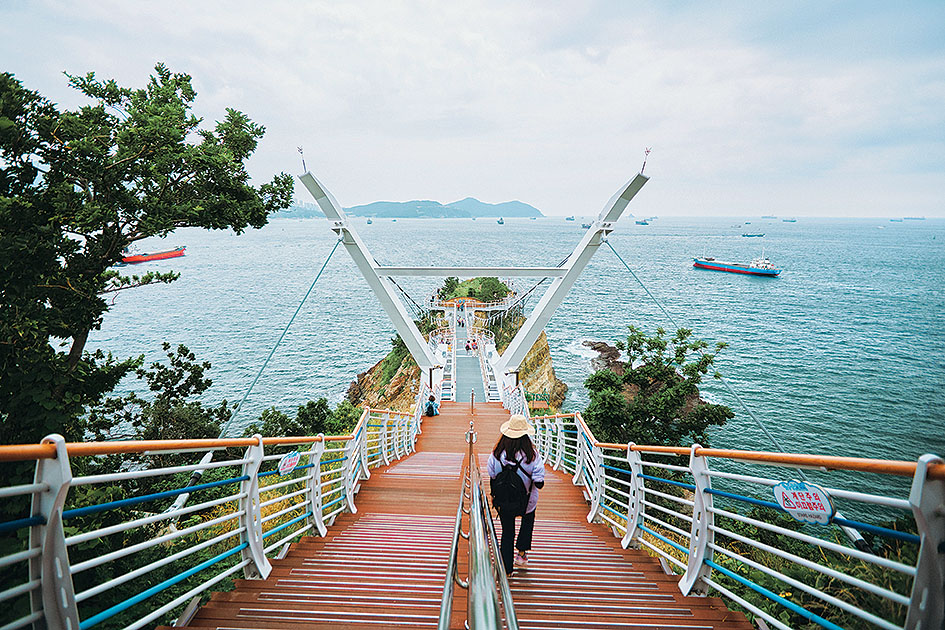 ▲ Trek down and around the bridge for some island foliage. (Source: Kwon Seonghoon)
■ Songdo Yonggung Bridge
 A unique find inside the park is Songdo Yonggung Suspension Bridge. The 127-meter-long two-meter-wide skywalk connects the park to Dongseom Island, an uninhabited island across from the park.
 Unlike some skywalks, made by tempered glass, this one is made with steel and a metal wire mesh floor. Visitors can walk 25 meters above the sea and peer through the mesh to the ocean below. Even though access to the bridge ends before sunset, golden lights on the walkway light up when the sun goes down.
■ Dudo Observatory
 A highlight attraction is the Dudo Observatory, an ideal place to enjoy an aerial view of the forest and sea. Enjoy the wafts of sea breeze and feel the ocean mist as the waves break against the cliff face. Tune out all distractions as you watch the ships rock back and forth on the horizon. The scenery and atmosphere surrounding the rocky Dudo Island are reminiscent of a Monet masterpiece.
◎ How to get there: Nampo Station (metro line 1), exit 8. Take bus 26, 30 or 71 and get off at Songdo Beach stop.