Views
Fly high above trees and over seas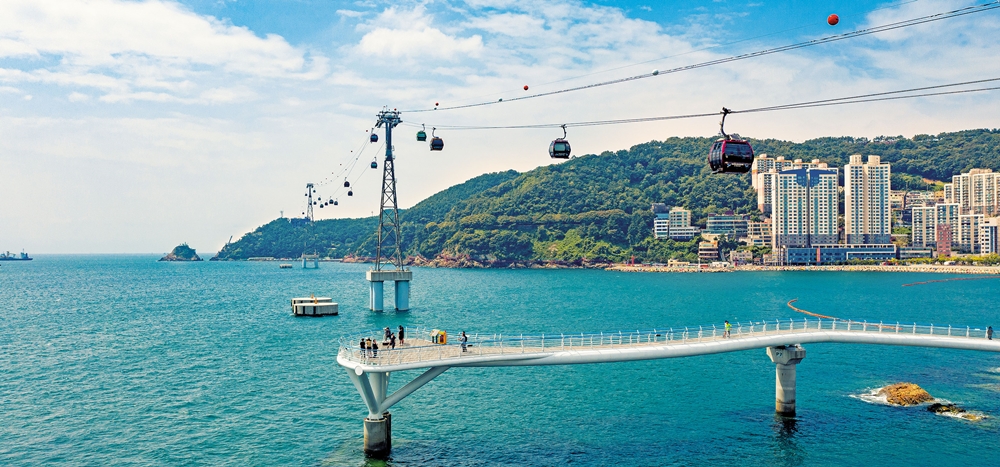 ▲ Glide through the air with the greatest of ease on one of the must-try rides, the Busan Air Cruise in Songdo Beach.
 A view from the top can give people a potentially new, picturesque perspective. As the sea gets clearer and the mountains become greener, summer is underway, making it an ideal time to enjoy both views. Cable cars are a perfect way to get the best of both worlds.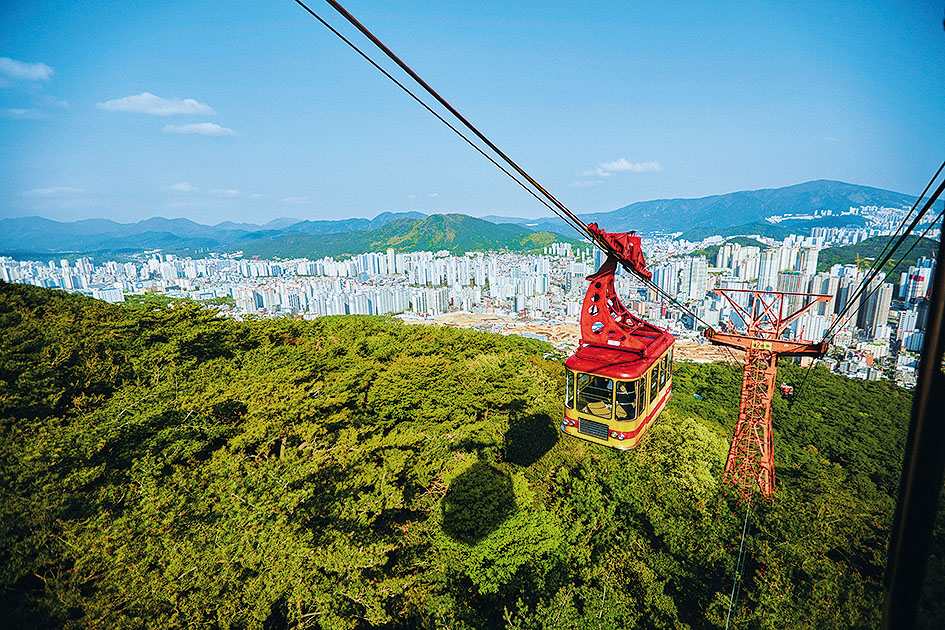 ▲ Up here, beyond the trees, the cable cars are waiting. (source: Kwon Seonghoon)
Geumjeongsan Mountain×Geumgang Park Ropeway
 For those who love the mountains in summer, Geumgang Park Ropeway is a wise choice. Built in 1966, the vintage cable cars travel 1.26 kilometers to the top of the 540-meter tall mountain ridge. The cars travel slow enough that the passengers can enjoy the lush mountain face, bright downtown lights and if they're lucky, even catch a glimpse of the Haeundae seashore.
 After disembarking, a short walk will lead visitors to the south gate of Geumjeongsanseong Fortress. If you have the time, why not take a relaxing stroll among the greenery and fortress? Cable car tickets for adults and teenagers are 9,000 won for round-trip tickets and 6,000 won for one-way tickets.
◎ Address: 155, Ujangchun-ro, Dongnae-gu
◎ Hours: 9:30 a.m. to 5:30 p.m. Tuesday through Sunday and 9:30 a.m. to 6 p.m. from April to November. Closed Mondays.
※ Operation may be suspended or changed due to inclement weather or the health and safety of staff and passengers.

▲ Through the glass floor, passengers can see the ocean below.
Songdo Beach×Busan Air Cruise
 Recently, Songdo beach has grown in popularity, with the opening of the "Busan Air Cruise" cable cars in 2017. Since the cars travel 1.62 kilometers from Songrim Park at the eastern edge of the beach to Amnam Park in the southern area of the beach, there is a lot for passengers to appreciate. The cars even have Bluetooth speakers to set the scene. The Crystal Cruise is another option, where riders are surrounded by transparent glass, adding a little thrill to the journey.
 At Amnam Park, visitors can spend time in the gallery, cafes, restaurants or even visit the Sky Harbor Observatory, which provides a panoramic view of the beach from a whole new, fun perspective. Tickets can be purchased online (busanaircruise.co.kr).
◎ Address: 171, Songdohaebyeon-ro, Seo-gu
◎ Hours: 9 a.m. to 8 p.m. on weekdays. 9 a.m. to 9 p.m. on weekends and holidays.
※ Operation may be suspended or changed due to inclement weather or the health and safety of staff and passengers.