Views
"Super Nature" exhibit mixes art with ecology
▲ Museum guests stand in room of HD digital art at Museum DAH: in Centum City, Busan. (Source: Kwon Seonghoon)
A new exhibition titled "Super Nature" has opened at Museum DAH:, Korea's first digital media art museum. Focusing on environmental issues, it will be on display through August 31, 2021.
▲ "Eternal Sunshine" uses a floor of art tiles and glass ceiling. (Source: Kwon Seonghoon)
■ Focus on Biodiversity
 "Super Nature" explores biodiversity, the theme of World Environment Day 2020. The display addresses environmental problems and suggests the importance of environmental preservation and is sponsored by Busan Environmental Corporation, World Wide Fund for Nature (WWF) and Daejayon, an NGO composed of university students from around the world.
 "Super Nature" seeks to make people realize the importance of biodiversity through a combination of visual art and science. Museum DAH: shows us a vision of the future where humans and the natural world coexist sustainably. Visitors learn why we should protect the environment using all five senses at this exhibition.
 Works by 21 Korean and international modern artists. Over 150 works are on display, including video, installations, furniture, design, photography, paintings, sculpture, fashion and sound.
▲ Art flows from the wall to the floor of a unique digital installation. (Source: Kwon Seonghoon)
■ Time for Nature
 Passing through the entrance and turning the corner, guests are greeted by a fancy door with a shark sculpture hanging above. This flower-patterned piece titled "Heaven's Gate" is decorated with glass and is the sparkling starting point of the exhibition. Next comes "Eternal Sunshine", a digital visual piece that is projected on both walls to catch the viewer's eye and feels like entering a mystical cave with art tiles on the ground and glass on the ceiling.
 "Miracle Space" is the the centerpiece of the exhibition. It's Korea's first and largest exhibition hall where full HD LED screens shine on digital art walls. It focuses on nature and combines technology and aesthetic imagination to mesmerizes guests. Audience members can move around or sit to take in the exhibit. At first, viewers might be overwhelmed by the gorgeous video display. As the piece progresses, they come to realize the importance of environmental preservation through the captivating details and metaphors in the video.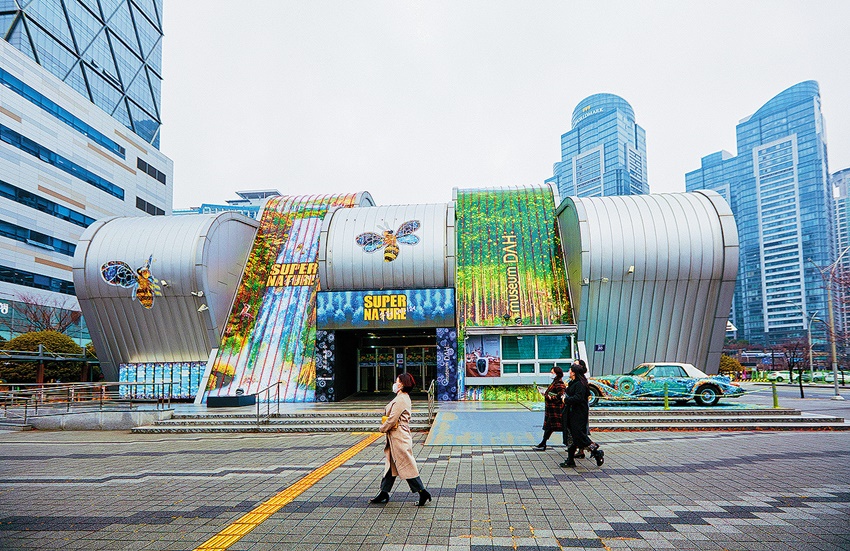 ▲ Museum DAH: is in Centum City, Busan. (Source: Kwon Seonghoon)
※ How to get there: Centum City Station (metro line 2), exit 6. Walk toward Busan Cinema Center.
※ Website: museumdah.com