Views
Rebuilt Nambu rail is the best way to chill out

▲ The Nambu railway, up until recently barely more than a walking trail, is once again home to a train, and tickets to ride are available now. (Source: Moon Jinwoo)
You may think that the experience of taking a train by the coast is one reserved for a European vacation, but you'd be wrong! This sort of magical adventure is perfectly accessible to those in Busan.
Haeundae Blue Line Park officially opened after a long period of exhaustive redevelopment of the nearly five-kilometer-long section of the old Donghae Nambu railroad track. Now, the once abandoned area features a walking trail, a functioning train and a scenic park. Whether you take the train or go for a stroll, you won't go wrong with this amazing coastal view.
Course: Mipo Station, Dalmaji Tunnel, Cheongsapo Station, Cheongsapo Daritdol Observatory, Gudeokpo and Songjeong Station (four-and-a-half kilometers)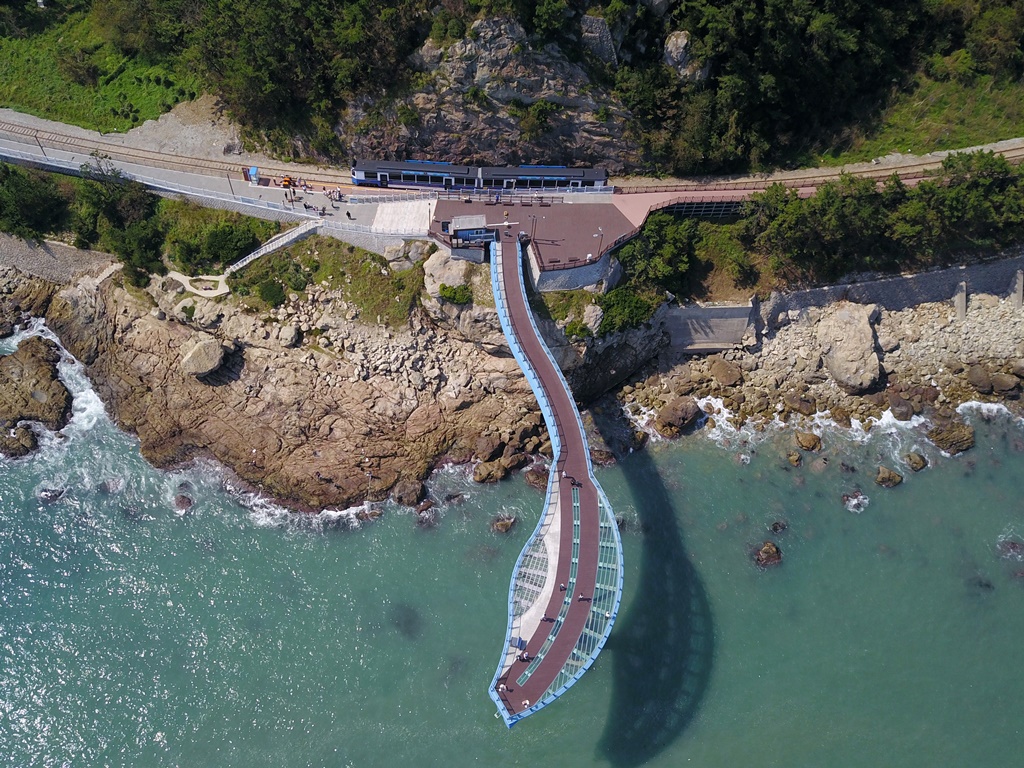 ▲ The Cheongsapo Daritdol Observatory snakes over the sea.
The Haeundae Beach Train is the highlight of Blue Line Park. The exterior of the train's four cars are red, green, yellow and blue and feels more European than Asian. Inside, the train is equipped with large glass windows designed to give you the best view of the sea and the coast as possible. The train runs at a leisurely pace with sights of Marine City, Gwangandaegyo Bridge, Cheongsapo and Songjeong. Even at its moderate speed, the ride isn't too long and is perfect for those who want to see the sights in a short time. It departs every 30 minutes on weekdays and every 15 minutes on weekends and peak seasons. A one-way trip from Mipo Station to Songjeong Station takes about half an hour.
A pass from one station to another is 7,000 won per person. A ticket for two stops is 10,000 won. This ticket is also good for a round trip. Those who want to visit all six stops will need to pay 13,000 won. Tickets are available digitally at every station.
The Haeundae Beach Train is up and running, but another attraction is also noteworthy: the Sky Capsule. Going back and forth between Mipo and Cheongsapo Station, the Sky Capsule shuttle travels the two-kilometer distance at five kilometers per hour along an elevated track. Prices for the Sky Capsule vary depending on party size. A round trip for one or two passengers costs 55,000 won.
How to get there: Jangsan Station (metro line 2), exit 7. Go straight for 600 meters. Cross the road in the direction of Haeundae Wonjo Halmae Gukbap at the five-way intersection and walk for an additional 140 meters.
Website: bluelinepark.com
Phone: 051-701-5548

▲ The many colors of the brand new attractions add to the area's sense of wonder.

▲ The Blue Line is perfect for a quick tour.