Views
Impressive nocturnal tourist locale in Nampo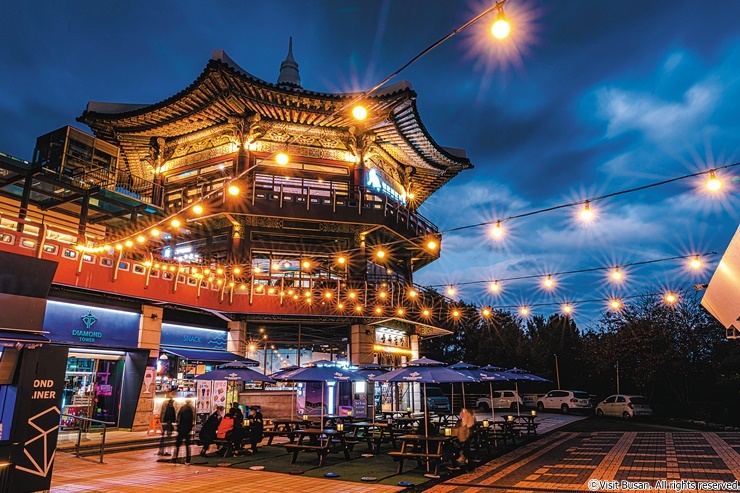 ▲ Yongdusan Park's illuminated patio welcomes guests visiting the Diamond Tower (Busan Tower) and the newly opened Yongdusan Village.
 Yongdusan Park, situated in Gwangbok-dong (neighborhood), Jung-gu (district), is a representative Busan tourist attraction. In the heart of the park lies the 120-meter-tall Busan Tower, a graceful octagonal pavilion and a flower-decorated clock. Last September, unique spots surrounding the tower appeared to create "Yongdusan Village."
◎ Hours: 6 to 11 p.m. from Thursday to Sunday.
◎ How to get there: Nampo Station (metro line 1), exit 7. Walk about five minutes to the escalator at the entry gate on the right side of the main road.
◎ Website: bisco.or.kr/yongdusanpark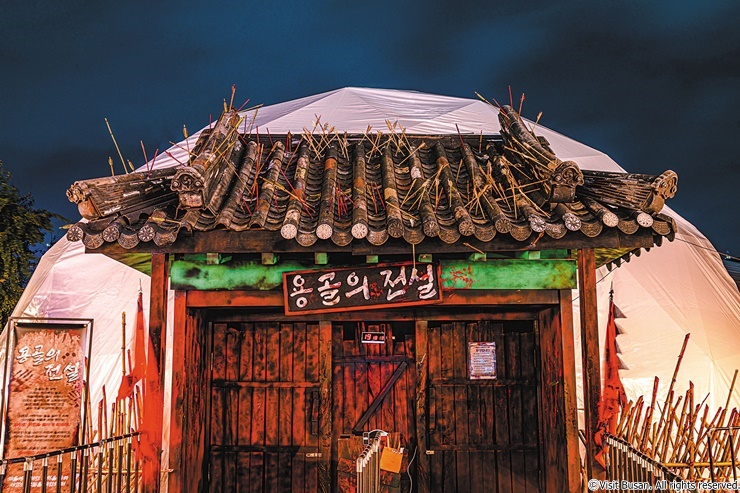 ▲ Legend of Dragon Valley's exterior.
■ Haunted house
"Legend of Dragon Valley"
 The entrance of the haunted house is designed in the traditional hanok (traditional Korean house) style with a bloodstained sign and arrow-studded roof, lending to the building's eerie atmosphere. Teams of four to five people are allowed in at a time. The group enters almost complete darkness, with only a single flashlight guiding the way. As the light moves across the house, screaming can be heard and figures can be seen in the distance.
Hours: 5:30 to 10:30 p.m. from Thursday to Sunday.
Admission: 9,000 won on weekdays and 11,000 won on weekends.

■ Craft beer "Dduyong Beer"
 "Dduyong Beer," a pub within the park, features three specialty craft beers: "Surleim," a sweet and sour ale with notes of lemon and hops, "Surfing High," a fresh lager packed with sweet honey flavor and "Railroad Porter," a dark brew that combines hints of sweet dark chocolate with a hazelnut coffee scent. The pub also sells well-paired accompaniments such as made-to-order ramen and varieties of tteokbokki (rice cake and fish cake in a spicy sauce).
Beer: 6,000 won
Accompaniments: 4,000 to 6,500 won
▲ Fares at Yongdu Myeonggwa.
■ "Yongdu Myeonggwa"
 Next to Dduyong Beer is "Yongdu Myeonggwa," a souvenir shop that sells all kinds of snacks, including baked sweet potatoes. A sought-after treat is "Dduyongee bread," named after "Dduyong," the flying turquoise dragon who serves as a mascot of the village.
■ More
 At the hanbok experience booth, guests can rent hanboks and related accessories. There is a garden in front with various activities guests can enjoy while wearing the Korean traditional clothing.
 At 7 p.m. every Saturday, busk-ing is scheduled near the square. Other amenities, such as a flea market, are also available during village hours. Yongdusan Village closes at the end of the month.