Views
Incandescent hope radiates through new year
Haeundae Beach·Nampo-dong·Busan Citizens Park·Gwangalli Beach
Once again, this winter, the city fills with lights. The most popular seasonal tourist attractions come to Haeundae, Nampo-dong (neighborhood), Busan Citizens Park, Gwangalli and more. The light and fireworks festivals hope to comfort guests while delivering cheer through the end of the year.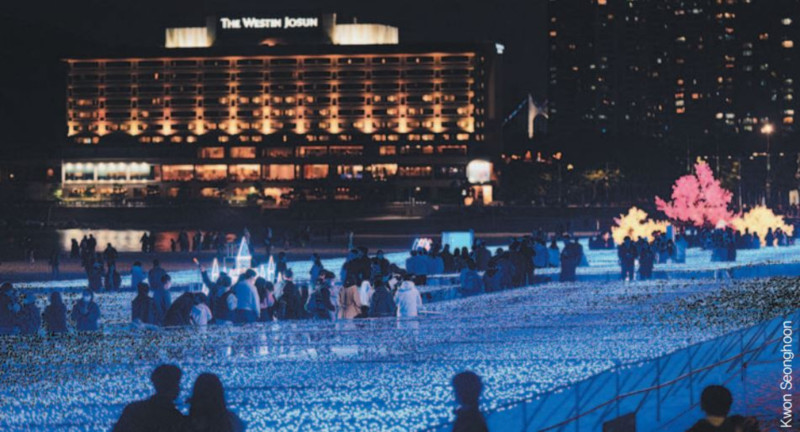 Haeundae Lighting Festival
# Haeundae Lighting Festival Nov. 18 to Jan. 24
Haeundae Beach and Gunam-ro area
 The ninth Haeundae Lighting Festival is held until Jan. 24. This year's theme is "Again, Haeundae Sea of Light" and safety management has been strengthened. Haeundae Beach, Gunam-road, Haeundae Square, Haeundae Market and the hot spring road are decorated with lighting displays. The festival lights are aglow from 5:30 p.m. to midnight. However, the Haeundae Beach area closes at 11 p.m.
 A unique festival space is the "Light Wave," which has doubled in size from last year to 400 meters and includes a video featuring seven media artists' works against a white sandy beach background. On Christmas, a caroling contest, UNICEF Christmas concert and parade will be held at the Haeundae Beach event plaza from 6 to 9 p.m.
- How to get to Haeundae Lighting Festival: Haeundae Station (metro line 2), exits 3 or 5.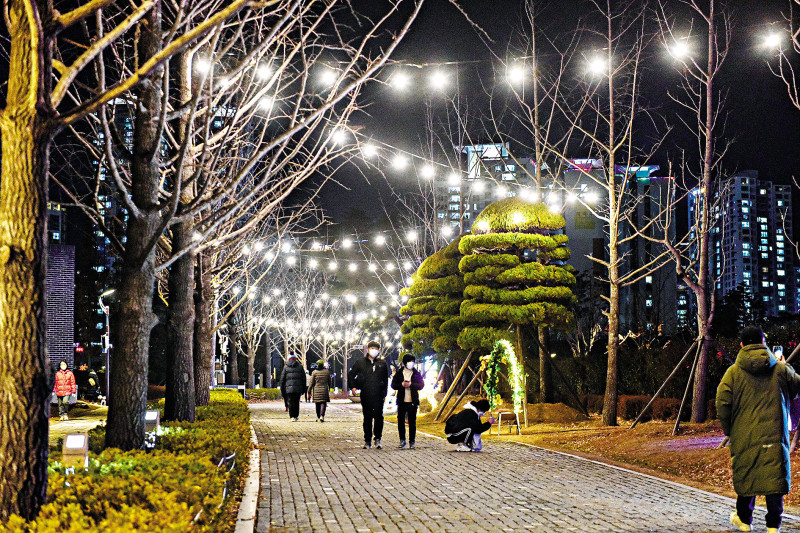 Light Dream Festival

# Hope Dream Light Festival Dec. 5 to Feb. 28
Busan Citizens Park
 Another light festival, the Hope Dream Light Festival, is scheduled to be held at Busan Citizens Park till Feb. 28. This year, a theme of anticipation for the World Expo 2030 Busan will be added to provide more differentiated attractions and express the city's progress.
 Sculptures are installed at the 600-meter section from the park's South 1 Gate to the North Gate and from there to the Busan National Gugak Center. Also, the fountain near South 1 Gate features a lighting display every night.
- How to get to Busan Citizens Park: Bujeon Station (metro line 1), exit 7. Walk toward Busan Bank and go straight 500 meters along the road.

Gwangbok-ro Light Festival

# Jung-gu Light Festivals Dec. 17 to Jan. 29
Gwangbok-ro and Sanbok Road
 This year, the Gwangbok-ro Tree Festival (tentative name) is held from Dec. 17 to Jan. 29. Various light sculptures will be displayed along a 1,140-meter-long section from Gwangbok-ro to Gwangbokjungang-ro, in Jung-gu (district) catching visitors' eyes. Photo zones are also set up so visitors can capture memories with their loved ones.
 The Sanbok Road (Mountainside Road) also illuminates winter nights in Busan through a festival all its own. The Sanbok Road Light Festival installations and decor extend through Daecheong-dong and Yeongju-dong. The festive light display begins at the 1.6-kilometer section reaching from Hyekwang High School to Yeongju Sky Eye Observatory and offers unique light sights.
- How to get to Gwangbok-ro: Nampo Station (metro line 1), exit 1.
- How to get to Hyekwang High School: Jagalchi Station (metro line 1), exit 1. Take Jung-gu village Bus 1 at Bupyeong Market stop and get off at Rear Entrance to Hyekwang High School stop.
# The 17th Busan Fireworks Festival Dec. 17
Gwangalli Beach, Dongbaekseom Island and the Igidae Cliff area
 The much anticipated Busan Fireworks Festival will take place at Gwangalli Beach, Dongbaekseom Island and the Igidae Cliff area, Dec. 17. The festival, which was slated to be held Nov. 5, was put off indefinitely due to the national mourning period for the tragedy in Itaewon.
 Since the event has moved to December, the show commences an hour earlier at 7 p.m. to account for the weather. However, the theme, aimed at winning the World Expo bid, will remain the same, "Harmony of Busan." City Hall wants to ensure everyone that advanced safety measures have been put into place to prioritize visitors' safety.
- How to get to Gwangalli Beach: Gwangan Station (metro line 2), exit 3 or 5. Go straight for 15 minutes.
- Website: bfo.or.kr/festival_Eng