Views
Busan, center of Korea's coffee fascination
City Spotlight ③ Cafe capital
Around the world, cities dubbed "coffee cities" have one thing in common. They are all scenic, walkable harbor cities like San Francisco, Portland and Seattle, the birthplace of Starbucks.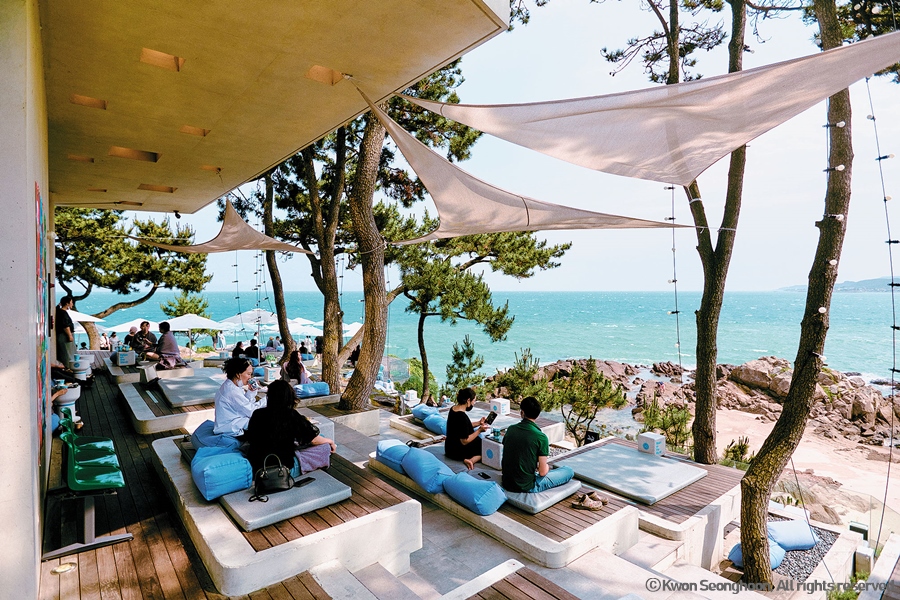 Waveon Coffee.

Busan qualifies as one of these port locales and as a gateway to the coffee import industry. With over 90% of Korea's green coffee beans imported into the country through the city, it is settling into its new designation as a coffee city.
In addition, Busan, with majestic views of the beach and mountains, has been on the rise as Korea's coffee city. We will introduce two of the best cafe-specialized areas, which feature picturesque ocean scenes and autumn leaves to enjoy this fall.

A'de Choi

■ Gijang
The Gijang coast retains the appearance of a traditional fishing village, exuding a completely different mood from the beaches near downtown areas. The area is home to the Busan Premium Outlets and picturesque destinations. Most local cafes are even built with large glass windows so visitors can enjoy the cool east coast ocean views.
Locales with outdoor sofas and seating facing the sea are especially popular, like Waveon Coffee and HAYDEN. On the other hand, add some more food and upbeat music for a luxurious visit. A'de Choi, this rococo-style cafe boasts stylish and sophisticated interiors, resembling a luxury hotel. The graceful chandelier and calm classical music harmonize with the seascape atmosphere. Restaurants near the Gijang cafe area fill up fast, so making a reservation in advance is a good idea.
How to get to the Busan Premium Outlets: Jwacheon Station (Donghae line), exit 1. Take bus 37, 182 or 302 and get off at the Busan Premium Outlets bus stop.
Waveon Coffee (웨이브온 커피)
286, Haemaji-ro, Jangan-eup, Gijang-gun
HAYDEN (헤이든)
22, Munoseong-gil, Ilgwang-eup, Gijang-gun
A'de Choi (아데초이)
162-1, Munoseong-gil, Ilgwang-eup, Gijang-gun

Beomridan-gil near Beomeosa Temple.
■ Beomridan-gil
Beomridan-gil is near Beomeosa Temple. The famous Busan temple was built during the Silla Dynasty. It is beloved by many national and international travelers and Buddhists because it boasts beautiful scenic views of Geumjeonsan Mo-untain. The trail leading down from the temple is developing into an area focused on food and coffee, named "Gourmand Alley." Riding on the Busan cafe craze, unique and unusual cafes were popping up one after another, creating the current Beomridan Street.
Unlike other Busan ocean views of coffee shops, the cafes on this street are surrounded by trees. Both inside and out, unique scenic views are found by those who visit. The end of October to the end of November is the best time to enjoy the forest greenery transitioning into reddish hues.
How to get to Beomeosa Temple: Beomeosa Station (metro line 1), exit 7. Go straight toward the alley in front of exit 7. Take village bus 90 and get off at the Beomeosa Box Office stop.

Cafe SHADE.
Cafe SHADE (카페쉐이드)
9, Hama 1-gil, Geumjeong-gu
TEA1 (티원)
363, Beomeosa-ro, Geumjeong-gu
The Farm 471 (더팜471)
28-17, Hama 2-gil, Geumjeong-gu