Views
Screen filled with sentimental seaside scenes
Cinematic City Views ③ Waiting for Rain
Alas, it's growing increasingly difficult to imagine a time without the internet and smartphones. In the past, many would send letters by mail, eagerly waiting for a reply to fly into their mailbox; thus, the term "pen pal" was coined. Dynamic Busan has ventured through the old downtown areas of Huinnyeoul Culture Village and Ibagu-gil Alley to contextu-alize and connect this concept with a popular Korean film.

△Following the paved coastal trail allows visitors to comfortably access everything Huinnyeoul Culture Village offers.
Romance in the absence of smartphones in "Waiting for Rain"
Young-ho (Kang Ha-neul), a man from Seoul without any clear goals, preparing for his third Korean SAT, haphazardly sends a letter to his childhood friend. A woman from Busan, So-hee (Chun Woo-hee), who runs a secondhand bookstore with her mother, replies to the letter instead of her sick older sister. With that reply, an exchange of handwritten letters ensues, invigorating both of their lives. Will they decide to meet in person? How would it be? Watch "Waiting for Rain," directed by Jo Jin-mo, to find out.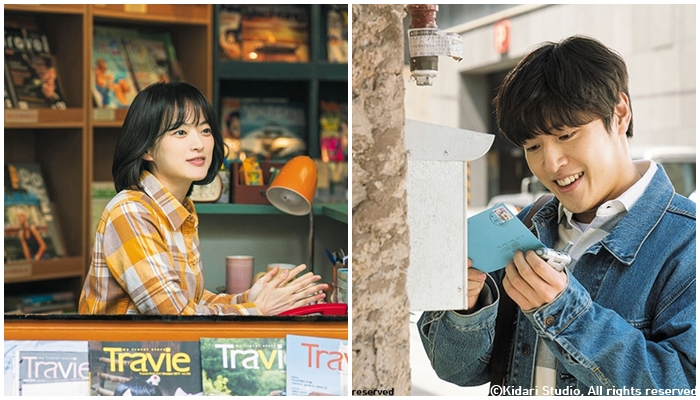 △So-hee (Chun Woo-hee) on the left, and Young-ho (Kang Ha-neul) on the right.
Huinnyeoul Culture Village: home of So-hee's seaside bookstore
The antique secondhand bookstore is set at "Sonmokseoga," located in Huinnyeoul Culture Village. The area's coastal scenery is considered "Busan's Santorini." Clustered houses line the uphill slope and beneath it lies the Jeoryeong Coastal Walk, one of Korea's five coastal roads. The view of industrial sea vessels waiting to dock juxtaposes the residential area with its narrow passageways and charming stores.

△Sonmokseoga.
Sonmokseoga is a bookstore as well as a cafe run by a married couple, an editorial cartoonist and a poet. The cozy antique atmosphere gives guests the sense of entering a living room with the added bonus of a cool salty breeze.
Sonmokseoga (손목서가): 11 a.m. to 7 p.m. 307, Huinnyeoul-gil, Yeongdo-gu
Huinnyeoul Culture Village: Nampo Station (metro line 1), exit 6. Take bus 7 or 71 and get off at the Huinnyeoul Culture Village stop.

△Take the monorail up 168 Stairs.
Ibagu-gil Alley: a step back to the 2000s
The umbrella repair shop and the street Young-ho visited is part of the Ibagu-gil Alley. "Ibagu" comes from Busan dialect, meaning "story," and "gil" means road. True to its name, this alley embraces various stories that link the past to the present. The area encompasses Baekje Hospital, Busan's first modern hospital in front of Busan Station and "168 Stairs," a landmark locale showcasing a mural-filled mountainside journey.
The "Ibagugil Photo Studio," is where the repair scenes were filmed. The path which leads there aims to connect the city through time by leaving some buildings while renovating others. The film's red brick building that the characters pass is Baekje Hospital. Currently, the building serves as a popular grammable cafe called Brown Hands Baekje.
The other featured locale is the 168-staired hill, where Korean War refugees built their homes. If you're worried about traversing the steep trail, don't fret; there's a free monorail. After climbing, Sanbokdoro (mountainside road) awaits. Along the road sit some tourism spots like the Ibagu Archive Center, where guests can learn about the alley's history and the crimson red Yu Chihwan Postbox famous for its size and being photogenic. If you have time, stop by the Nuribaragi Observatory for a panoramic view of the entire area and Busanhang Port.
Brown Hands Baekje (브라운핸즈백제): 10 a.m. to 10 p.m. 16, Jungang-daero 209beon-gil, Dong-gu
168 Stairs monorail: 8-1, Yeongcho-gil 191beon-gil, Dong-gu
Yu Chihwan Postbox: 2, Mangyang-ro 580beon-gil, Dong-gu