Views
An inevitable romantic journey
Cinematic City Views ② Now, We Are Breaking Up
A drama, which recently wrapped up, opens with the enchanting night view of the Gwangan Bridge and concludes with the departure of the Haeundae Beach Train. Dynamic Busan would like to introduce beautiful locale filming spots from that drama, "Now, We're Breaking Up."

△BUSAN X the SKY isn't the only places to catch an aerial night view of city jump aboard a Sky Capsule to get multiple perspectives of the sun setting.
■ New-age Korean dramas
At one time, most Korean romantic dramas consisted of specific elements. The formula typically consisted of a poor, courageous female lead and a grumpy but talented male protagonist. After overcoming differences, the two live happily ever after. Recently, this formula has been broken and Korean series of various genres cater more to realistic plots. The drama "Now, We're Breaking Up," directed by Lee Gil-bok and starring Song Hye-kyo and Jang Ki-yong, is one such series.
Young-eun (Song Hye-kyo), a thriving fashion designer, who believes love to be a nuisance, meets young freelance photographer Jae-gook (Jang Ki-yong). Emotions arise that she isn't ready for; how will it end? Familiar Busan scenes, like the Gwangan Bridge and the Haeundae Beach Train, provide an appropriately dynamic atmosphere.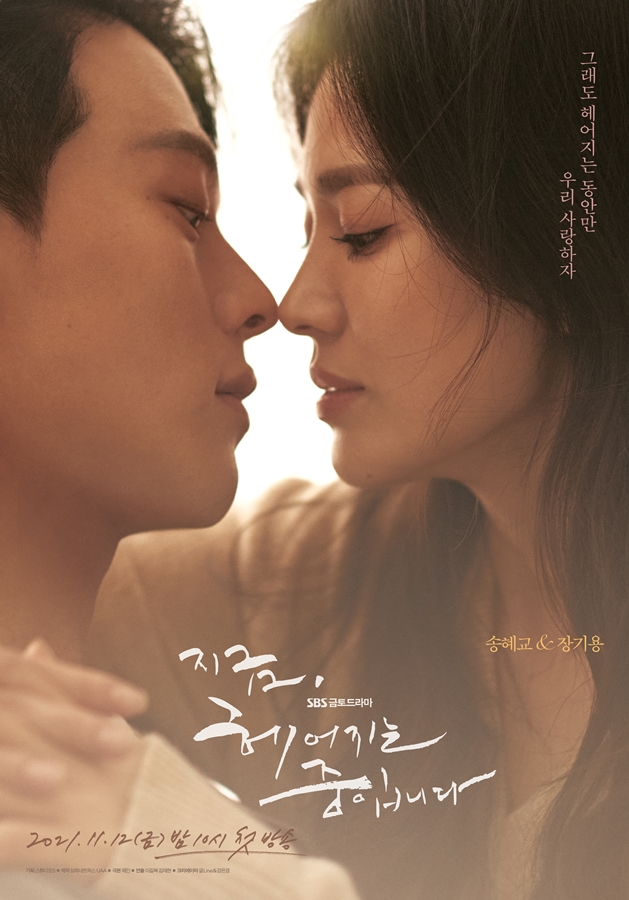 △Poster.
■ A brilliant night start: Gwangan
The Diamond Bridge, famous for lending its marvelous night view, connects Haeundae-gu (district) and Nam-gu. Once the sun goes down, its glittering lights against the harmonious beach scene bring the city's soul into frame. Perfect for an opening shot, the area has something for everyone, including Young-eun and Jae-gook.
There are many ways to enjoy Gwangan. First, gaze upon the bridge's entirety from the shore of Gwangalli Beach or head to the Hwangnyeongsan Viewing Lounge for a broader view. For a more adventurous and sweeping perspective, take one of the many available yacht tours which bring you closer to the bridge.
· Gwangalli Beach: Namcheon Station (metro line 2), exit 3 or Gwangan Station (metro Line 2), exit 3 or 5. Walk for about eight minutes.
· Hwangnyeongsan Viewing Lounge: 391-39, Hwangnyeongsan-ro, Nam-gu

△SKY 99 Restaurant.
■ A luxurious date: BUSAN X the SKY
In the show, Young-eun and Jae-guk meet for the first time against the gorgeous city backdrop. In the distance lies the "BUSAN X the SKY" observatory located from the 98th to 100th floor of Haeundae's LCT Landmark Tower, the second tallest building in Korea standing at 411.6 meters tall. From there, you can see famous city landmarks such as Haeun-dae Beach, Busanhangdaegyo Bridge, Igidae Cliff and Dongbaek Island, or visit one of the many facilities such as the cafe, souvenir shop and an art gallery.
On the 99th floor lies the SKY 99 restaurant, with two special meal sets, which were enjoyed by the two main characters. The 154,000 won "First Meeting Set" consists of smoked "Cloud Steak" for two. The 139,000 won "Destiny Set," comes complete with one "Cloud Steak" and one restaurant signature "Seaweed Seafood Pasta." Why not dine like a main character at SKY99?
· BUSAN X the SKY: Haeundae LCT The Sharp Landmark Tower 30, Dalmaji-gil, Haeundae-gu
· Hours: 10 a.m. to 9 p.m.
· Admission: 27,000 won for adults, 24,000 won for children
· Website: busanxthesky.com
■ Between meetings: Haeundae Blueline Park
The final scene of the drama has an open ending and takes place at Blueline Park, home to the Haeundae Beach Train and Sky Capsule. Inside the train are benches facing large glass windows, making it ideal for a cozy while enjoying the beautiful scenery. Above the train, the four-seated Sky Capsule shuttles passengers between Mipo and Cheongsapo. The collection of beaches, colorful trains and forest against the contrasting cityscapes create a fairy-tale-like landscape. Haeundae Blueline Park is so popular that it ranked first in last year's Busan travel destination survey.
· Mipo Station Address: 13, Dalmaji-gil 62beon-gil, Haeundae-gu
· Hours: from November to February, the last train from Mipo Station leaves at 7 p.m. The last Sky Capsule leaves at 6 p.m.
· One-way fare: Beach Train tickets are 7,000 won. The Sky Capsule is 30,000 for two people.
· Website: bluelinepark.com