Views
Get ready to ride Busan's Red Line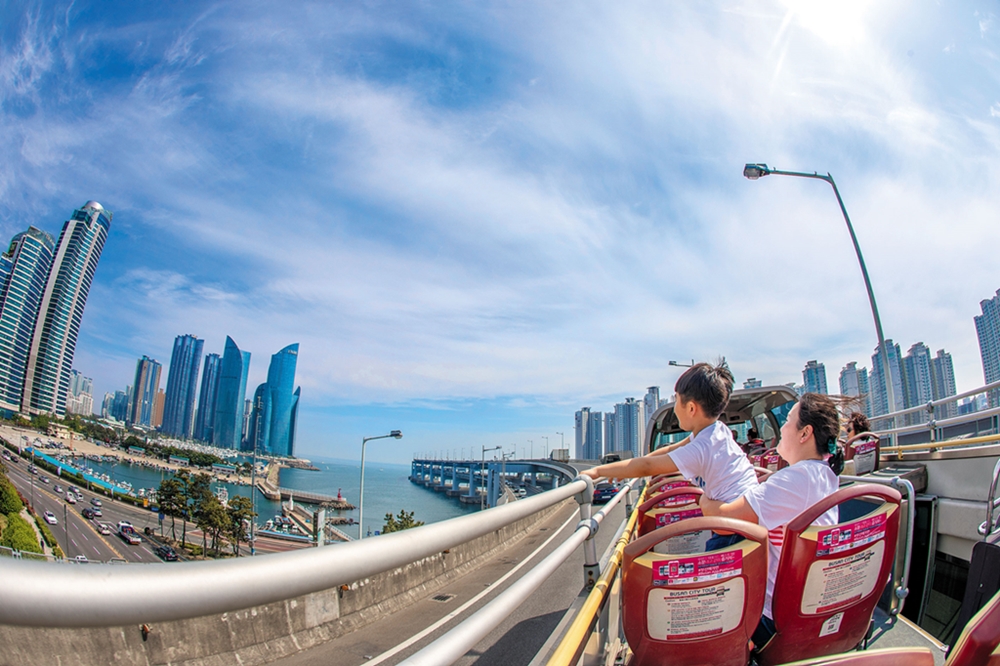 ▲ In 2019, we could tour without a care, but now the bus and other various tourist attractions may be closed or suspended, be sure to check online or by phone in advance.
Last month, we were a go for the Green Line, this month, we're ready for the Red Line. The course transports you through some of the city's most creative and culturally significant parts. Whether it's promenading along the beach, visiting a museum, watching a film or shopping, this line has something for everyone.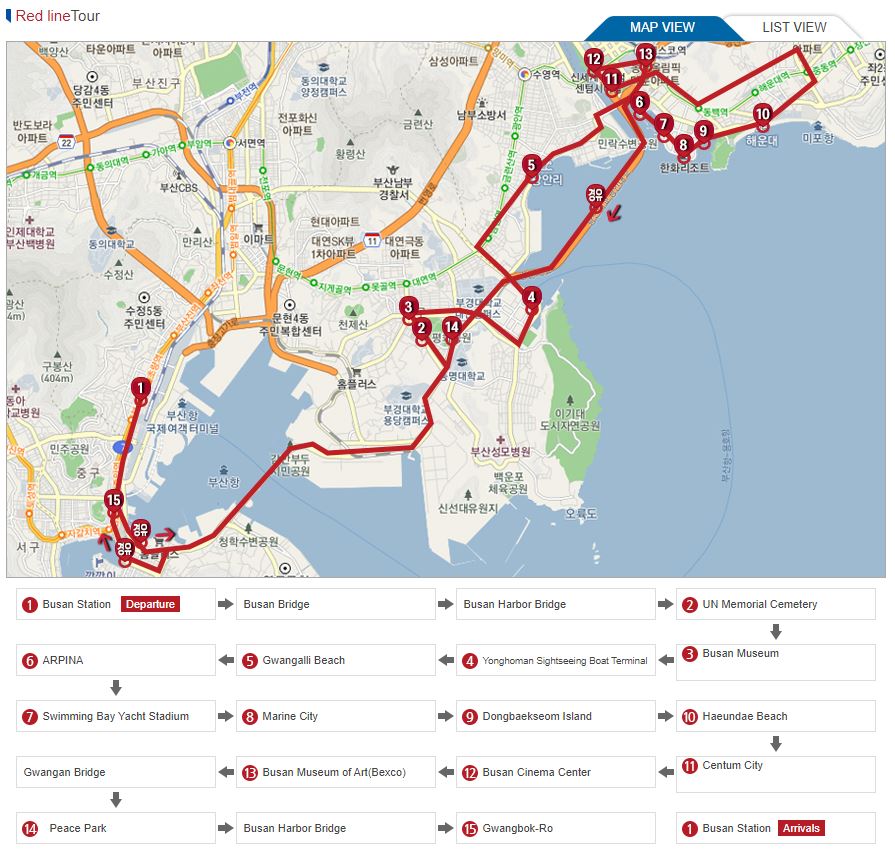 ▲ Busan City Tour Bus Red Line Course (http://citytourbusan.com/en2/02course/02.php)
■ Must-see Spots on the Red Line Course

▲ LED umbrellas line Gwanganlii shore.
◆ Gwangalli Beach
 Gwangan is one of the most popular areas of the tour. From Busan Station, passengers can arrive at Gwanganlli Beach in about 45 minutes. From there, visitors can behold one of the most famous landmarks in Busan, the Gwangan Bridge. Completed in 2002, the nicknamed "Diamond Bridge" and its nightly light show have become known as a must-see for all.
 Recently, many attractions have come to the beach this year, including exotic beach umbrellas and photo zones. The Gwangalli SUP (Stand Up Paddle-board) Zone is a new experience created to highlight the beauty and importance of Gwangalli Beach and marine leisure sports through various programs such as experience, education, and competitions. Also, a photo zone close to the beach will be set-up for your grammable needs.
◆ Marine City
 Next up on the Red Line is Marine City. Previously an airfield and container yard, now filled with various modern skyscrapers, gives the area a cyberpunk-like skyline and feel.

▲ The Haeundae skyline is a perfect backdrop.
◆ Haeundae Beach
 Located just 20 minutes from Gwanganlli Beach lies one of Korea's most famous summer locales, Haeundae Beach. The skyscrapers and luxury hotels provide a brilliant juxtaposition to the sandy beach. In 2015, it was named one of the three most beautiful beaches globally by ZDF, a German national broadcasting firm.
 A new hot spot has emerged, allowing visitors a bird's eye view of Haeundae, Busan X the SKY. Located on floors 98 through 100, of the second tallest building in Korea, Haeundae LCT the Sharp, the observatory offers picturesque views of Haeundae and all of Busan.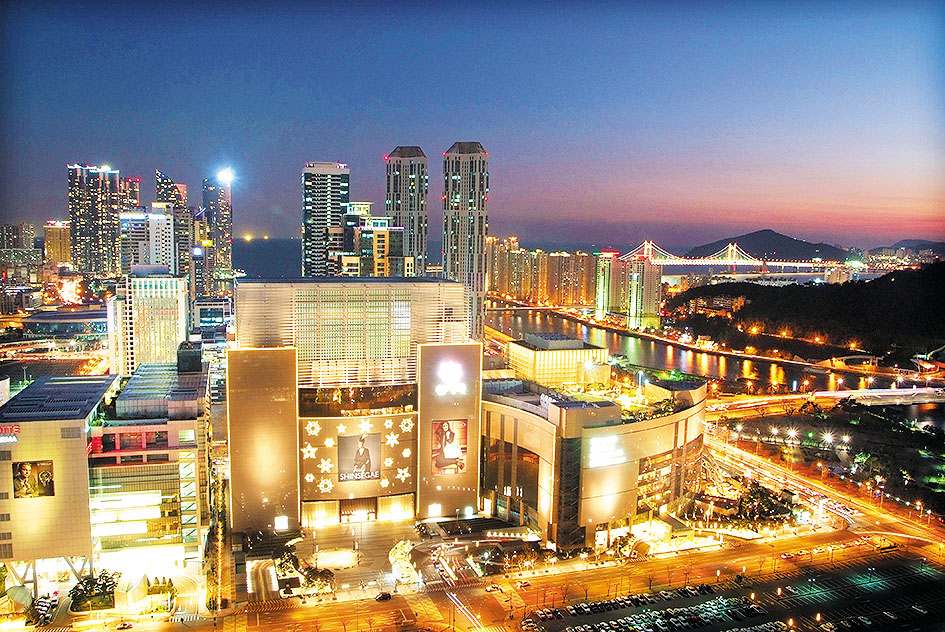 ▲ A view of Marine City from Centum City. (Source: Moon Jinwoo)
◆ Centum City
 After Haeundae Beach, the tour continues along the Suyeong River to Centum City. Here, people can enjoy various performances, exhibitions and movies at places like BEXCO, Busan Museum of Art and Busan Cinema Center. Shinsegae department store, the largest shopping complex in the world, is located here, making this area full of culture, art and commerce.
※ Tips for Busan City Tour Bus
Departure: In front of the Ramada Encore Hotel near Busan Station.
Transfer: At Busan Station, Yonghoman Sightseeing Boat Terminal or UN Peace Park. Ticket valid for Red and Green Lines.
Tickets: Can be purchased from the bus driver (valid for 24-hours from boarding time).
Fare: 8,000 won for children over four and teenagers. 15,000 won for adults. Free for children under four. Proof of age required.