Views
Spring arrives at Busan's ecological parks

▲ The canola flowers that are planted every year at Daejeo Ecological Park are an annual spring highlight for Busanites.
With spring on the way, it's best to be informed as to which parks have the prettiest flowers in town. Look no further than Busan's four ecological parks along the Nakdong estuary. Tulips, canolas, cherry blossoms and more await your senses to help you climb out of the winter doldrums!

▲ Visitors to Daejeo Eco Park in 2016 have fun in the flowers.
■ Daejeo Eco Park: A place to see beautiful canolas
Daejeo Eco Park is Busan's most famous. Practically a botanical garden filled with cherry blossoms and bamboo, the main attraction is its grand collection of bright yellow canola flowers. It is, in fact, the largest single collection of canola flowers in the entire country.
The area is usually filled with people visiting with to take a plethora of photos, but this year may be different.
At the end of March, both canola flowers and cherry blossoms are present for viewing, so don't forget your camera!
※ How to get there: Gangseo-gu Office Station (metro line 3), exit 3. Walk about six minutes to Gupodaegyo Bridge.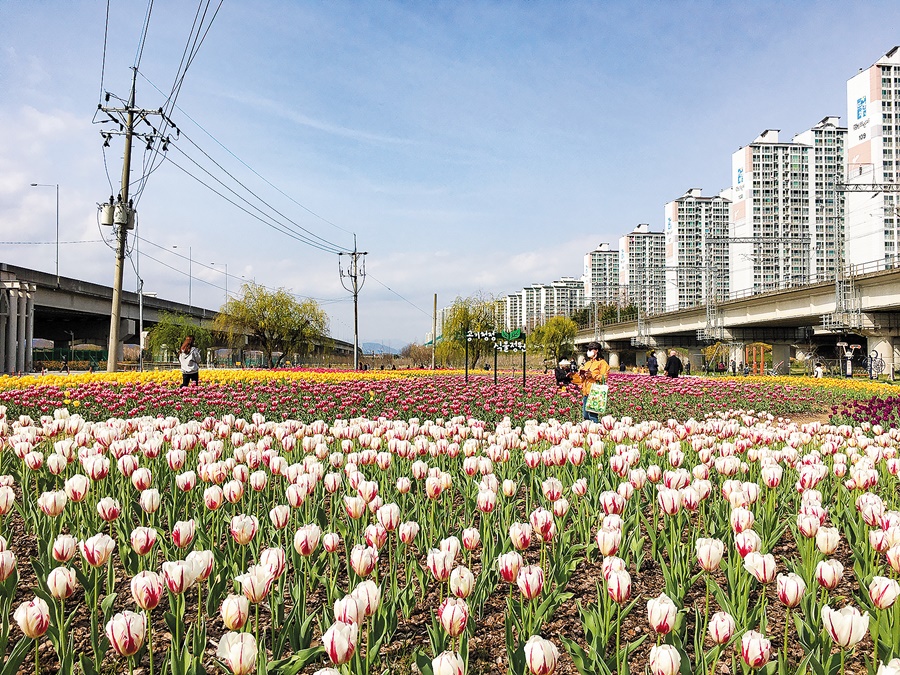 ▲ Hwamyeong Eco Park is home to tulips of many kinds.
■ Hwamyeong Eco Park: Tulips of incredible colors
Busan's northernmost eco park features festivities and fun all year long. Water sports in summer, beautiful leaves in autumn and sledding in winter. But, in spring, the tulips are the undisputed main attraction!
Colorful gardens greet visitors in the north and populate the Aquatic Botanical Garden in the south. The number of tulips planted by the city is staggering: All in all, you're looking at around 120,000 tulips of amazing colorful variations and combinations!
※ How to get there: Sujeong Station (metro line 2), exit 3. Walk about 10 minutes to Korean National Open University.

▲ Walk under an amazing tunnel of cherry blossoms in Samnak Eco Park.
■ Samnak and Macdo Eco Park: A tunnel and river with cherry blossoms
Samnak Eco Park is competitive as one of the very best spots to see the annual cherry blossoms that so briefly bloom. Samnak's status as a cherry blossom haven is earned, but Macdo Eco Park isn't going to go down without a fight. Take a deep breath as you walk through a tunnel of these trees, and feel your stress disappear.
※ How to get there (Samnak Eco Park): Sasang Station (metro line 2), exit 3. Walk about 10 minutes from there until you reach the riverside.
※ How to get there (Macdo Eco Park): Seobusan Yutongjigu Station (Busan Gimhae Light Railway). Take Gangseo-gu village bus 13 and get off at Macdo Eco Park.