Views
An eco-friendly movie house on top of the city
[Wide Angle on Busan] Cheonmasan Eco House
If you're looking for a relaxing spot to chill out in the late afternoon in the middle of summer, look no further than the Cheonmasan Mountain Eco House. Atop the mountain, home to a beautiful scene of Busanhang Port, Namhang Port, Busan Harbor Bridge and Yeong-dodaegyo Bridge, this eco-friendly guest house invites you to stop by for rest, movies, a great view and more.

△ Cheonmasan Eco House's terrace and cinema.
◆ A friend of the environment
Cheonmasan Eco House is an eco-friendly hostel constructed in 2015 that uses solar power and rainwater. It was constructed to promote eco-friendly buildings and the beautiful scenery that exists along the mountain road. This view shines best at night, when the city is illuminated in spectacular harmony with the relative darkness of the mountain top. Visitors can enjoy the view for free on the terrace without having to stay at Cheonmasan Eco House, and explorers can walk along a trail that goes from the guest house to the nearby Sky Walkway for a romantic or contemplative stroll.
For those interested in staying overnight, there are four types of rooms, each of which can accommodate six to 16 guests. As of July, nightly rates range from 120,000 won to 240,000 won. As a result, the guest house is popular with families looking for a getaway from city life. Visitors are free to bring ingredients and make use of the establishment's rice cookers, microwaves, pots and dishware for meals.
Reservations can be made by visiting the site or by calling 070-8917-1503. For more information, visit cheonmasan-ecohouse.co.kr.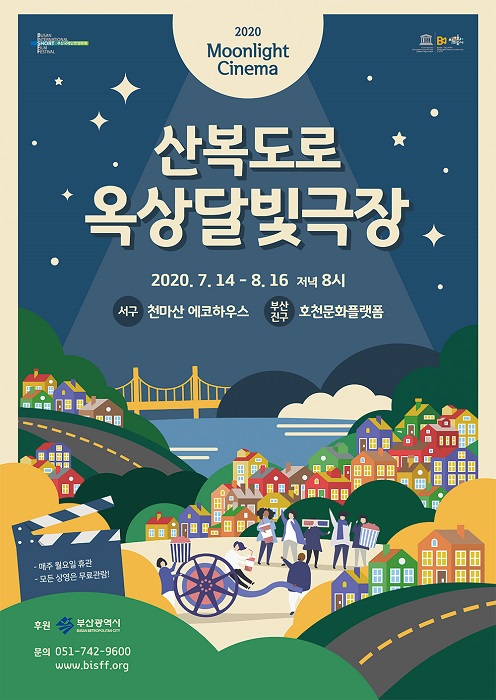 △ Poster of Moonlight Cinema.
◆ Moonlight Cinema
One of Cheonmasan Eco House's biggest draws is its makeshift cinema that it operates until Aug. 16. The guest house is continuing its annual summer tradition of screening films on its terrace. This year, it's showing a list of short films curated by the Busan International Short Film Festival. Grab a family member or some friends and enjoy a movie in the cool evening. What could be better?
Films at Cheonmasan Eco House are free and run from Tuesday to Sunday at 8 p.m. until August 16. The cinema is closed on Mondays. For more information, refer to the Busan International Short Film Festival's website at bisff.org.
Address: 342 Cheonmasan-ro, Seo-gu
How to get there: Toseong Station (metro line 1), exit 6. Take Saha-gu village bus 1-1 or Seo-gu village bus 2. Get off at Ami-dong Public Parking Lot stop and go straight for eight minutes.