Views
Nation's past, present sparkle in hit Netflix show
Busan has reached out to viewers through television and cinema in the past, and it is promoting itself further through the science fiction series "The King: Eternal Monarch," a new hit on Netflix.

△ Haeundae Beach, Dongbaekseom Island and Marine City serve as a setting for "The King: Eternal Monarch," the latest international hit to come from Netflix.
Penned by screenwriting success Kim Eunsook ("Guardian: The Lonely and Great God," "Descendants of the Sun"), the drama was released onto the streaming platform in April. In the show, parallel timelines between the present-day Republic of Korea and a fictional version of the historical Korean Empire merge together as the Korean emperor sets to bring the modern republic into his rule.
Many places in Busan that we know and love are featured throughout the show's episodes. Dongbaekseom Island is home to the Korean Empire's royal palace, while Gijang-gun's (county) Ahopsan Forest provides the show with an in-terdimensional door that links the past and present. The city also appears in its modern state, with recognizable landmarks like Haeundae's Cine Road, BEXCO, Dadaepo Beach, the National Gugak Center and Igidae Park all showing up in one form or another.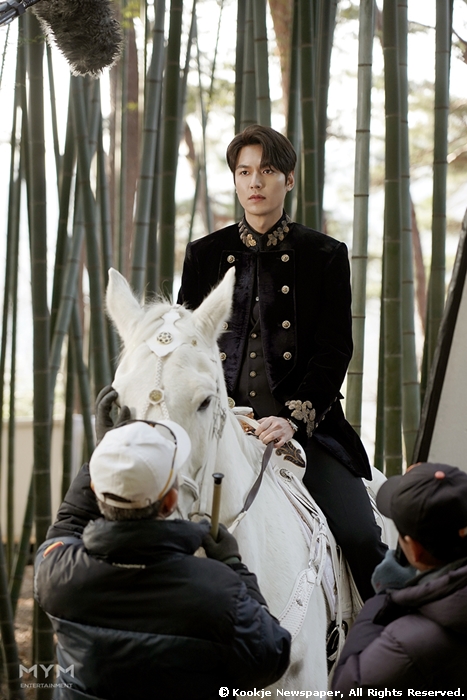 △ Lee Minho films a scene in Ahopsan Forest with his signature horse.
"The King: Eternal Monarch" airs Friday and Saturday at 10 p.m. on SBS. Viewers in Asia and Latin America can watch the program on Netflix immediately after each episode airs on TV. Other regions will have the series released at once on June 13. Starring international superstars Lee Minho and Kim Goeun, the show has been garnering international attention and is drawing the eager eyes of viewers to Busan.
Speaking of Ahopsan Forest, it is one Busan location featured in "The King: Eternal Monarch" that is getting buzz from the fans of the show. The forest is not quite as well known as the city's other attractions, but that does not take away anything of what makes this shady spot special and worth a visit in the near future.
Ahopsan Forest is about 400 years old and is home to a stunning bamboo forest and an abundance of wildlife. Elk, pheasants, weasels, wild rabbits and beautiful glowing fireflies all call Ahopsan Forest home. The forest has always been under private ownership, but admission to the general public is possible by paying just 5,000 won. So, take a trip to this beautiful filming site from the latest hit on Netflix and see if you can spot an animal or two!
Admission: 5,000 won
Hours: 9 a.m. to 6 p.m. (last entrance at 4:30 p.m.)
Address: 37-1, Midong-gil, Cheolma-myeon, Gijang-gun
Website: www.ahopsan.com