Views
Busan's most illuminated views
Busan is undoubtedly one of the nation's prettiest nighttime cities. Using data collected from local districts, experts and phone applications, the Korea Tourism Organization recently selected 100 of the best night views in the country, nine of which are right in Busan. Numbers 2 and 3 feature a combined four of the nine locations.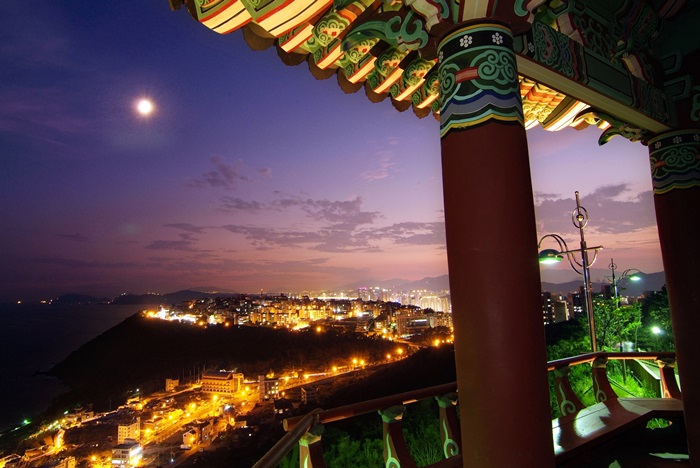 1. Moontan Road
Enjoy a moonlit stroll on a dirt path under a wide canopy of trees on Moontan Road. After beginning your ascent up Dalmaji Hill, you can enter the forest opposite the Korea Art Gallery. It won't be long before you'll be able to view the sea, Haeundae Beach, Haewoljeong Pavilion, Dong-baekseom Island and Gwangandaegyo Bridge.
How to get there: Take buses 39, 100, 139, 141, 200 or 1003. Get off at Moontan Road Entrance stop.

2. Nurimaru APEC House and Marine City
Located at the western end of Haeundae Beach, Dongbaekseom Island is home to the Nurimaru APEC House, which hosted the 2005 APEC summit. Look no further for a better view of Busan's famous Gwangandaegyo Bridge.
The night view of Marine City, an area containing some of Busan's tallest sky-scrapers, is also popular, particularly the view from restaurant The Bay 101. Join both re-sidents and tourists at this gorgeous locale for an evening beer and an illuminated spec-tacle.
How to get there: Dongbaek Station (metro line 2). Go straight for 10 minutes along the main street.

3. Songdo Cloud Trails and Busan Air Cruise
Two landmarks in Songdo, the nation's oldest beach, were cited as special night attractions: the Songdo Cloud Trails and the Busan Air Cruise. The Cloud Trails are long and winding paths made with wood and glass that stretch from the land over the sea.
Next, take to the skies with the Busan Air Cruise, a series of cable cars which crosses the width of the beach. The attraction is open until 8 p.m. and is a beautiful spot to see at night, since it lets you glimpse Yeongdo and Seo-gu (district).
How to get there: Nampo Station (metro line 1). Take buses 30, 26 or 71 from Nampo Station stop. Get off at Songdo Beach stop.
Website: busanaircruise.co.kr

4. Dadaepo Sunset Fountain of Dreams
The Dadaepo Sunset Fountain of Dreams is listed in the Guinness World Records as the largestground fountain on earth.With 1,046nozzles and 1,148 lights, plusmusic fromgrand speakers, the multimedia fountain show that takes place at night is fantastic. Performances are held from April to October every year, but they will be suspended until further notice due to COVID-19.
How to get there: Dadaepo Beach Station (metro line 1), exit 4. Go straight for 120 meters.

5. Hwangnyeongsan Mountain
In the center of town, Hwangnyeongsan Mountain has a night view to brag about. When you reach the mountain's summit, you'll be able to see the entire city from Gwangandaegyo Bridge to Seomyeon, right where you stand.
How to get there: Geumnyeonsan Station (metro line 2). Take a taxi.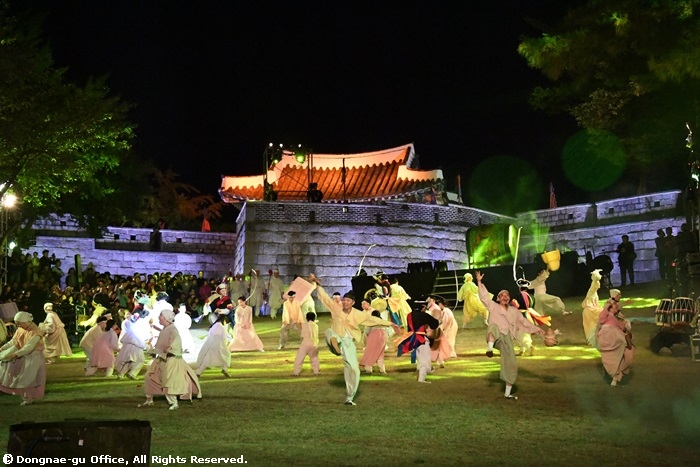 6. Dongnae Eupseong Fortress
In addition to its hot springs, Dong-naeisfamous foritsbeautiful nightview.The viewat Buk-jangdae Pavilion, located along the entrance of the Dongnae Eupseong Fortress, is excellent. This spot is also home to the Dongnae Eupseong History Festival in the autumn.
How to get there: Dongnae Station (metro line 1), exit 4. Take the Dongnae-gu 6 village bus, and get off at Bokcheon Museum stop.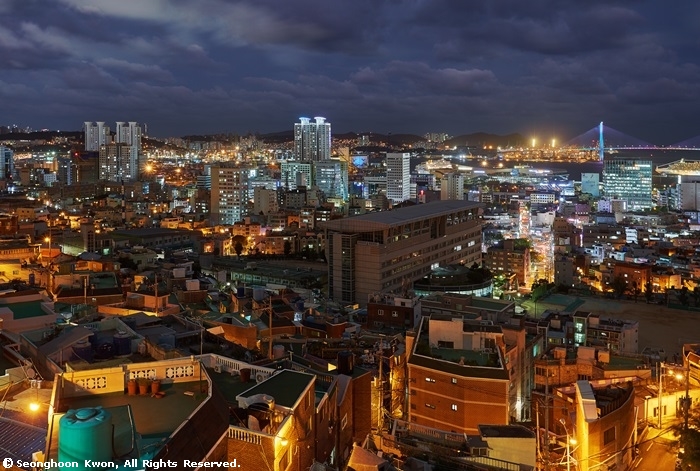 7. Dong-gu Ibagu-gil Night Walking Festival
Dong-gu's Ibagu-gil (trail) hosts an annual walking festival that won first prize in the Korea Tourism Organization's Walking Travel Festival in 2009. Due to the virus, it's uncertain whether or not the event will go on as usual, but visitors may still go to the nearby Skyway Observatory to take in the amazing night view of Busan Station and its surrounding areas.
How to get there: Take buses 508 or 190 from Busan Station. Get off at Choryang 6-dong Office stop.