Views
Riverside park flowers'bloom lifts COVID gloom
Spring has arrived, and with COVID-19 at the forefront of everyone's minds, mental health is more important than ever. With breezy winds in the air, shades of yellow flowers and green leaves returning to the trees, the weather is perfect for a stroll down a riverside park. Take a look at Oncheoncheon Stream, a fantastic local area for an afternoon walk.

△ Oncheoncheon Stream is lined with cherry blossoms and canola flowers in the spring.
The beginning of April is the height of spring in Busan, and there may be no better place in the city to enjoy the season than at Oncheoncheon Stream, where multitudes of colors cover its grounds every year.
Oncheoncheon Stream originates from Geum-jeong-gu (district) and flows for 15 kilometers into the wide Suyeong River. The stream is surrounded by hundreds of cherry blossom trees and canola flowers that explode with color every spring. Azaleas also bloom in splendid fashion and provide even more colors to enjoy.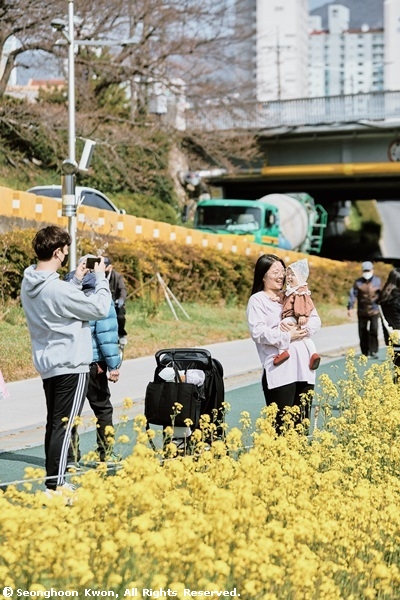 △ The whole stream is one big photo zone.
The park around the stream, which stretches across five kilometers, gives visitors fantastic paths for both cycling and walking, making it one of the city's best outdoor areas. Dynamic Busan's recommendation for a walk or bicycle ride is one that is not too strenuous. Just go down a course that begins at Dongnae Station and ends at Allak Kyungong Li-In Apartment. This brisk trek is little more than three-and-a-half kilometers long and is very pleasant.
If you'd like to take your time, you can visit a stretch of the area that is renowned for its many cafes and restaurants. Oncheoncheon Cafe Street, between Yeonsangyo Bridge and Allakgyo Bridge, features a selection of coffee shops, bakeries and restaurants that operate in a number of remodeled houses.
To go to Oncheoncheon Stream, take the subway and get off at Dongnae Station (metro line 1), exit 2. Go down the walkway below the station.
△
There's arguably no better season than spring, and there's no better place to take in the season's blossoms than at Oncheoncheon Stream.