Views
Cherry blossoms give winter the cold shoulder
Cherry blossom season is approaching like an oncoming, flowery pink train. It's time to ditch those coats and get ready to take some pictures. The blossoms are expected to bloom around March 25, similar to last year's date. Just so you're prepared, here are the best places and times to see Busan at its most beautiful.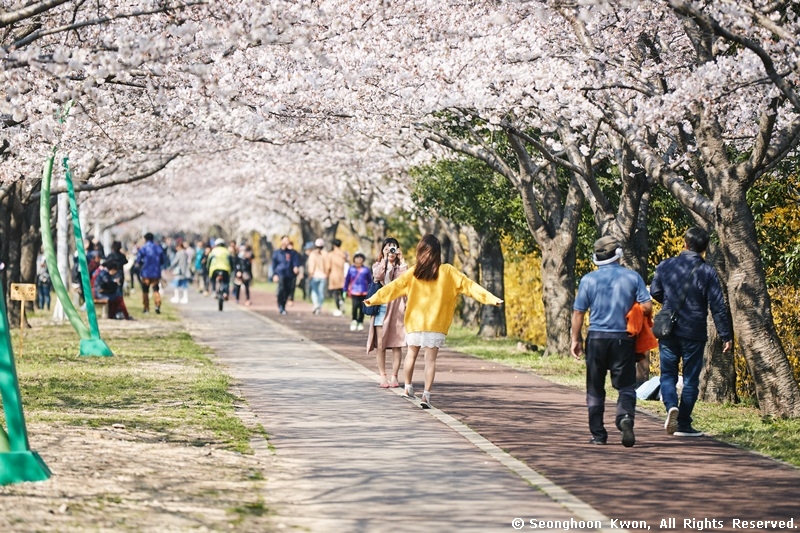 △ The desolate and barren branches of Busan's winter trees will fill with resplendant pink cherry blossoms that only come once a year.
■ Nakdonggang River
The Nakdonggang River is home to one of the longest cherry blossom tunnels in Korea. There are around 2,700 fluffy cherry blossom trees along the 12-kilometer stretch from the Daejeo floodgate to Myeongji IC.
How to get there: Gangseo-gu Office Station (metro line 3). Go straight to Nakdonggang River for five minutes.
■ Namcheon Samick Beach Apartment
Samick Beach Apartment in Namcheon-dong (neighborhood), at the western end of Gwangalli Beach, is Busan's original cherry blossom road. Rows of trees planted in the 1980s cover the entire street with pink blossoms every spring. A visit to Namcheon's Bbangcheon-dong, the neigh-borhood's famous bakery area, you'll set yourself up for a great day of sights, tastes and smells.
How to get there: Geumnyeonsan Station (metro line 2), exit 5. Go straight to the direction of Gwangalli Beach for 10 minutes.

△ Samick Beach Apartments' famous blossoms.
■ Oncheoncheon Stream
Oncheoncheon Stream is a seasonal benchmark for Busanites, especially in April, as a long line of cherry trees adorn both banks of the stream. The walkway below it also features canola and azalea flowers.
How to get there: Dongnae Station (metro line 1), exit 2 and 4.
■ Dalmaji Hill
If you go up Haeundae's Dalmaji Hill, you'll notice a cherry blossom tunnel on both sides of the pass to Cheongsapo Port. You can enjoy driving or walking along the road while looking at all the petals on the trees, which look beautiful day or night.
How to get there: Buses 39, 100, 139, 141, 200 or 1003. Get off at Moontan Road stop.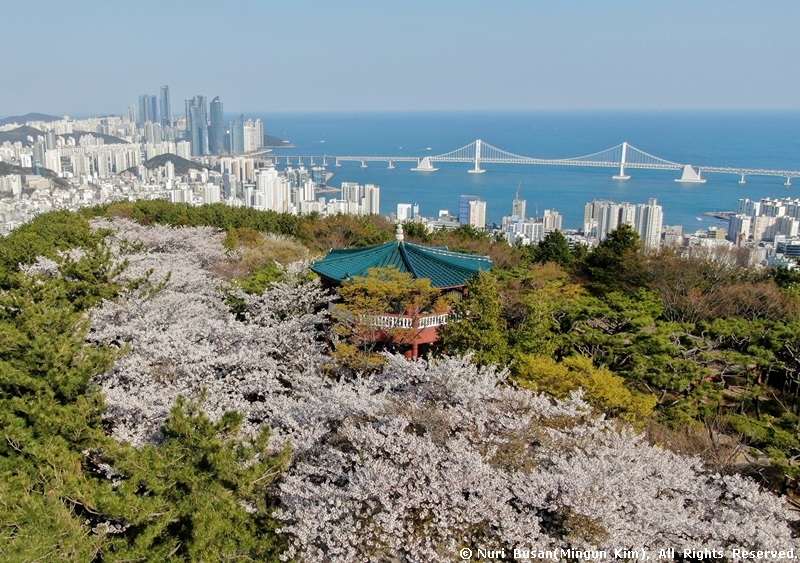 △ Hwangnyeonsan Mountain is gorgeous in the spring.
■ Hwangnyeongsan Mountain
If you missed the starting gun on the trees in town, the cherry blossoms of Hwangnyeongsan Mountain bloom about a week later than in the rest of Busan, with countless blossoms coming together to create a wonderful spectacle.
How to get there: Geumnyeonsan Station (metro line 2). Take a taxi up Hwangnyeonsan Mountain.
CHERRY BLOSSOM FEVER
Cherry blossoms have become very popular in Busan, and you you can see many of them on Dalmaji Hill, at Samik Beach Apartments in Namcheon-dong, as well as along the Oncheoncheon Stream in Dongnae-gu. However, just about every university campus and neighbourhood in Busan has streets lined with cherry blossom trees, so you'll never need to go very far to see them. I particularly like the cherry blossoms in Nam-san-dong, Geumjeong-gu. There are also many beautiful trees that line the Nakdong River, out by Sasang.
One great place I recommend to see the cherry blossoms is in the mountains, far away from the crowds. If you're not an avid hiker or have limited time, I really recommend two places: Dalmaji Hill, in Haeundae, where you can grab a coffee and see a great view of the ocean and maybe even enjoy a short walk through the easy trails, and then the cherry blossoms that line the Samik Beach Apartments area at the far end of the Gwangan Beach. There will be a lot of people there on weekends, but the view is well worth it. Plus, you can end your visit with a great meal along the Gwangalli strip.
By Michael Ryan Lesser
- Busan Hiking Tours
- Senior Editor of the Busan Beat
- Professor at BUFS
- busantours@toursbusan.com