News
Confectionery available city-wide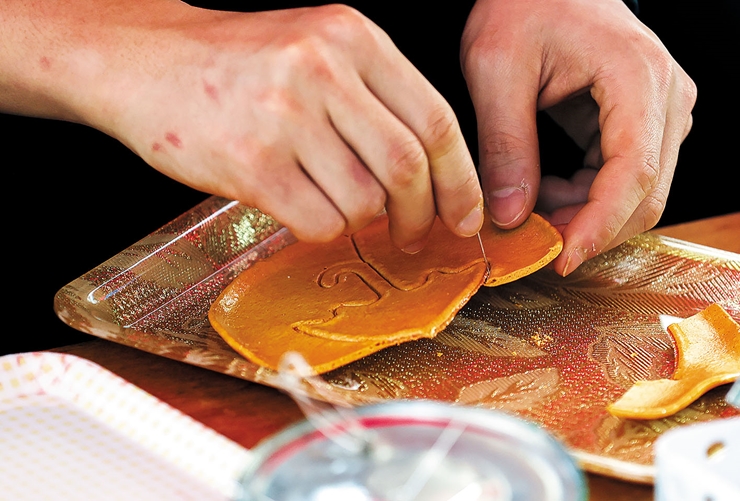 ▲ Tracing the shape requires steady hands. (Source: Busan Ilbo)

 "Squid Game," a Korean Netflix Original Series, has become an international sensation. Following the popularity of the show, interest in dalgona (Korean honeycomb toffee candy) has grown. In order to imitate the characters in the show, viewers have been making the treat and playing the game.
 Dalgona is a sweet snack easily found at street stalls, around the country. The confectionery is made by putting sugar into a stainless-steel ladle and heating it. When the sugar is almost entirely melted, some baking soda is added and the mixture is stirred until it becomes foamy and caramel-colored. The frothy concoction is poured over a flat surface and before it hardens, it is pressed with a stamp.
 To play the game, people must use a needle or toothpick to carve out the stamped area. When the shape is separated perfectly, the player wins and can receive a prize.
 Honeycomb toffee candy, like dalgona, can be found all over the world. A similar sweet in England is called cinder toffee and one in Indonesia is called gulali. However, it is believed that the contest of carving out the design started in Korea. Prevalent in the 1970s and 1980s, it is now sold as a nostalgic snack, and the name differs by region. In Busan, it is called "jjogja," or ladle, which refers to the tool used in the cooking process. The game itself is called "bbobggi," meaning "to pluck" or to "pull away."

▲ Customers wait in line to play the game. (Source: Kookje Newspaper)
 Fans can enjoy the game at various tourist attractions around the city. Vendors can be found at BIFF Square in Nampo-dong (neigh-borhood), Songdo Beach, Sajik Stadium and many more. Prices vary, but a turn is usually around 2,000 won.