News
Multilingual service for foreign residents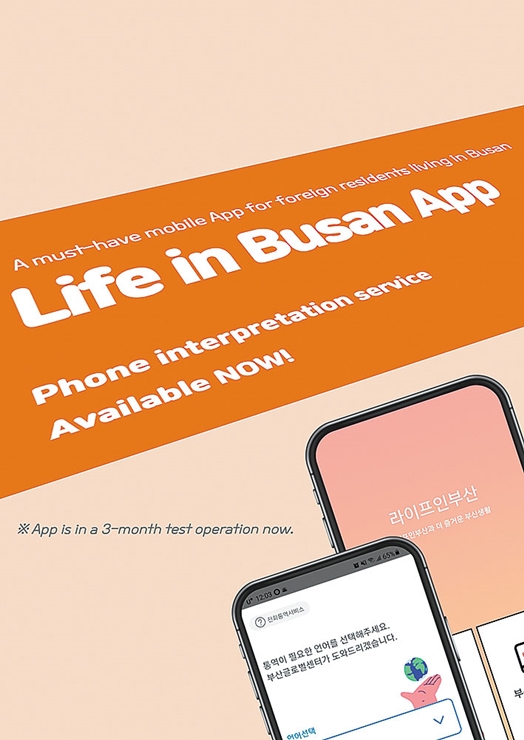 ▲ "Life in Busan" app adds new features. (Source: Busan Foundation for International Cooperation)

 In cooperation with the Busan Foundation for International Cooperation (BFIC) and the Busan Immigration Office, the city has developed a way to make life for local expats more convenient. The newly developed multilingual application "Life in Busan" has begun piloting interpretation and translation resources in 13 different languages.
 Interpretation services are available through the application via direct messaging, calls or on-site accompanying professional counseling. Foreigners in Busan can easily ask for help communicating via the free application on any Android or Apple device.
 Long-term visa holders can apply for an accompanying interpreter when visiting a local public institution or hospital with at least three days' notice. While interpretation and translation assistance over the phone is typically free, professional or on-site resources may be charged on a case-by-case basis. Consultation services are accessible in areas including but not limited to labor, law, immigration, tax, house, finance, psychology and human rights.
 The BFIC's interpretation and translation employees are based in Busan and offer services in 13 languages. So far, Korean, English, Japanese, Chinese, Vietnamese, Indonesian, Russian, Uzbek, Thai, Mongolian, Burmese, Khmer and Filipino are offered from 9 a.m. to 9 p.m. every day.
 The trial period for this program will end this December. Next year, the city plans to recruit up to 500 additional staff members and expand the services offered for the program's official release.
For more information: Visit the BFIC website (bfic.kr).