News
Country has high hopes for 2030 World Expo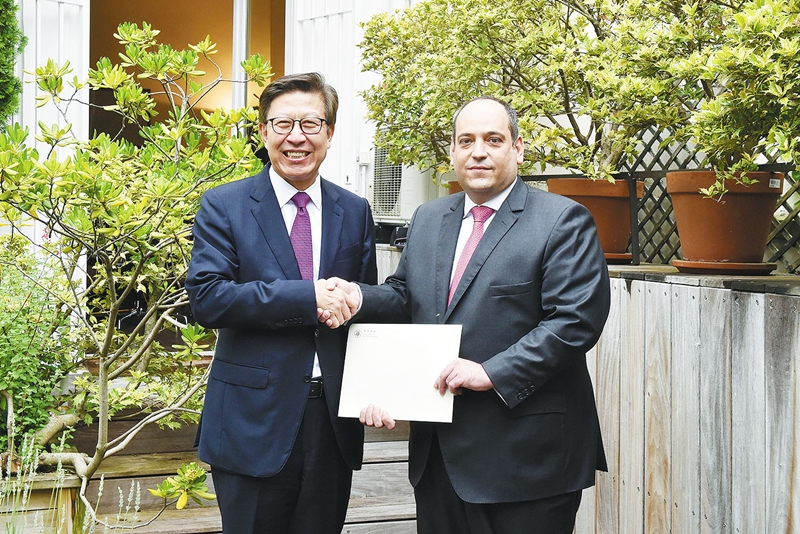 ▲ Mayor Park met with Dimitri S. Kerkentzes, Secretary-General of the BIE, to submit Busan's application to be the 2030 World Expo host city.

 Otherwise known as the International Registered Exhibitions, the World Expo began as a way to solve issues the world faced. In 1851, the first expo, held in London, attracted visitors, ideas and solutions. Since then, the expo continues to strive to find answers and has been held over 30 times in over 20 different cities. As the exhibitions began to grow, an entity to oversee the large-scale themed events became necessary. Therefore, in 1928 the Bureau International des Expositions (BIE) was established.
 For a country to host an expo, it must submit an application six to nine years before the proposed date. The application must include a theme, date, duration and guarantee the support of the city's national government. After the application is submitted, the campaign to gain support for a bid begins.
 The Korean government and Busan Metropolitan City are preparing to launch a bid to host the 2030 World Expo. On Jun. 23, Mayor Park Heong-Joon visited the BIE in Paris, France, with a delegation of Korean government officials and submitted an application for the Busan World Expo 2030. In the meeting with the Secretary-General of the BIE, the Mayor explained the willingness and vision of the city and the nation to host the expo, as well as justification for hosting. On Jun. 29, the BIE General Assembly met online, and Mayor Park expressed the city's intention to host the expo and attract the support of 169 BIE member countries around the world.
 A general plan for the expo is expected by the end of 2021. In addition, a bid proposal including the theme of the Busan World Expo is planned for the first half of 2022. On Oct. 1, at the Dubai World Expo, the city hopes to garner support for its bid to host. Busan is competing against a plethora of cities, including Moscow, Toronto, Paris, Barcelona and many more, to host the expo. The venue for the 2030 World Expo will be chosen at the BIE General Assembly in June or November of 2023.
 If successful, the World Expo will be held at Busan's North Port area from May 1 to Oct. 31, 2030. Busan's appointment of host city expects to infuse the economy, including more than 50.5 million visitors from over 200 countries. Through the 2030 World Expo, the city hopes to realize its dream of a hyper-connected future society led by innovative technologies such as artificial intelligence (AI), next-generation mobility and 6th generation (6G) mobile communication.