News
Same trail, updated look, much more fun
Busan plans to hand out the new Galmaet-gil Trail Tourist Passports by the end of the year. The passports, released this year, combine maps, information and a stamp reward program in a new look and additional size. They are available online on the Busan Galmaet-gil website (busan.go.kr/galmaetgil). Busan City webpage, Facebook, Kakaotalk or Naver login credentials are needed to apply.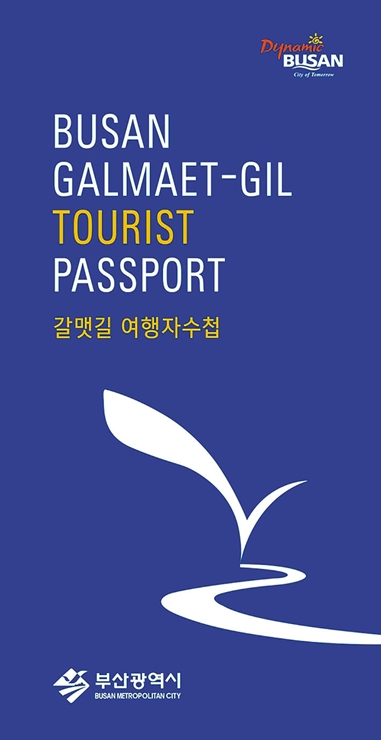 △ The New Galmaet-gil Passport
■ Galmaet-gil Passports get a makeover
 The new passports have an area for personal information such as a photo, name, phone number and a signature. They also include information about all of the trail courses, maps, stamps and certifications. They will come in two sizes. The detailed booklet-sized passport has maps with comprehensive guidance and an area for stamps, and it is recommended for first-time visitors. The other passport, designed with the experienced trekker in mind, is about the same size as an average passport, making it more convenient and portable. This passport focuses more on the stamp certification system.
△ Imrang Beach / Dongbaek Island / Sinseondae
Songdo Bollegil / Eulsukdo / Samnak Eco Park
Geumjeongsan Mountain / Hoedong Reservoir / Sanghyeon Village
■ Beauty is in the eye of the stroller
 On the 278-kilometer long Galmaet-gil Trail, visitors can take advantage of nine unique trekking courses, including the first course along the east sea, the third course t-hrough historic downtown Busan, the sixth Nakdong river course and the seventh Geumjeongsan Mountain co-urse. The trails and facilities along the courses have been inspected and improved, making it the perfect way to experience the beach, forest, river and downtown.
 Those who want a sneak peek at the new passports or can't make it out to the trail can still enjoy the view of the trail throughout the year by scanning the QR code.