News
The super luxurious musical line-up at Dream Theatre in Busan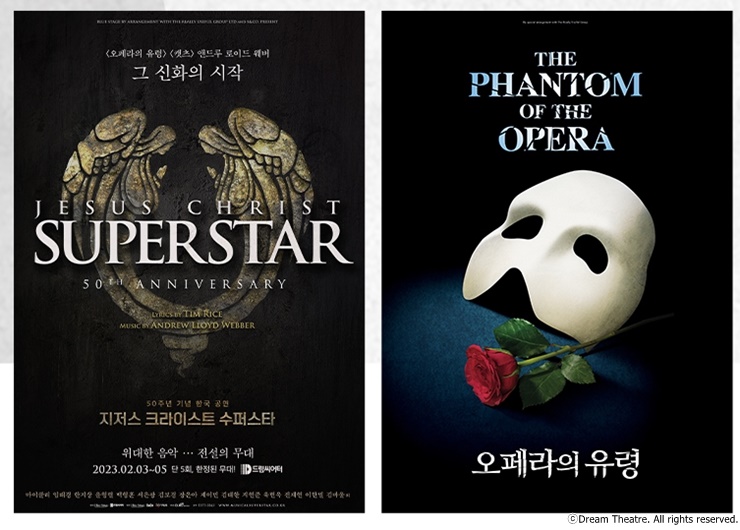 ​
Busan's mega-scale theater Dream Theatre, one of Korea's largest for musicals, released its "best line-up" at the end of the previous year to commemorate its fourth anniversary.
​
After seven years, "Jesus Christ Superstar" returns from Feb. 3 to 5 to commemorate the show's 50th anniversary. This tour stars Michael Lee, Lim Tae-kyung, Han Ji-sang, Yoon Hyeong-ryeol, Baek Hyeong-hun and Seo Eun-kwang.
​
"The Phantom of the Opera," the third Webber production of the year to come to the Dream Theatre, is scheduled from March 30 to June 18. The performance is in Korean, and Busan will be the first stop on the show's tour. Cho Seung-woo, Jeon Dong-suk, Choi Jae-rim, Julian Kim, Sohn Ji-soo, Song Eun-hye, Song Won-geun, Hwang Geon-ha and more are cast in the record-making 11-week-run.
​
The ninth tour of the national musical "Hero," featuring the last year of Korean patriot Ahn Jung-geun's life, will run from June through July. The audience can feel touched differently by the same-titled movie, which is getting famous with the release. Audiences can see some of the same actors, such as Jung Sung-hwa, in the movie, in addition to Yang Joon-mo and Min Woo-hyuk, who all portray Ahn Jung-geun in different showings.
​
"Les Miserables" is back for the first time in eight years, from October to November. Victor Hugo's novel, set in 19th-century France, is reimagined in this musical. Since 1980, this production's majestic musical numbers, beautiful melodies and period-appropriate stage art have graced stages around the world.
​
Performance and reservation details can be found on each musical's official site and Dream Theatre's website (dreamtheatre.co.kr).
​