News
Busan: English-friendly city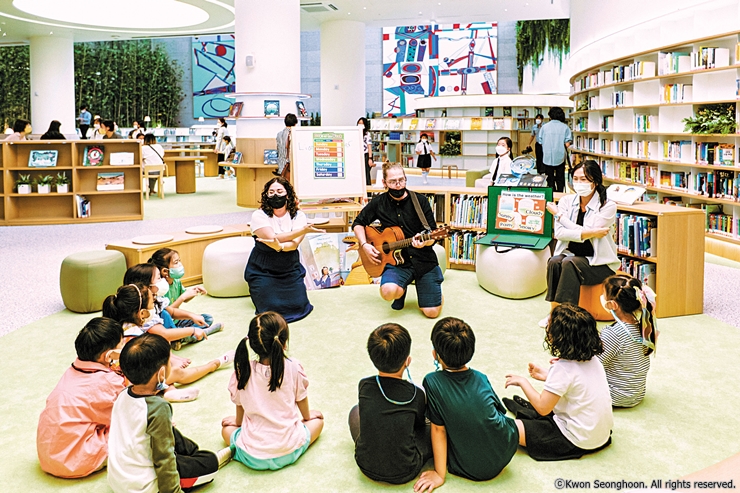 ▲ Students are learning through activities from native English teachers at the deullaknallak in City Hall.

 By establishing a world-class education and communication environment, Busan Metropolitan City is advancing toward becoming an "English-friendly city." The goal is to create an environment where residents can regularly learn and use English. By providing related language services and education, the city intends to create a conducive environment for attracting foreign entities and comfortable living for international residents. Last year, in earnest, the general planning for the project began with the additional hope of government and resident cooperation securing Busan's positioning as a global hub that successfully attracts the World Expo.
 Students living in Busan typically learn and use English from private educational institutes. However, the city is working on related initiatives to create similar public services, relieving some residents' feelings of obligation toward private academies and the increasing related costs. Plans for additional after-school programs, deullaknallaks (children's complex cultural space), public libraries and global villages are ongoing. Citizens' language proficiency and support for native teachers are expected to improve as access to these services increases. City Hall also plans to invite overseas educational institutions, such as the British Royal Russell School and attract graduate schools specializing in interpretation and translation.
 Following the rise in international residents, English competency in the public sector will enhance comfort for tourists, employees and businesses, invigorating the attraction of overseas corporations. In earnest, a platform with information about the city and public facilities is under development to ensure consistently accurate details. More consultation services, job opportunities and even a council to strengthen the use of English are slated for development.
 The city's goal is to interact with Busanites in hopes of creating a city where residents are comfortable speaking English. To that end, a panel of 40 residents will be assemb-led. The panel members will discuss inconveniences in their daily lives and make policy suggestions. Those fluent in English and willing to volunteer as "communicators" are being recruited.
 Governmental changes are also on the agenda. More public agencies are working on opening foreign internship programs and officials willing to improve their English skills are being encouraged to do so.
 An "English-friendly city" is by no means forcing citizens to use English or looking down on Korean. To ensure Korean roots are respected, Busan Metropolitan City is also embarking on a project to showcase the Korean language, which will include events, classes on dialects and the creation of a local dictionary.