News
The 17th Busan Fireworks Festival
​
​△ Busan Fireworks Festival in 2019
​
The 17th Busan Fireworks Festival, held this Saturday, Dec. 17, for the first time in three years, will begin at 7:00 p.m. From watching to visiting, safety is the city's utmost concern.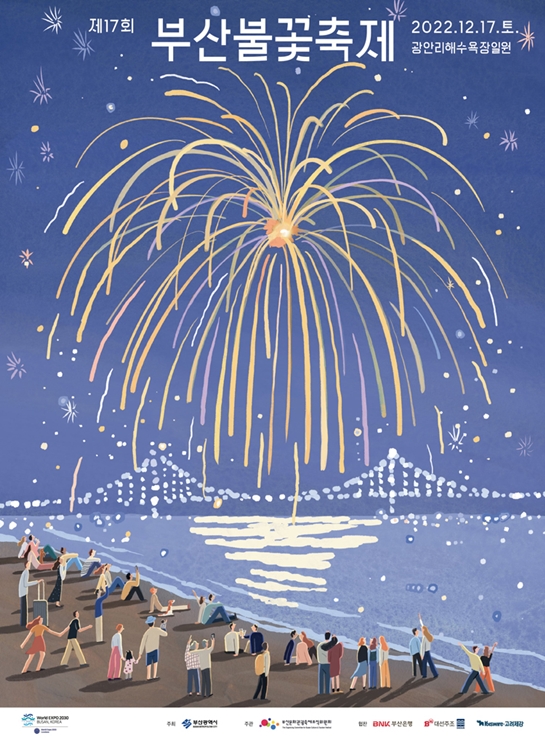 △ the 17th Busan Fireworks Festival poster​
​
The long-awaited Busan Fireworks Festival will embroider Busan's winter sky. The city will hold the 17th Busan Fireworks Festival Dec.17 in front of Gwangalli Beach, Dongbaekseom Island and the Igidae cliffs. This one-of-a-kind event aims to revitalize the city and unite the nation in hopeful anticipation of a successful World Expo 2030 bid.

This year's fireworks festival was initially scheduled to be held Nov. 5. However, it was postponed indefinitely for a period of national mourning period due to the tragedy in Itaewon that occurred on Oct. 29. Due to the climate difference between November and December, the fireworks show will start at 7:00 p.m., an hour earlier than previously scheduled.

City Hall is preparing for the festival with the safety of visitors as their top priority. In earnest, safety personnel deployment numbers have increased by 50% for a "zero accident festival." Safety personnel and traffic precautions are established along Gwangalli Beach's main access roads. During moments of potential overcrowding or traffic congestion, additional phased control protocols are in place.
​
The number of CCTVs at major bottlenecks around the venue will increase from 16 to 64 to identify and control overcrowding in real time. Additional safety measures, such as fences, equipment and LED vehicles equipped with a broadcasting system at four major locations, are installed to help guide and disperse visitors. After the event, announcements will be made to ensure guests' safe return home. Step-by-step entry control will be implemented in congested urban railway stations to help dispersion in densely populated areas.
​
※ ​Road Closures due to Busan Fireworks Festival: busan.go.kr/eng/bsnews01/1550220
​
​