News
Promotional endeavors captivate global audiences
The nation is working as one toward efforts to host the World Expo. National government agencies, Busan Metropolitan City, business circles, Korean wave celebrities and community organizations are doing their best. Mayor Park Heong-joon is working toward securing support through active urban diplomacy as the city of Busan concentrates on promoting overseas media and diplomatic missions.
Americas and Japan mayoral tour
The mayor visited three countries in Central and South America as a presidential envoy and carried out the activities for the World Expo in 2030. The envoy also included officials of the Ministry of Foreign Affairs, economic field experts and more. They visited El Salvador, Costa Rica and Mexico, met senior officials and garnered support for Busan as host for the World Expo in 2030.
On Sept. 30, he hosted "Night of World Expo 2030 Busan" for ministers and delegations of the 16 Central and South American countries who attended the UNESCO Forum of Ministers of Culture in Mexico. Mayor Park received high acclaim after hol-ding a special presentation about the meaning of World Expo 2030 Busan.
Park also toured three Japanese cities, Tokyo, Osaka and Fukuoka, for international exchange and promotions from Oct. 20 to 23. He met with officials from major cities, including the Vice Governor of Tokyo and the mayor of Osaka. When attending the reception to promote the World Expo, hosted by the Embassy of South Korea in Tokyo, Mayor Park actively encouraged support and increased interest in the World Expo 2030 Busan by introducing the theme, strength and capability of the city's bid.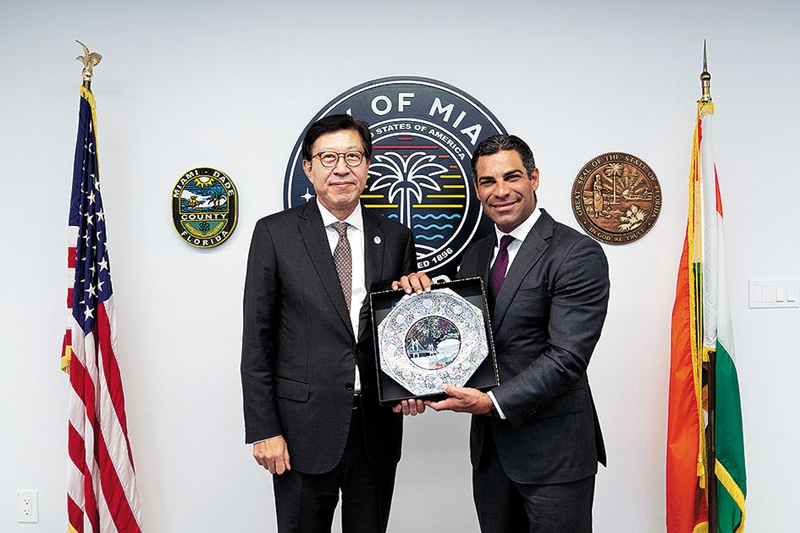 Busan Mayor Park Heong-joon and Miami Mayor Francis Suarez meet in Miami.

Cooperative relationships
Before the envoy visited Central and South America, the mayor visited Miami and Panama City from Sept. 25 to 26, respectively. At Miami City Hall, Park met with Mayor Francis Suarez and promised a sister city agreement for mutual cities' develo-pment. The agreement is scheduled to be signed by Mayor Suarez on a visit to Busan in January. Mayor Park suggested mutual cooperation by addressing the cities' shared vision on finance and blockchain.
On Sept. 27, he visited Panama City, a cooperative city of Busan and the capital of Panama. He met Speaker of the National Assembly Crispiano Adames Navarro, Minister of Private Investment at the Presidency of the Republic of Panama Jose Alejandro Rojas and more. He garnered support for Busan's expo bid and discussed possible maritime, harbor and shipbuilding industry exchange.
On Oct. 11, Busan and Tunis, the capital of Tunisia, signed a friendly and cooperative relationship agreement at Busan City Hall. Mayor Park Heong-joon, Tunis Mayor Souad Abderrahim, Arab's first female mayor and related officials attended the event. Through the agreement, Tunis became Busan's 13th friendly and cooperative city as well as the first in Africa. Both cities will expand cooperation for prosperity and develop-ment. With this addition, Busan has 39 sister cities and cooperative relationships from 29 countries, leading to strong urban diplomacy.

Air Busan supports World Expo 2030 Busan with a specially designed Airbus A321neo.

Economic field support
Samsung, SK and LG have taken the lead in joint activities with the hope of attracting businesses to bring the World Expo 2030 to Busan. Following a meeting with the Prime Minister of the Netherlands, Samsung's Vice Chair, Lee Jae-yong, met the presidents of Mexico and Panama and garnered support. Samsung affiliate executives are traveling around Spain, Vietnam, Nepal, South Africa and more to join supportive activities.
Throughout Japan, the U.S. and France, Chey Tae-won, chair of the SK Group and of the support for the bid for the World Expo 2030 Busan, actively engaged in bidding activities. He invited about 10 representatives, including a Republic of Zambia amb-assador and deputy ambassadors from the U.S., Japan, Switzerland, Estonia, Israel and Mexico to New York, to encourage support for Busan's World Expo bid.
Air Busan has also joined activities. The exterior of a new aircraft, designated A321neo, is decorated with an anticipatory message for the World Expo 2030 Busan. The related emblem and EXPO letters are wrapped around both sides of the fuselage.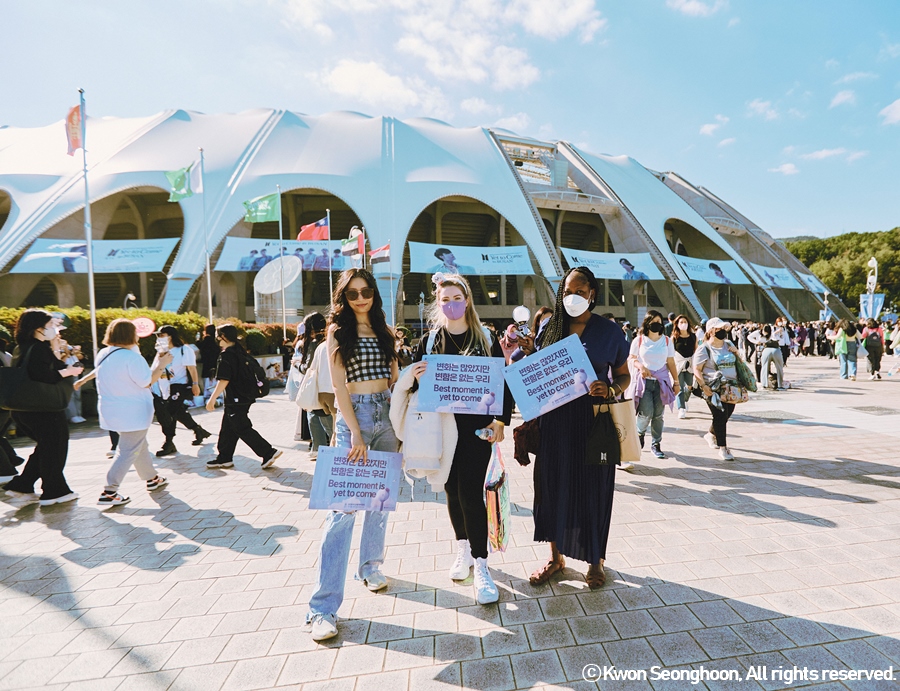 People from across the globe flock to Busan to watch BTS and support the city's expo bid.

BTS〈Yet to Come〉in Busan
Last month, the city glowed purple, greeting visitors from across the globe. The concert became a festival that stretched beyond nation, generation and gender; it became a place where fans could come together as one. Despite the large turnout, there were no major accidents and the concert was enjoyed by millions.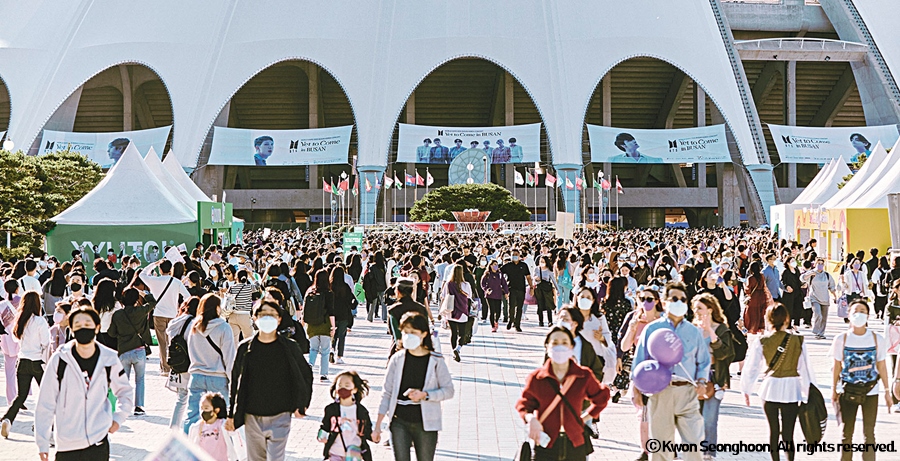 Busan Asiad Main Stadium crowds with concert-goers.