News
Country hopes for World Expo 2030 Busan
As aspirations strengthen, World Expo 2030 Busan promotion is growing increasingly diverse. BTS, the world-renowned K-pop group, was appointed an honorary ambassador for the expo. President Yoon Suk-yeol and Busan Mayor Park Heong-joon persist in garnering international support from leaders, officials, service officers and Bureau International des Expositions (BIE) member states. The number of corporate, governmental and promotional efforts increases as nationwide events, including a treasure hunt and K-pop concert, begin. Overall, these activities and worldwide promotions are a critical step toward a successful on-site inspection by the BIE, scheduled for the first half of next year.

BTS, Mayor Park Heong-joon (front row, left), Prime Minister Han Duck-soo (front row, second from left), chairperson of the Korea Chamber of Commerce and Industry Chey Tae-won (front row, third from left) and HYBE CEO Park Ji-won (front row, right).

■ BTS' permission for expo promotion
BTS was recently appointed the newest World Expo 2030 Busan honorary ambassador. Mayor Park stated that their appointment and participation in the promotional activities is bound to significantly impact international interest in Busan as the expo's host city. The group became the third honorary ambassador, following Lee Jung-jae of Netflix Original Series "Squid Game" and Rozy, Korea's first artificial intelligence (AI) influencer.
Last month, the entertainment company that manages BTS, HYBE and the city signed an agreement for expo promotional cooperation. A representative from HYBE stated that when they relayed the suggestion to BTS, the members enthusiastically agreed. Key details of the agreement encompass plans to revitalize and develop local culture. BTS is scheduled to hold a support concert, visit BIE member countries, guide on-site inspection participants through the proposed venue, attend the third expo presentation and deliver supportive messages at the BIE General Assembly meeting.
Since BTS has many fans worldwide, the city expects that news of Busan as a candidate for the World Expo 2030 will go viral fast. The seven-member group has worked with the U.S. and the U.N. to affect change in various social aspects, such as discrimination. By sharing their ta-lents, opinions and experiences, their positive influence spread worldwide.
■ President Yoon at the NATO Summit
At the July 1 North Atlantic Treaty Organization (NATO) Summit, President Yoon Suk-yeol met with global leaders to discuss the city's aspirations and promote the expo. Yoon highlighted why Busan should be the host city, stating that every country wants to introduce itself and that World Expo 2030 would be the ideal place to make this a reality. He outlined how prepared the city and country are and mentioned the previous "Recognised Exhibitions" in Korea, the World Cup and the Olympics Games.

Delegates from Central and South America show their support of Busan's cadidature.

■ Local minute-by-minute preparation
Mayor Park continues World Expo promotions. From July 5 to 6, diplomatic officers from Central and South America attended the Korea-LAC Future Cooperation Forum. While Saudi Arabia, one of the prime candidates, attempted to draw support from Central and South America, most countries had yet to announce their support. Therefore, Park met with each one to discuss Busan's potential as the 2030 host city.
The forum was organized to mark the 60th anniversary of diplomatic ties with 15 countries from Central and South America. Ministers, vice-ministers and senior officials from each country were in attendance. He met with all eight, Ecuador, Panama, Colombia, Brazil, Costa Rica, El Salvador, the Dominican Republic and Honduras, ministers and vice-ministers for approximately 10 to 20 minutes each. Mayor Park spoke in English to highlight Busan's diversity, adaptability and desire to host. His multifaceted efforts received successful responses from the Foreign Affairs Minister of Honduras and Costa Rica.

Samsung is promoting World Expo 2030 Busan from Fiji.

City promotions also focus on island countries in the Pacific. Officials attended the Pacific Islands Forum (PIF) in Fiji from July 11 to 14 and promoted the bid. PIF members include 18 countries, 11 of which are BIE member countries, such as New Zealand, the Republic of the Marshall Islands and Palau.
SK and Samsung Electronics Co., Ltd. joined the city and the Ministry of Foreign Affairs in the private and public collaboration, showing that both entities are striving to host the expo. They are making efforts to gain support through bilateral talks with officials such as Republic of Vanu-atuan Prime Minister Bob Loughman, Solomon Islands' Foreign Affairs Minister Jeremiah Manele and Tuvaluan Foreign Affairs Minister Simon Kofe. A vital issue for these joint efforts is global climate change and a platform to lessen the inequality between countries at the expo.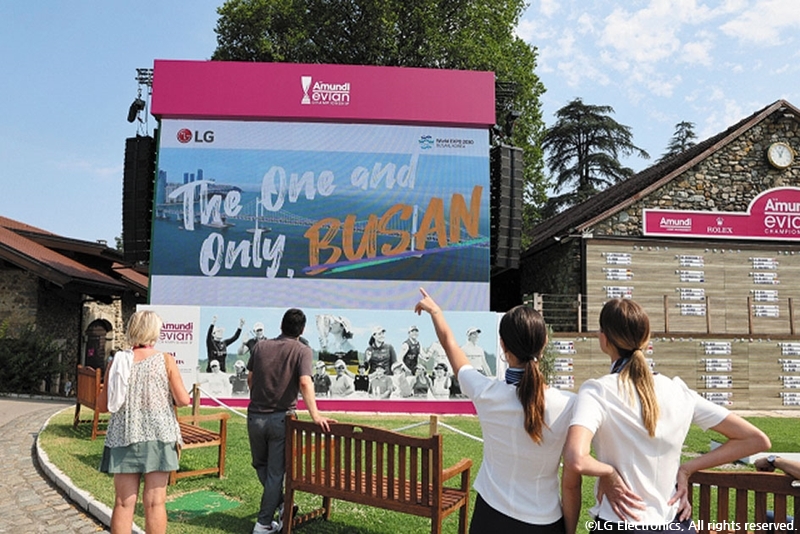 LG displays continue to promote Busan.

■ Corporations promote the expo
Korean conglomerates, including SK Group, Samsung, Lotte, Hyundai Motor Company and LG, actively endeavor to bring the expo to Korea. SK Group's CEO Chey Tae-won is co-chair of the Bid Committee for World Expo 2030 Busan. Recently, the group created a task force for the World Expo promotion and decision-making.
Lotte Group CEO Shin Dong-bin attended a global summit of The Consumer Goods Forum, an international organization for consumer goods retailers and manufacturers, in Ireland. He introduced global officials to Busan and promoted the expo bid.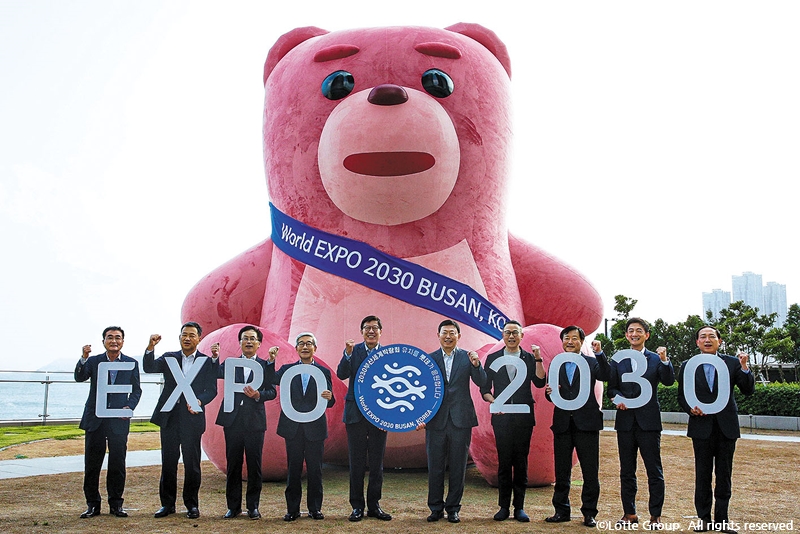 City delegates and Lotte welcome a unique installation to Haeundae Beach.

Last month, Samsung Electronics's vice president Han Jong-hee met with Mexico's Foreign Affairs Minister, Marcelo Ebrard. Han discussed the future of advanced national technology, including 6G, AI and robots, garnering further support and describing how these innovations could be utilized and featured at the World Expo.
Through media and video displays, including those at Samsung Digital Plaza and department stores, Samsung hopes Busan will be the next host for the World Expo. The message, "Samsung Electronics also join in hopeful anticipation for World Expo 2030 Busan," is set against Marine City and an open beach backdrop.

Hyundai cars don the expo logo.

Additionally, a display at the Busan International Motor Show last month spread the expo's vision and promotional videos are still showcased on LG Electronics displays worldwide. Hyundai Motors also released a promotional video for central European city locations. The car manufacturer has also produced vehicles with the World Expo 2030 Busan logo and distributed them around major global cities.

A World Expo video plays at the Busan International Motor Show.

■ Expo videos air in Ananti hotels
Since last month, promotional videos for the expo have aired in over 400 rooms at Korea's Busan, Gapyeong and Namhae Ananti hotels. The displays will continue until the on-site inspection, planned for the first half of 2023, is complete. The video, "The Panoramic-Haeundae," has been reproduced from the voice of singer Jungyup to that of contemporary artist Lee Sang Won. The artwork was featured at the Dubai Mall during Expo 2020 Dubai. The ink line is Haeundae's horizon, which is meant to link the area to those who enjoy their time there. Also, the voice of Jungyup, a popular Korean rhythm and blues singer, is in harmony with the message.
As an additional means of promotion, Busan and Ananti plan to create and distribute green goods based on an element of the expo's agenda of "Sustainable Living with Nature" and "Low Carbon Green City." The goods will be solid eco-friendly amenities, such as shampoo and conditioner made of chemical-free materials with an EWG green rating. The goal of these efforts is to reduce plastic use and waste in hotels.
Mayor Park stands next to Moishe Mana, the new honorary ambassador. 
■ MANA CEO, honorary ambassador
On July 9, Moishe Mana, CEO of MANA Group, was appointed an exceptional honorary ambassador for World Expo 2030 Busan. MANA Group is an American private corporation comprising approximately 100 companies in various fields of study such as transport, logistics, storage, art, fashion, entertainment, urban regeneration, real estate development and operation. The Miami-based trading hub actively exchanges goods, services and information with Central and South America.
Mana invigorates low-income areas, such as New Jersey, Chicago and Miami, with local and communal art and culture using the "Innovation Business" framework and by inviting educational institutions and supporting startups to the local neighb-orhood. By appointing him as an honorary ambassador, Busan continues to promote the expo to various BIE member countries.
Korean superstars team up as "X4" to promote World Expo 2030 Busan.

​■ Promotional participation for all
City Hall is hosting the "Expo Treasure Hunt" event, arranged to inform Busanites and tourists of major tourist attractions in Busan. Within 30 tourist destinations and local stores, the letters "E," "X," "P" and "O" are hidden alongside paintings and QR codes. After finding and posting them on social media, participants can win gifts such as laptops and headphones.
Hints for the hunt are available on the World Expo 2030 Busan website (2030busanexpo.kr), on Instagram (@worldexpo2busan) and from the multiple locales' social media accounts. The image of each letter utilizes a winning dynamic typographic design from the International Busan Design Award entries.