News
Inaugurated incumbent mayor continues policy support
Incumbent Mayor Park Heong-jun succeeds in reelection. Having won more than 60 percent of the votes Mayor Park's second term begins this month. He expresses his gratitude for the support of Busan citizens. Park adds a promise to continue efforts toward transforming Busan into a global city, ideal for traveling, living, working and hosting the World Expo.

Mayor Park Heong-jun

City's eighth mayoral administration commences July 1
Busan Municipal Government is determined to lay a solid foundation for the development of a hub city, leading to national revitalization. As these projects proceed, Mayor Park plans to follow President Yoon administration's agenda with hopes of balanced development and the ultimate goal of citizens' happiness.
In terms of quality of life, according to the "2019 Quality of Living Survey" by Mercer, Vienna ranked first, Zurich in second and Vancouver, Munich and Auckland tied for third place. Auckland was followed by Dusseldorf, Frankfurt, Copenhagen, Geneva and Basel. Singapore took first out of all Asian cities, followed by Tokyo, Kobe, Yokohama and Osaka. Seoul ranked ninth and Busan 13th among cities in Asia. Despite the current score, the new term anticipates that their efforts and Busan's unique topography will set it apart from others. Park hopes to increase the city's position to one of the top 10 Asian countries on the list.
In earnest, City Hall continues regional development efforts. The administration has refined an action plan to three core and 10 key policies. The core policies are "15-minute City," "Asian Startup City" and "Global Hub City."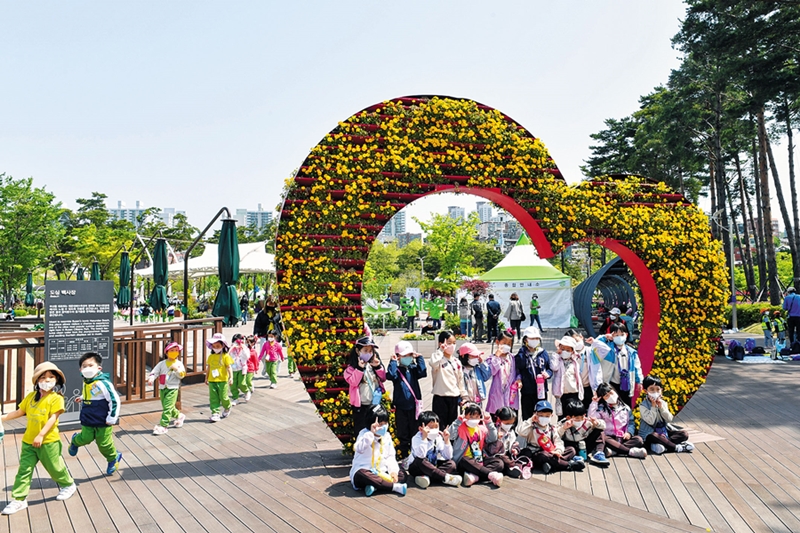 Citywide efforts to improve quality of life are underway..
Regional developments
These efforts are set to improve locales' lives and additional measures will take on regional stabilization and progress. The combination of the 15-minute city, decentralization and Bu-Ul-Gyeong Mega City, construction of the Gadeok Airport, Korean Development Bank relocation and digital financial city development will strengthen the region.
The projects focus on the values and vision that lead to a regional leap forward. The "15-minute city" project is the first step to developing an environment concentrated on the happiness of citizens. Rather than progress centered on construction, it gives priority to infrastructure for locals' state of mind, such as welfare, education, medical care and environmental services and facilities. Other policies to follow will focus on the vision "The First to the Future Green Smart City, Busan."
In cooperation with the comm-unity, local and national government agencies endeavor to host the World Expo. The aspiring efforts alone provide an opportune time to highlight Busan's technology culture and values. The overall vision to create a supportive, economically strong, innovative, smart, green and attractive city is set to come to fruition as the core and key policies are further refined, finalized and executed.
15-minute City
Professor Carlos Moreno of Sorbonne University established the concept of a "15-minute City." The idea aims to provide essential services within 15-minutes from citizens' homes. In April, Busan started construction on the first "deullaknallak," cultural space for children, on the first and third floors of the city hall building, totaling 1,240 square meters. The goal is to create an environment where people can easily access family, medical, relaxation and cultural facilities within 15-minutes from all living areas in Busan.
The administration's plan is to integrate this concept toward becoming a "happy city that always supports its citizens." Since the 15-minute city initiative begun, City Hall is establishing health and happiness off-ices, called "HAHA centers" and creating 300 deullaknallaks citywide. The success of the project lies within promoting the overall design and services. The initiative emphasizes strengthening communication between citizens and the city.
Asian Startup City
The creation of a support system established to integrate and manage startup-related tasks is the first step toward Busan becoming an "Asian Startup City." Plans to establish an institution for business startups, Busan Investment Finance Corporation and an Asian hub for startups, are in the works. This project provides applicable businesses with systematic and continuous consulting support, in various fields, as well as assistance in domestic and foreign marketing.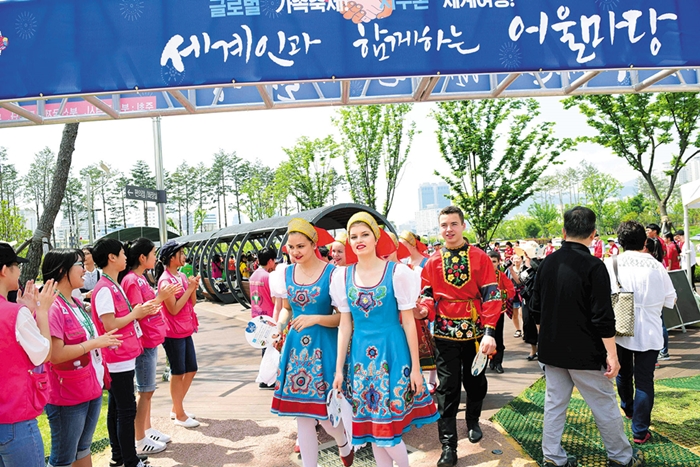 Citywide efforts to create a global hub are underway.

Global Hub City
Another focus of the administration is globalization. The "Global Hub City" policy aims to help Busan's momentum toward becoming a global digital financial city, with hopes of increasing its Global Financial Centres Index ranking from 30. Other initiatives will further solidify the key Global Hub City policy. Examples include cooperating with U.N.-habitat on the floating city, increasing global cultural and tour facilities and developing a more English-friendly atmosphere.
The use of English is required to become a global hub city. This initiative aims to create an environment where English is used and public institution infrastructure that provides foreign language services. The city plans to expand the establishment of international schools, education centers and operating programs. Additional support for English newspapers and broadcasting, foreign universities, lifelong learning and English-speaking environments is in progress.