News
Influential international endeavors amplify tourism
As social distancing and the obligation to wear a mask outdoors are lifted, daily life routines are ameliorating. Busan, the international tourism city, is already bustling and preparing to greet domestic and international travelers. Local festivals are held throughout the city in add-ition to a plethora of entertainment options. From art shows in the sky and by the sea to night view tours, the city's landscape is once again aglow with a cornucopia of events.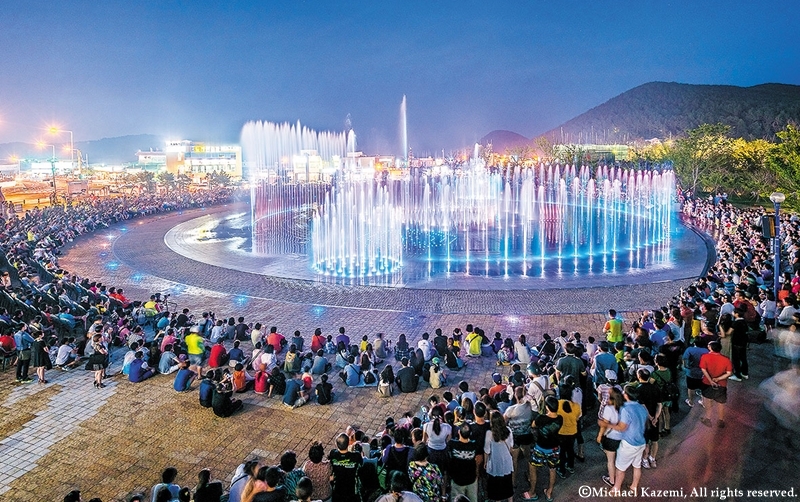 People flock to watch the show in Dadaepo.

Global publicity before the resumption of cruise operations
In April, Busan Port Authority and the Busan Tourism Organization (BTO) participated in the world's largest cruise fair, Seatrade Cruise Global 2022. They promoted Busan Port Cruise's international operation resumption following the global easing of social distancing. Overall, The BTO helps publicize local attractions and food to support the city and attract international visitors.
Busan Port, reborn as a cultural and leisure venue
In May, North Port Waterfront Park facilities opened. Following the 26,000-square-meter park opening, the first phase of the North Port redevelopment area commenced operation.
Representative facilities include a pedestrian deck, a neighborhood park and a scenic waterway connected to the sea. Additionally, an area within is set aside and will be used temporarily as the nation's most extensive wildflower garden. The North Port Waterfront Park is accessible via a pedestrian walkway from the Busan Station lobby platform exit 9.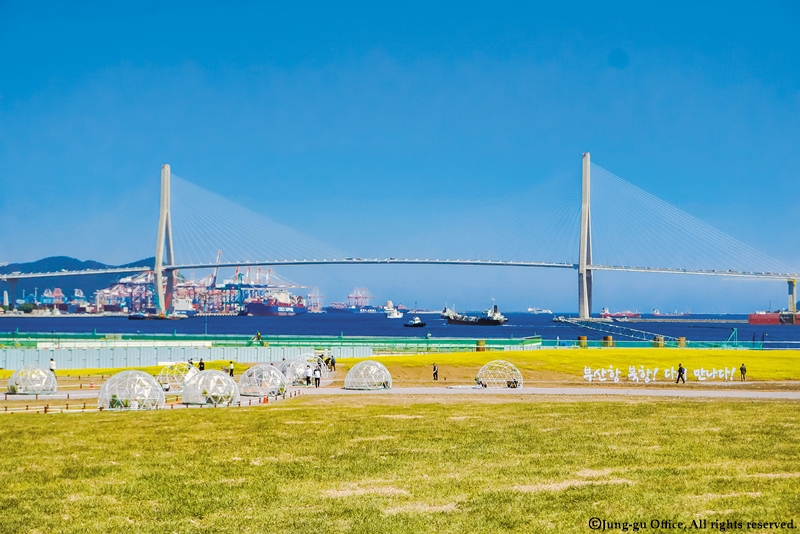 The Busan North Port Waterfront Park recently opened and is part of the area designated to host the expo.
Beaches, buses and fountains return
After two years of restriction due to COVID-19, beaches in Busan are open. However, Haeundae and Songj-eong Beaches are only partially open till July, when all seven local beaches will fully open. The city is enthu-siastically strengthening other facets of tourism infrastructure. The Busan City Tour Bus operated by the BTO resumed circulated routes last month. With a one-day pass, passengers can transfer at their discretion at designated locales. Additionally, a night view tour course runs every Friday and Saturday.
Dadaepo's famous Sunset Fountain of Dreams resumed on April 30 and continues every night till Oct. 30. From April to August, the shows last 30 minutes, beginning at 8 p.m. on weekdays and 8 p.m. and 9 p.m. on weekends and holidays. From September to October, the shows start at 7:30 p.m. on weekdays and 7:30 p.m. and 8:30 p.m. on weekends. The fountain boasts a 180-meter circumference and holds the Guinness World Record title as the 2010 world's largest ground fountain. The performance shoots water 55 meters high as LED lights set streams of water aglow and music plays.

The "Drone Light Show" takes place in Gwangan every Saturday.

Drone show illuminates the sky
Gwangalli M drone Light Show, the first national regular drone light show, has brightened Gwangan's evening skyscape every Saturday since April. The 10-minute show is held twice every Saturday at 8 p.m. and 10 p.m. from March to September. At 7 p.m. and 9 p.m. from October to February. Due to the size of the display, it's visible from any area of the beach.

The "Busan Street Arts Festival"will host various events through October.

Festivals throughout the city
Local festivals have provided domestic travelers, international tourists and Busanites with countless opportunities and experiences. The "Busan Street Arts Festival" and the "Busan Wondoshim Alleyway Festival" begin this month. Additionally, preparations for the Busan Port Festival in July, the Busan Rock Festival in September and Busan Fireworks Festival in November are underway.