News
Innovative projects underway
It's the dawn of a new era as Busan moves toward building a better future. Last month, the city released the "2040 Busan Urban General Plan," outlining sustainable projects such as the "Smart 15-minute City," "Global Hub City," and "Waterside City." The plan, which is devised every 10 years, is the framework for the development of the city for the next 20 years.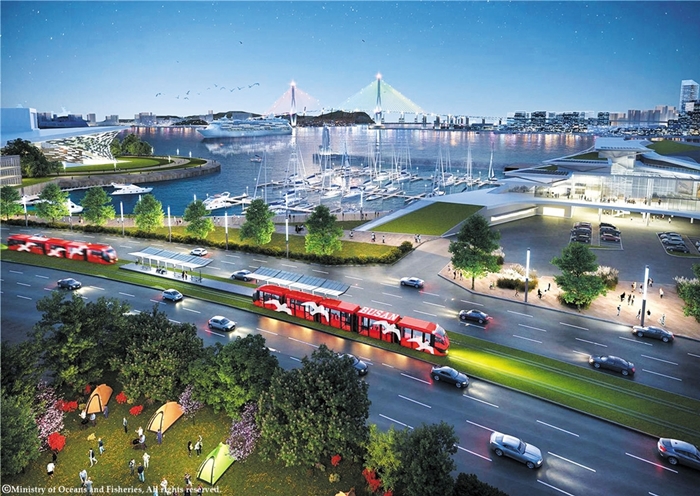 △North port model.
As "15-minute City" developments continue, including the establishment of 62 living spaces and the progress of local accessibility, citywide infrastructure grows exponentially. "Global Hub City" is based on "Bu-Ul-Gyeong Megacity" and the new Gadeok Airport. Airport construction will kick off the creation of Airport City in Gangseo-gu (district). The new complex will incorporate global businesses, international tourist resorts and more. In addition, the second Eco Delta City, near Gimhae International Airport, will become an aviation industry cluster and the Research Development District around Daejeo will develop as a regional innovation cluster.
△Leisure stports at Gwangalli beach.
Busan has seven beaches, a 379-kilometer coastline and multiple rivers. Taking this into consideration, actions for developing a "Waterside City" are in motion. The coast, which has been cut off by port and military facilities, will be linked to Galmaet-gil Trail. Old fishing port facilities will be transformed into spaces for marine leisure sports and more.

△Gadeok Airport construction will kick off the creation of Airport City.
To maintain its status as an eco-friendly green city, Busan is taking steps to reach greenhouse gas neutrality, with a projected decrease of 44.8% by 2030, 60% by 2040 from 2017 and total greenhouse neutrality is expected by 2050. The National Urban Park will encompass the mouth of Nakdong River, Maekdo Green City and Maekdo Eco Park. The overall aim of these projects is to strengthen cross-border cooperation, increase public diplomacy, show respect for the environment and showcase Busan as the ideal host for World Expo 2030.